Time goes by unnoticed. We suddenly realized we missed 15 years of Crystal Clear Software Ltd. This month we are even making 16 years. It's time to stop running and reflect on who we are, where our roots are and where we are coming from.
Crystal Clear Software Ltd. was registered as a limited company in Uganda on 23rd March 1998. Though we are glad about our achievements, there were also the downs that put us back on our feet. The story of Crystal Clear Software Ltd. is intricately related to the history of Hans Verkoijen, the CEO. Though he runs an IT company, he is originally a Social Anthropologist. He studied at the University of Amsterdam but he saw towards the end of his studies that getting employed as an anthropologist would not be easy. So he did management and accounting courses on the side. After he finished university, he worked for a couple of years as an accountant in Amsterdam before SNV sent him to Burkina Faso as an internal auditor. That was in April 1990. He had to oversee the financial administration in 6 branches of ADRK, a microfinance institution in the north-east of the country with about 10,000 members.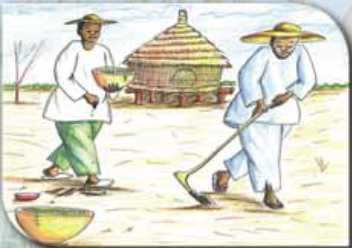 It was not an easy job. The branch offices had no power and there was no running water. The windows in the branch offices could not be closed and rain, dust and sand went through. Often documents were not readable anymore, also because in the dry season the mice often fed on them. After one year Hans proposed to start an automation project. He had always had a big interest for computers and had done some private work in the Netherlands. In Burkina he wrote some small programs in Dbase and convinced the director of the ADRK that this was the way to go. A proposal was written and donor money was requested (and obtained) to build a 'cellule informatique' with 5 computers, a printer, a switch and some accounting software. The 'cellule informatique' was very welcome as it would be an air-conditioned room where staff could shelter from the heat. But apart from that, it also served its purpose.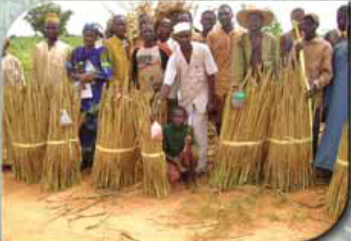 The accounting software was good but Hans wanted more. He was looking for microfinance software that would serve the institution in a more general way. At that time the FAO's Microbanker was the only microfinance software that was available. But the main problem was that there was no support, especially in West-Africa. So Hans started writing software based on the needs of the organization. This was at that time for a MS-DOS environment. He wrote a membership program as well as a savings module for ADRK. All paper based transactions were sent to Head Office once per week, keyed in into the database and reports were sent back. This was achieved when his contract expired and he had to leave.
He initially planned on staying in Burkina Faso and starting a consultancy firm. However soon after, SNV asked him to take up a position in Uganda at the Uganda Women Finance Trust (now Finance Trust Bank). He did not hesitate and signed a contract for 3 years (1995-1998). This time he was assigned the position of IT Administrator and his task was to automate the administration of UWFT. There was a budget for automation and every branch got a laptop and a printer. Head Office also got their hardware and an accounting software was obtained as well. However for the micro-finance part, the choices were limited as before. Hans decided to take what was developed for ADRK and turn it into Windows 3.1 and improve and extend it with additional modules. He called it 'TIS', the 'Trust Information System'. When his contract expired, UWFT used the software for its daily operations with the Savings and Loans modules as the major parts.
In 1998 Hans was again put for a dilemma: either chose for safety and security, go back to the Netherlands and find another job or chose the more challenging option: set up a company in Uganda and continue to develop software not for a single institution but for the whole sector. He discussed this with UWFT who was in fact owner of the source code. They agreed that UWFT would transfer the ownership to Hans in return for free support, training and licenses. So in 1998 Crystal Clear Software Ltd was born and the 'Trust Information System' became 'Loan Performer'.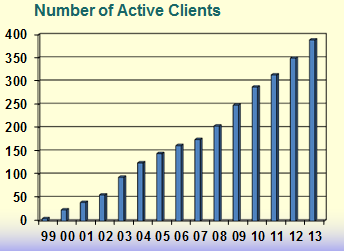 The first years were not easy. In the first year there was only one organisation that bought a license. Hans mainly did consultancies in microfinance that were not related to Loan Performer to keep himself adrift. Between the consultancies he worked on improvements in Loan Performer. After a year he rented an office in town, bought some furniture and hired some staff. During the first years he travelled a lot. Mainly micro-finance conferences where he promoted his software. Bit by bit sales started increasing. There came a time when he no longer accepted work other than that which was related to Loan Performer.
Major problems in the life of the company have been the regulatory authorities and internal staff. Once Crystal Clear Software Ltd accumulated VAT claims of 18 million Uganda Shillings. However after Uganda Revenue Authority (URA)  came to verify these figures, they wrote off all kinds of not justifiable VAT claims and ended up with a claim on their side of about 1 Million Uganda Shilling, which, after imposing 2% penalty per month, cummulated month after month and ended up in 18 million Uganda Shillings on their side. Another issue we had with URA was when one time they burst into the office and took the whole administration with them. The reason was never given. After more than a year the documents were returned without URA finding any non-compliance. Apologies accepted. Another problem we had recently with National Social Security Fund (NSSF). They came auditing us after we already paid them NSSF premiums for 10 years. They found 99% compliance. Only that they said that the executive director should have paid NSSF on his 'salary' as well. The ED is a foreign investor and does not find any logic in putting his investment in NSSF and being forced to take up bank loans to finance the company. After a few months of negotiations, the case was settled amicably.
Other threats to the future of the company came from staff. We had a lead programmer cancelling his contract and starting his own business competing with us. We had three staff members who did private consultancies for our clients, even issuing receipts in the name of the company. We even had an ex-programmer who created fake licenses for Loan Performer and sold them via an ex-marketing manager. All these threats have been taken care off. The cases of fake licenses and the issueing of false receipts went to the police. We created annexes to the employment contracts and asked everybody to sign them. They include clauses that staff is not to leave the company and start work with a competitor for 2 or 3 years, that staff is to protect the company's intellectual property and that the company's intellectual property is to be used for the benefit of the company only and that misuse can lead to severe penalties.
The staff issues in fact made us forget that we already are 15 or 16 years in business and that we had something to celebrate. Maybe we can, next year?
Loan Performer allows you to manage the organization's purchases and sales. Using this feature, you can issue and record invoices to your debtors and creditors. You can also record payments from debtors and issue receipts for example if your organization offers training services to clients at a fee. The system allows you to print several reports about debtors at any given time.

To manage your sales well, you have to register your customer's details (Debtors) at Accounts->Purchases and Sales->Debtors.
All debtors should be linked to GL accounts where transactions will be posted. Create the GL accounts in your Chart of Accounts at Accounts->Chart of Accounts.
When a sale is made you will issue an invoice to your customer and enter it atAccounts->Purchases and Sales->Issue Invoices.
Loan performer can generate a report on such invoices at Accounts->Purchases and Sales->Debtors Report->Debtors Invoices.
Finally when the invoice is paid off you must record this as receipt from sales at Accounts->Purchases and Sales->Receipt from sales. The Debtors GL accounts will respectively be updated whenever an invoice is issued or a payment is made.
Loan Performer offers several reports to enable you monitor the performance of your debtors. These reports include Ageing of Debtors Balance, Debtors Balances Report, Debtors Statement, Debtors Invoices and Debtors Receipts.
Mubende Employees Sacco has been using Loan Performer for 6 years now. They started with Version 7.10 in 2008 and have recently upgraded to Version 8.14. We spoke to Godfrey Katumba, the Manager.
Godfrey says "The manual system wasn't good enough in a way that there was so much work for example in the production of reports and accounting. This is time consuming, tiresome, hectic and reports are inaccurate. That's why we bought Loan Performer.''
Godfrey got to know about Loan Performer through a friend who gave him a Loan Performer brochure. He found that Loan Performer had all the features he was looking for like a General Ledger, Cash Management, Savings and Loans Modules and others. He picked interest and contacted the Loan Performer team. He found them welcoming, informative, and friendly and people he could work with. Godfrey: "The Loan Performer Support Team is very flexible in a way that they handle client issues by using Online Support (Team Viewer, Live Chat, Email, Phone) and On-site Support. The variety of options used in support and the commitment in solving client issues helps them to keep on the edge." Godfrey has found Crystal Clear Software Ltd Staff very friendly and helpful; almost the whole team have become his friends.
Godfrey also highlighted some of the expectations they had and how well the Loan Performer program and Team have successfully met them. Godfrey:
"1. One of their expectations was streamlining the Accounting System. Financial reports are generated as and when they are needed to enable management take informed decisions. Loan Performer is user friendly and with a simple walk through the accountant is able to use the system and generate reports.
2. Automation of internal controls. Accessibility to the system is regulated, all the users have passwords and it helps in identifying whoever uses the system. One is able to go back and know the initiator of a transaction. One can restrict access to menus by different users of the system. Management is also able to easily monitor all the activities, identify mistakes as and when they occur.
3. Timely reporting and analysis. Loan Performer has excellent reports that help in Portfolio management, savings monitoring, transparency and accountability. At the click of a button, you are able to get the report you want when all the necessary data has been entered."
The use of Loan Performer has helped Mubende Employees Sacco to counter fraudulent activities and this is evidenced by the fact that no fraud activity has ever been reported.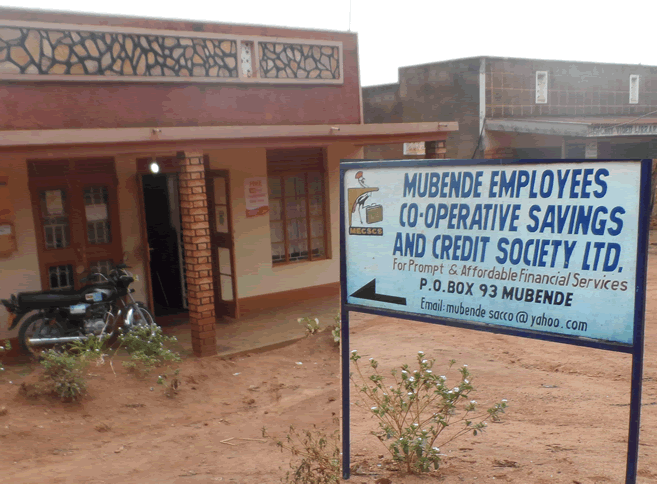 Loan Performer Version 8 comes with new features which include SMS Banking, Wide Area Network (WAN), Fingerprint Scanning and others. These are the features that have convinced them to upgrade from version 7.10.14 to Version 8.14.
Godfrey was concerned about the Performance Monitoring Tool (PMT) used by SACCOs while reporting to the Association of Microfinance Institutions of Uganda (AMFIU). Loan Performer Version 8.14 has the standard PMT Tool from AMFIU and the reports are updated as and when changes are made.
He also has some suggestions for improvement: "Loan Performer is a Microfinance and Sacco Software and naming of the Financial Statements should change just as the naming in the market has changed. For example the Balance Sheet is no longer termed as the "Balance Sheet" but rather "Statement of Financial Position" and the Income Statement is no longer termed as "Income Statement" but rather "Statement of Comprehensive Income". He goes ahead and says: "The Arrangement/Lay-out of the Balance Sheet in Loan Performer is like that of a Non-Financial Institution. Fixed Assets come first, for example Property then followed by the Most Liquid Assets/Current Assets for example Cash and so on, yet with the Financial Institutions it's the other way round: the Most Liquid Assets come first then the Fixed Assets."
This may be the case with the demo data that comes with the demo database, but in principle Loan Performer produces financial reports according to the way the Chart of Accounts is structured. If there, liquid assets come before fixed assets, then it is the same in the Balance Sheet , eh sorry ... Statement of Financial Position.
You have configured the system with 5 working days say Monday through Friday. It may so happen that government declares a national holiday which falls in the middle of the week. You are expecting loan repayments on this day. What to do? Manually change each loan repayment schedule so that no arrears are generated?
Loan Peformer 8.14.01 is able to reschedule your loans with a simple procedure. Let's walk through this step by step: Below is a sample Loan Schedule that we expect to be adjusted.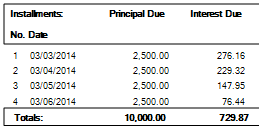 Suppose that 3 April has become a public holiday. What to do?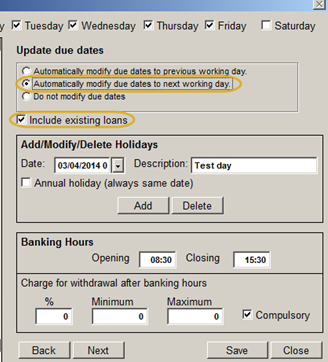 Go to System > Configuration  > Set Working Days. Select 'Automatically modify due dates to the next working day' and check 'Include existing loans' (If this setting is not checked the system will ignore loan schedules that are already in the system). 
Go to the 'Date' listbox and select a date (for my case select  03/04/2014) and enter the description 'Test day'.
Click 'Add' (Once the date is added the system will check all schedules for outstanding loans and update the dates where necessary).
Please note that its only future installments of outstanding loans that are adjusted, not previous installments.
So how does the repayment schedule look like after this update?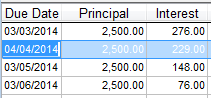 Note also that you need the latest 8.14.01 for this feature.
We have every first Monday of the month a training session of 12 days (2 weeks, Monday to Saturday from 9:00 to 17:00 hrs) in Loan Performer version 8. Next training starts Monday 7 April 2014. This takes place at our office in Kampala. Costs are 750$ per participant. At the end of the training the participants have to pass a test and a certificate will be issued. Use this link to download the training schedule.
If Kampala is too far, we can do an e-training via the internet. The full training takes 12 sessions of 4 hours at a cost of USD 150 per session. We can also tune these trainings to your needs and make them more efficient for you.
Need help with Loan Performer? Try the Online Help or Chat with our staff.