We have written previously an article about SMS Banking (see our July Newsletter). This time we are giving you some user feed-back from two institutions, one in Ghana (Tema AG Cooperative Credit Union) and one in Zimbabwe (Hammer and Tongues), that have implemented SMS Banking.
What do you need for SMS Banking? There are more or less 3 things:
SMS Banking is an additional module in Loan Performer, so you need to top-up your license. But what is good is that your current license comes with 10 free accounts. So you can try it out without topping up your license. Once you are convinced, the charges are: 20% of your license fees (equal to your annual fees) plus 1$ per account. Say you have a 5-user license and you want SMS Banking for one thousand clients, then you should pay 320$ plus 1,000$. We also suggest you pay for the installation and configuration at 300$. Installation and configuration can be done on-line.


You need at least one EDGE modem and a SIM card. The modem is used for sending and receiving messages but also for 'pushing' the mobile phone application to the client's phone. This means that as a micro-finance institution you can install 'LPF Mobile' on the end-user's phone without having his/her phone present. Loan Performer has a 'push' button that you can click to install it. This works with Java enabled phone only. Other phones will have to send SMS messages by typing in the commands. Anyway the problem is that everytime you want to push an application, the server needs to be restarted. That's why some institutions prefer to use 2 EDGE modems instead of one. Then one is used for normal message transfer, while the other is used for pushing the LPF mobile application to the end-user's phone.


Messages can be sent as a normal SMS message or via an SMPP service provider. If you are sending a lot of messages, SMPP is a lot cheaper. While for the first you deal with your mobile network provider only, for the second you need to deal with a bulk SMS provider.
So what have been the experiences of the two institutions that implemented SMS Banking? Tema AG in Ghana bought the SMS module for one thousand clients. They are using Loan Performer for 6 years and they upgraded to version 8 because of the SMS Banking functionality. They had the following issues:
LPF sends SMS loan repayment reminders at 12.00 midnight. Customers started complaining about this.
Comment CCS: this has been resolved.


LPF still sends SMS loan repayment reminders even though the client has paid off the loan.
Comment CCS: this issue has been resolved.


No SMS is sent from the system confirming a loan repayment and for the sale of shares.
Comment CCS: these are new features and will be implemented if the client is willing to pay for this.


It is only possible to send SMS Reminders before the due date of an installment, not after.
Comment CCS: we have made it possible to also send messages after the due date. User can now send a maximum of 3 messages before and 3 messages after the due date, each with a different contents.


Both the detail and the summary of the SMS and Web Clients Report give the same report.
Comment CCS: this is also corrected.


Suspending, Modify or Adding the contact of an Existing Client's SMS number is not working.
Comment CCS: this is still pending.


Bulk SMS being sent more than once in case of a network failure or if the modem runs out of credit.
Comment CCS: this is still pending.


Make it possibe to remove unsent messages from being sent. When you send bulk messages and if for any reason they are not sent they remain in the unsent reports menu.
Comment CCS: this is still pending.


Add the currency to the transaction.
Comment CCS: this is still pending.


Transactions in relation to savings should show the savings balance.
Comment CCS: this is still pending.


Increase the number of characters that can be sent in an SMS message. This is limited to 198 characters, including figures, spaces, punctuations etc.
Comment CCS: This is not in our hands. This depends on the service provider that you use.
Below are some of the interesting comments from the clients of Tema AG after introducing the sms banking service:
Improved the Union's cooperate image because some banks and a majority of the micro finance companies don't have this SMS service.


Increased confidence and reliability in services


It's safer for the clients to pay money to the MFI agents outside the office since they will get a SMS confirmation on their phone.

It saves the client time and cost of transport to the office since they can easily check their balance (both savings and loans) on their phone.


Looking at the benefits, the client wholly accept the charges associated with the SMS service.
Tema AG says that the LPF SMS service has actually helped maintain pressure on their loan clients, hence improved their loan repayments, reduced cost, increases effective communication with their clients and  created a good corporate image.
As the SMS banking feature in LPF stands now, it does not send SMS messages when loan repayment and share transactions are entered into the system. Tema AG Cooperative Credit Union is currently preparing to finance the cost of that additional feature for all to benefit. This is because they believe it's a good initiative by Crystal Clear Software, hence they will support it, promote it and ensure "that LPF remains one of the best if not the best microfinance software".
Hammer and Tongues in Zimbabwe tested using the 10 test accounts. They reported the following:
Registering a user on to the SMS PLATFORM
A user can have more than one number registered but the SMS SERVER will only respond to the 1st registered number i.e. when a request is sent from the secondary number the response from the server will only go to the primary (initially) registered number.
Comment CCS: we are going to change this. If more than 1 number has been entered, LPF will send the message to all available numbers.


Downloading the LPF Mobile application
When the registration is done on the server a WAPPUSH message is sent to the mobile number with a link to the download page for the mobile application. Findings were that the mobile application only works on JAVA enabled phones i.e. phones running on Android cannot use this application. Nevertheless mobile phones can send text messages to the server requesting this information and will receive updates with no problem.


Checking Loan Arrears
They managed to test this both through the mobile application as well as sending a text command to the server. This however returned an error message from the server "One of your entries is incorrect. If the problem persists, contact your MFI"
Comment CCS: This has been corrected.


Checking Loan Balance
This was tested both from the application and the text commands, this works perfectly.


Sending General messages
This can be done with ease from the SMS SERVER to send general customized messages to clients.


Reminders when Loan repayments are due.
This was also tested and it works perfectly and it can be configured for each loan product as when the reminders should come in.


Loan Disbursement Message
A message is sent automatically from the SMS SERVER when a loan application has been approved and the loan disbursed. However the message that is sent when a loan is disbursed does not indicate the currency but rather just says "10 Loan disbursed" which lacks clarity to the receiver of the message.
Comment CCS: we are still to correct this.
Mrs. Chirwa, the Director of Hammer and Tongues, says that the reasons for introducing SMS Banking are:
1. Clients will be advised of payments-due electronically and well in advance thus reducing the number of clients who "forget" due dates and thus reducing arrears.
2. The client can check his or her balance at any time they want.
3. This will reduce costs in terms of telephone calls and visits.
4. And it provides convenience to the client as they dont have to travel to make payments.
So in general we may conclude that SMS Banking is working as expected. As it is a new feature there are still some minor issues here and there, but they are being worked on and either are already corrected or soon will be. In addition I'd like to inform you that in version 8.15 it will also be possible to import client's telephone numbers with the services to which they want to subscribe. This will make it easier to update your records when starting with SMS Banking. Xerox Microfinance Services also suggested to add a user-definable sentence at the end of the SMS message so that clients can receive a message that ends with 'Thank you for banking with Xerox MS".
Loan Performer allows you to reward your clients with bonuses. This is made possible using the Loan Performer feature that facilitates the charging or rewarding of several client accounts in an instance. For example, all accounts can be charged with ledger fees using this feature.
To give Bonuses to clients you go to Savings->Charges and Rewards->Bonuses and a screen like the one below will be seen:
period.

Define the necessary parameters concerning the bonus you want to give and click on Save to post the transactions to the GL Accounts. Loan Performer will give you a report showing the distribution of the bonuses to qualifying clients.



Note that the amount available for bonuses will be distributed in proportion to the savings and loan amount of each client in the specified period.
We expect to release Loan Performer 8.15 before the next newsletter comes out. Below is a list of the major features: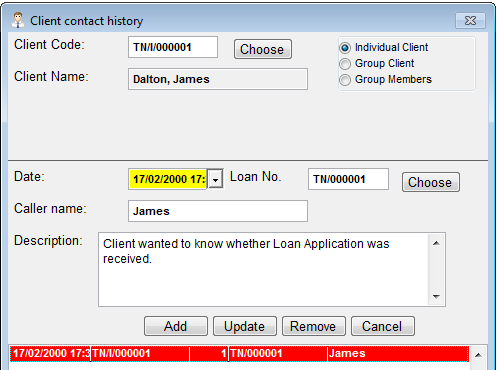 1. User can maintain the contact history of a client.
2. Some of the regulatory reports for the Bank of Ghana were missing in the previous version. Version 8.15 will have them all.
3. At Configuration/Funds you will be able to enter operational funds as well, not only loan funds.
4. The Collection Sheet reports can be exported to Excel in the same format as is required for importation.
5. Interest on Savings can be calculated based on quarterly minimum balances.
6. Loan Charges can be added to a loan and a report on loan charges will be available.
7. If the withdrawal amount is higher than the cashier's limit, the manager gets a message on his desktop requesting him/her to approve or disapprove this.
8. Assets can be booked to the GL.
9. Refinancing needs to be approved before it is disbursed and a refinance fee can be charged.
10. The period for budgetting does not have to coincide with the actual year.
11. A new regulatory report for Zambia will be added ("Portfolio and Provisions Report).
12. Financial transactions can be reposted.
13. User can print a Time-Deposit Statement.
14. User can define the order of printing names (First, Middle and Last Name).
In an effort to ensure implementation of transparent, internationally-accepted standards for financial analysis and reporting, the Association of Microfinance Institutions of Uganda (AMFIU) in partnership with key stakeholders in the industry, agreed to the principle of developing a joint reporting format for Microfinance Institutions (MFIs). This has become the "Performance Monitoring Tool" (PMT) which now forms the basis for MFIs to report performance to AMFIU. AMFIU stores this information in an industry-wide database and provides subsequent feed-back to MFIs on their performance. The report has been fully integrated into Loan Performer (LPF).
How to configure and work with the PMT in LPF: Under the Accounts/Regulatory Reports, enter the Year and Reporting basis. In Uganda, PMT reports are submitted quarterly to AMFIU.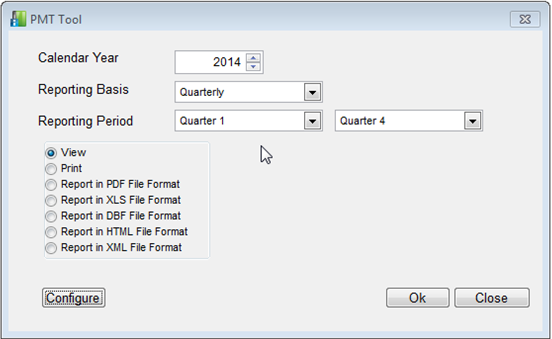 Click the configure button to enter the Human Resource, Outreach and Macro-economic Indicators for your MFI/Sacco. Under normal circumstances, AMFIU communicates the values for these indicators for each reporting period to its partner MFIs as this helps to ensure uniformity and consistency of the reports generated by the partner MFIs.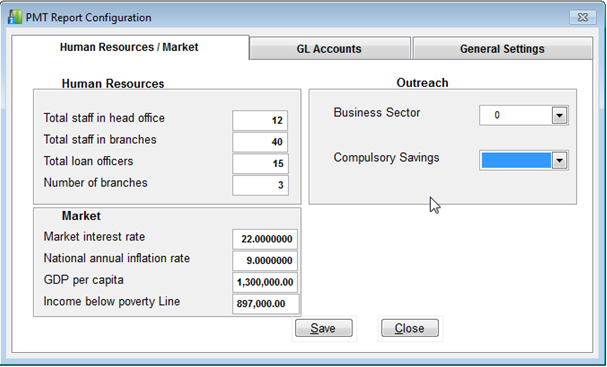 Link all the Loan Performer General Ledger Accounts to the respective PMT Codes/Indicators as   follows:
Note also that the PMT has its own pre-defined GL codes which must be put in sync with the LPF GL Accounts.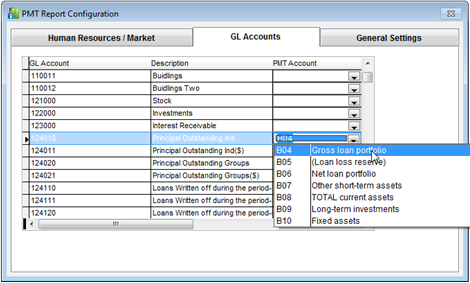 Use the "General Settings" page to define the type/nature of your institution and its affiliation.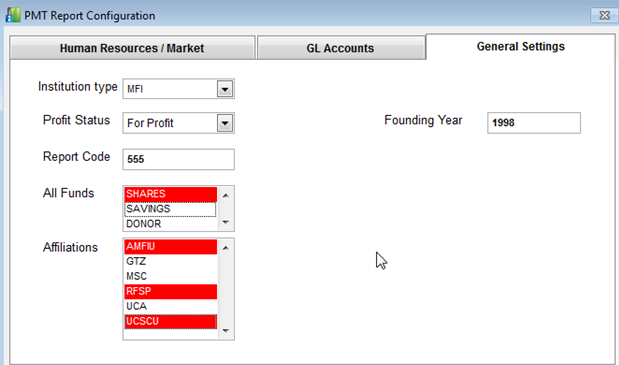 A report can then be generated in XML format and submitted to AMFIU at the end of the reporting period for data analysis. The report can also be printed locally, exported to excel, or printed into PDF.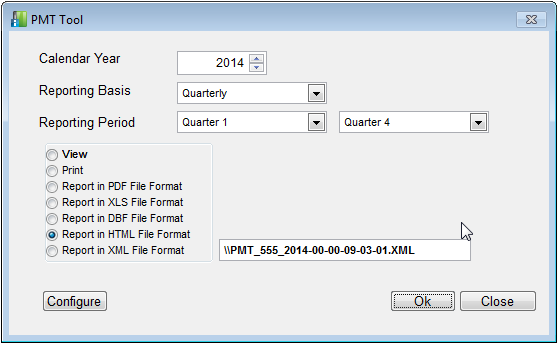 AMFIU has therefore used the PMT as a data collection instrument to monitor and report on a number of affiliated microfinance institutions. LPF has been instrumental in helping the PMT in getting fully institutionalized at AMFIU – Uganda's microfinance Apex institution.
We have every first Monday of the month a training session of 12 days (2 weeks, Monday to Saturday from 9:00 to 17:00 hrs) in Loan Performer version 8. Next training starts Monday 3 March 2014. This takes place at our office in Kampala. Costs are 750$ per participant. At the end of the training the participants have to pass a test and a certificate will be issued. Use this link to download the training schedule.
If Kampala is too far, we can do an e-training via the internet. The full training takes 12 sessions of 4 hours at a cost of USD 150 per session. We can also tune these trainings to your needs and make them more efficient for you.
Need help with Loan Performer? Try the Online Help or Chat with our staff.