This time we have received an article from Mathias Msemo, one of our representatives in Tanzania. He writes about the challenges of Selection, Implementation and Maintenance of Management Information Systems (MIS).
This article is intended to explain the challenges faced by Organizations, particularly financial institutions, in the selection, Implementation and maintenance of a Management Information System. It starts with the brief overview of an MIS and its components and then explores the barriers to the efficient and effective use of IT/MIS and the critical success factors to the strategic implementation and maintenance of MIS.
In the context of this article, the term Selection means identifying the solution that can meet the information requirements of the organization. Implementation refers to the action of putting the identified solution in use which includes installation & configuration, training users and migrating existing data into the system. The term maintenance is used for the action of providing support to ensure system continuity which includes, correcting system errors, changing/modifying or adding some system functionality to meet new requirements and system analysis and evaluation for efficient and effective utilization of the system.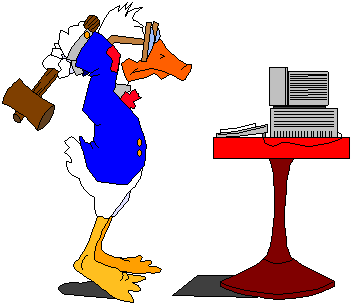 Management Information System
A Management Information System (MIS) is a System that utilizes human resource, computer hardware & software (applications and database), manual procedures and models for analysis, planning, control & decision making. The main purpose is to provide information, to support the operations, management and analysis to enhance decision making function in an organization.
Components of Management Information System
MIS is a set of components which interact to produce information, which include   hardware, software, data, policies & procedures, and people. A successful MIS depends very much on effective use of IT (Information Technology). This is mainly the hardware and software components. Policies and procedures include the defined business rules, financial and accounting principles, regulatory provisions and user roles and limitations. Data refers to the business events to be recorded, analyzed and summarized to produce meaningful information. The fifth component, people, is various stakeholders of the organization which may include the Board of Directors, top Management, middle Management, IT personnel, other staff and the clients. Each group in these stakeholders may have different requirements in the system and have different profession.

The technology and stakeholders' requirements are ever changing. Introducing a new MIS can affect individuals, groups, and a whole organization since it can necessitate changing entire business process and responsibilities & job descriptions. In other words, the system should be in line with the business process to enable the business to meet its objectives. It should be noted here that the combination of knowledge of both business processes and IT is a must for a successful MIS project. The implementation of new information systems is costly and therefore a significant investment for organizations. All these facts can create challenges and both a positive and negative impact in the organization

Considering the multitude of components and facts aforementioned, it is important to note that it brings many issues that demand decisive and strategic planning.  For successful selection, implementation and maintenance of MIS, the organization should clearly define the objectives and the bench marks for system evaluation. Building a good implementation team and creating a checklist of the requirements is vital.  Misunderstanding or omission in most of the items may lead to failure of the whole or part of the MIS implementation project.

Challenges of MIS selection, Implementation and maintenance
Organizational behavior and management issues
Internal and External Politics are barriers to timely decision making. The question is who makes decisions?
Decision makers may lack necessary IT and system knowledge while the technical team may lack managerial and financial planning knowledge. As a result the Management tends to overlook technical issues and Technical team may overlook the budgeting and cost issues.
The knowledge gap between these two groups should be managed.
Change Management
Any change in an organization, if it is not mutually accepted across all functional areas, will face resistance that may lead to failure. Inter departmental involvement from the initial stage is therefore important.
The mindset and previous experience needs to be tuned, through training, motivation and involvement in each stage, for new environment to minimize resistance to change.
System Technical issues
These are mainly the hardware and software considerations of information technologies - technical know-how. Database applications are hungry of support that may not be fully provided by the software vendor. The organizations need to build internal capacity at least to provide first level support to Management & Users.
Personnel issues
Knowledge management is an issue in many organizations. Selection or equipping the staff with the right expertise at the right time will sum up to the organizational expertise and success will be guaranteed.
"You can take my business, burn up my building, but give me my people and I'll build the business right back again" (Henry Ford).
"My people" here obviously may not only be in number but the value is what matters the most.

Critical success factors

Here are only the basic factors and we do not claim to be exhaustive list of what should be done:
Clearly stated business needs and well defined goals and targets
This is critical for requirements analysis and planning
If well done, it will make a base and benchmarks for monitoring and evaluation
Building a right project team
A good team may consist of two to five members, depending on size of organization, with complementary skills that covers both IT and business functions
Mix with external consultant is a plus to moderate some internal pressures
All stakeholders involved
Probably one of the common mistakes that most organizations ever do. The system is role based that at one stage or another will definitely need the participation of different people.
 All stakeholders need to be prepared in advance for full participation.
Management commitment and support
Align with strategic business goals
Staff motivation
Identifying and managing priorities
Budget control
Technical execution
Adequate software testing
Troubleshooting system errors and working closely with vendor to resolve identified problems
Match the system performance with pre-defined goals and objectives
Analyze reports consistency and accuracy
Supporting end users
Provide feedback regularly to all stakeholders
The expected result, if these factors are carefully considered, is that the organizations practicing these will have a wise investment in IT, efficient and effective use of the system resources for smooth operation and meeting the goals and objectives.
Towards effective and efficient MIS selection

It should be noted that MIS softwares differ considerably in prices and functionalities. Thus, in selection care has to be taken for optimal solution that will cover the requirements, scalable (ability to expand or add more features) and reasonable licensing price and maintenance cost (low cost of ownership). Finally, and the most important thing to consider in MIS selection, is the availability of support in the life of the system.
Loan Performer has all the qualities of an MIS mentioned above. Provided all the stakeholders are aware for full participation and the Management is committed and supporting the MIS project and a good technical team is in place, the success is yours and you will never regret your selection.


You are probably familiar with the Personal Ledger report where you can see the history of transactions of a client, whether shares, savings or loans? What if you have this report with also client visits, telephone calls, SMS-es sent, guarantor consultations, etc. Well, that is now possible!
Client Contact History functionality has two major parts, Client Contact Data Entry and Reporting. Client Contact Data Entry allows you to select a client and enter the details of the interaction: the phone number, the message delivered, the action taken and the details of the person following up the client.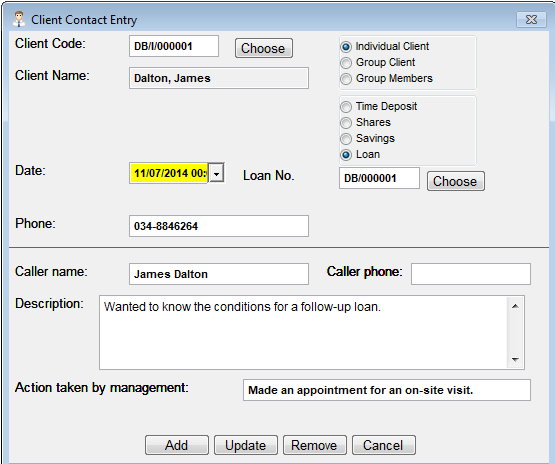 There are two types of reports namely: Client Contact History and Last Contact Report. Client Contact History Report gives a snap shot on all transactions a client has made with the Institution and when, why the client was contacted.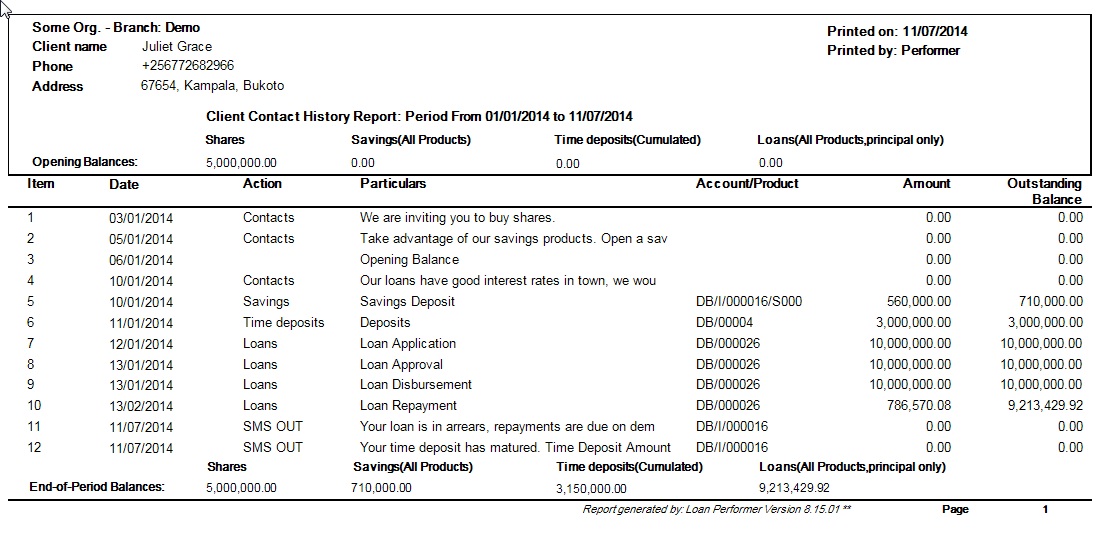 Click to Resize Image, Double click to return origional size.
The 'Last Contact Report' gives only the date of last contact per client, thereby showing where to do follow-ups for marketing purposes.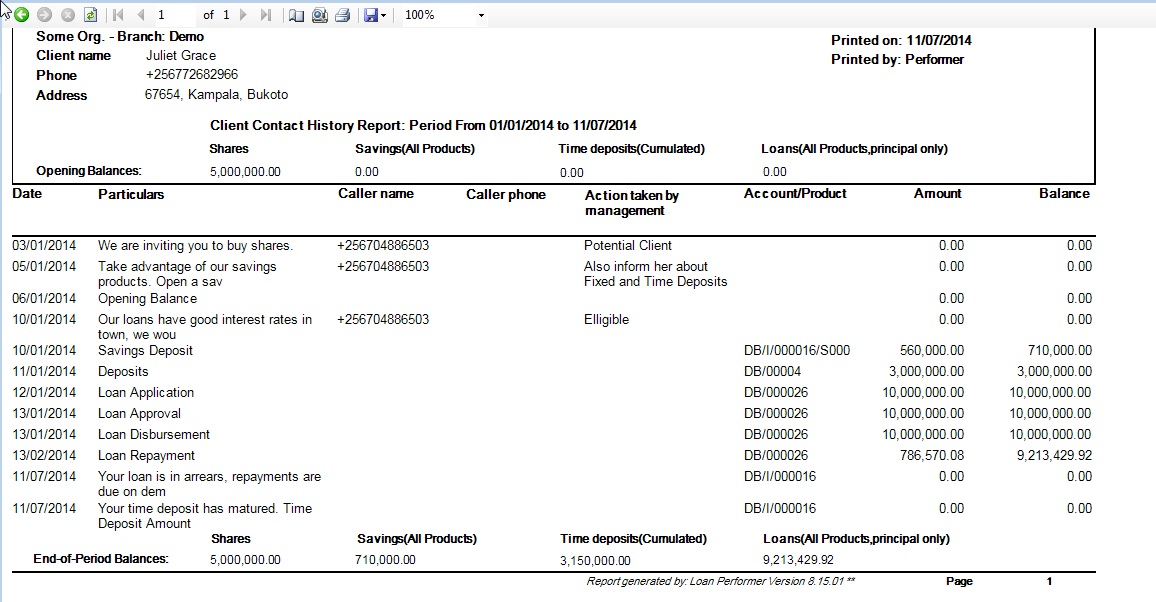 Click to Resize Image, Double click to return origional size.
Are you offering housing services as an MFI? Then it is good to know that Loan Performer 8.15 offers a tenant's administration. A tenant refers to a person or group that rents and occupies land, a house, an office or the like for a period of time.
A registered client in LPF can be retrieved from the database and rent details can be entered or a new client can be registered with tenant details. These details include the date when the contract starts, date when the contract ends, the contract number, a building code, rental purpose (a pre-defined list under menu 'Support Files'), room number, occupied space amount due and payment frequency.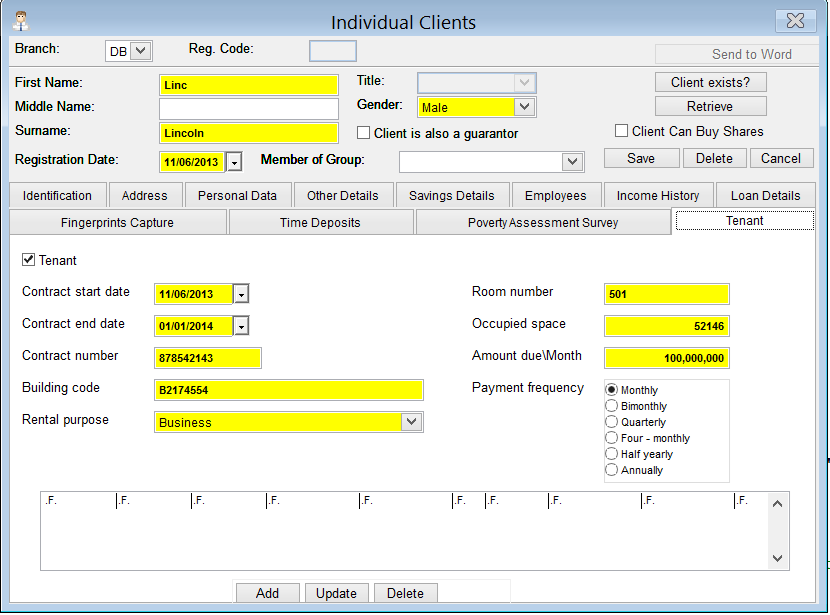 Click to Resize Image, Double click to return origional size.
When the date for paying rent commences, the tenant is issued an invoice that he/she is supposed to pay before the due date. In a situation where a client rents two or more properties, that client is issued two invoices, one for each property.  Notification letters can be issued for tenants who forgot to make payments in time.
In addition to this, various reports have been included to give the necessary information on tenants. For instance the Report on clients can be filtered on Tenants as well as the Debtors balances report. The Debtor's Statement can also be used to give information on how a tenant makes payments for a particular property.


Click to Resize Image, Double click to return origional size.
At System/Configuration/General you will find 3 items in version 8 that were not there before: the location of your help files, automatic updates and SQL Server timeout. This article explains more.
Online Help
Loan Performer now gives you the option whether to use Online or Local help. By default LPF uses the local help but you can change this. The main advantage of Online Help is that the documentation of the online help is constantly updated with new LPF features unlike the local help which comes at installation and never changes (unless you manually copy and replace the help file with the latest one). If you select the "Always use online help" option, then LPF will open the online help file whenever the "F1" key is pressed. However you need to be connected to the internet for this to work.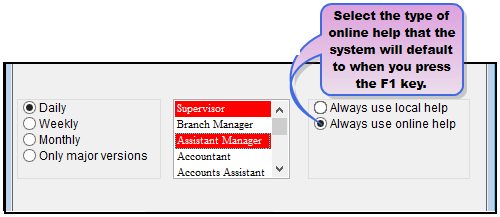 Automatic Updates
Another feature that is new is 'Automatic Updates'. It is now possible to automatically check for updates when starting Loan Performer by ticking the "Automatically check for the latest updates when LPF starts" checkbox. This means that Loan Performer will automatically download and install `the latest updates from the Loan Performer website whenever specific users log into the program.

Not everyone may be allowed to do so. To select the users who should be able to download and run the updates, click on the user while holding down the Shift key. The selected users will appear highlighted in red, e.g., "Supervisor" and "Assistant Manager" .
You should also indicate how often the update should be done. This can be done on  Daily, Weekly, Monthly or 'Only major versions' basis.
SQL Server Timeout
The 3rd item is the 'SQL Server Timeout'. This relates to the time the Loan Performer application needs to get a response from the database. If no timeout is set, Loan Performer may take forever if no connection can be established. You can set the time within which Loan Performer should establish a connection with the SQL database. This means that if LPF does not receive the expected response from the database in the given time, LPF will "time out" the session. Persistent time outs will mean that there may be SQL server configuration issues and may call for your action.

KAZOZA Finance in Burundi invited Crystal Clear Software Ltd. to convert their 7.10 Foxpro database to 8.14 SQLServer, to train their staff and at the same time to implement a Wide Area Network to connect their 3 offices. Our staff member, Frank KASIGE left for Burundi from 09 to 24 June 2014.
KAZOZA Finance used Loan Performer since 2012, with a Foxpro database shared between local users on a local peer-to-peer network. Recently, the company has opened 2 new branches, one at Kamenge, a distance of 7 km and the other in Bubanza at a distance of 50 km from the headquarters. Now the staff in the branches work like they are working at Head Office and their clients can transact in any branch.
Training
As the staff was familiar with Loan Performer 7.10, the upgrade training to version 8 lasted only 6 days. The training was divided into four parts according to different departments, to allow the normal course of activities. Thus, the training calendar has been as follows:
 The Director of Information Technology and his deputy: June 09
 Cashiers: 10 to 11 June
 Credit Officers: 12 June
 Accountants: 13 to 14 June.
The heads of departments attended the whole training.
The Wide Area Network

KAZOZA Finance opted for a VSAT connection between Head Office and their 2 branches. The routing is done by satellite, to avoid any obstacle on the transmission line. Each branch has it's own sub-network connected to a central server with replication. The databases of Bubanza and Kamenge syncronise with the database at Head Office but in case of a connectivity failure, the users can just continue with their local database. They won't even notice that the connection is off!

See the link diagram: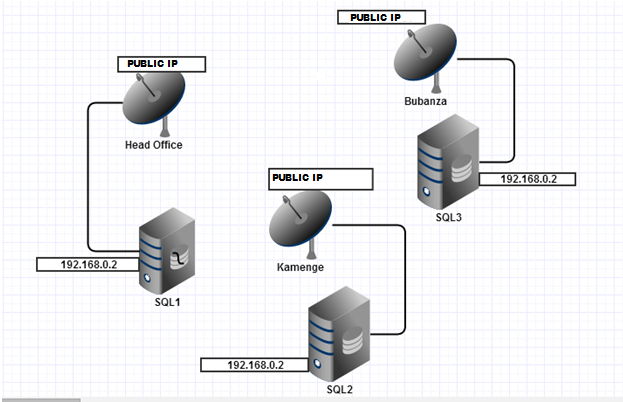 Advantages of this technology for KAZOZA Finance:
A client can transact at any branch
The microfinance institution can open a branch in any corner of the world because the interconnection of branches is carried out by satellite.
With the replication of databases between the branches and the headquarters, it avoids the breakdown of operations in the event of a connectivity failure.
This topology is the best compared to access by radio antennas however it requires expensive hardware especially for those who are in a wet environment (solution C Band or Ku and non-Ka). In addition to the material cost, there is a monthly payment to the supplier of satellite access and this is according to the dedicated bandwidth given by the access provider.
We can recommend this solution to customers that have branches located at great distances. In addition, a VPN connection can be established by WIMAX antennas for companies that have branches in the same city if there is direct visibility between the branches.
In this column we present to you different country representatives who can help you with training, implementation or support issues. This time we introduce one of our representatives in Tanzania, Mathias Msemo of Get Up Tanzania.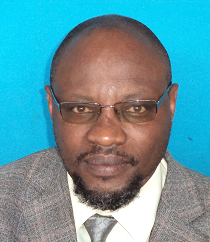 Mathias Msemo, our representative in Tanzania
Mathias Msemo was working in the IT department in a large microfinance Institution in Tanzania, PRIDE Tanzania and was the member of the Board of Directors in the employees' SACCOS, FAHARI YETU SACCOS. In 2007 he was tasked to search for good and affordable software for the SACCOS. In his search he discovered Loan Performer as well as several other solutions. Loan Performer won the competitive advantage and he implemented LPF version 7 in 2008 for FAHARI YETU.
Later, in 2011, Mathias Msemo became an independent IT/MIS consultant specialized in microfinance, including SACCOS. In July 2012 he incorporated his own company: Get up Tanzania Company Ltd. He implemented LPF in 4 institutions (Goodhope Microfinance, Lifua Financial Services, EDAT Financial Services and Rift Valley Children Fund Microfinance) and provides technical service to 5 others (ECLOF Tanzania, Mlandizi SACCOS, UTT Microfinance Plc, PLANET Microfinance and Mtoni Lutheran SACCOS ), a total of 9 LPF user institutions.
He received training in Loan Performer version 8 through LPF online training in 2012 during his first assignment at ECLOF Tanzania.
We asked Mathias why he called his company 'Get Up Tanzania'? Matias: "The company name "Get up Tanzania Co. Ltd" is based on the fact that a person who is not aware of something or is not doing what he/she was supposed to do, can be reminded with such voice "Get up". From the bible, John 5: 8, Then Jesus said to him, "Get up! Pick up your mat and walk. I am trying to get up and walk towards self-determination"
Mathias can be contacted as follows:
Cell: +255 784 653114 and +255 752 115528
Email: mkmsemo@yahoo.co.uk

We have every first Monday of the month a training session of 12 days (2 weeks, Monday to Saturday from 9:00 to 17:00 hrs) in Loan Performer version 8. Next training starts Monday 4 August 2014. This takes place at our office in Kampala. Costs are 750$ per participant. At the end of the training the participants have to pass a test and a certificate will be issued. Use this link to download the training schedule.
If Kampala is too far, we can do an e-training via the internet. The full training takes 12 sessions of 4 hours at a cost of USD 150 per session. We can also tune these trainings to your needs and make them more efficient for you.
Need help with Loan Performer? Try the Online Help or Chat with our staff.