This time we have received an article from Stanley Kumah, one of our representatives in Ghana. He writes about Finanial Controls and on how important they are in a micro-finance institution.
Financial controls are a critical part of any financial system. They ensure that the resources of the organisation are being correctly and effectively used and that activities are correctly and accurately reported. Poor controls can lead to the risk that resources are used inefficiently or are subject to theft, fraud or abuse.
It is the responsibility of the Board of the organisation to ensure that good financial controls are in place. It is the responsibility of management to ensure that the controls are operating effectively.
An example of how things can go wrong was an experience I had with one organisation when the system was implemented without taking financial controls into consideration. I received a call that the loan balances of clients were reducing without them making payments. Upon my investigations, I realized that the clients indeed paid and the money was received by the wrong person who also decided to keep the cash. My investigations revealed that segregation of duties and access control (user rights) was not well implemented. That particular user was given access to the extent that he can start and finish a transaction without having anybody checking his work. This is no proper segregation in financial control. With the right financial controls in place these issues will not happen.
When establishing what controls are necessary, the organization should consider:
the nature and extent of risks they face
the likelihood that the risks will occur
the extent and type of risk which would be acceptable to bear
the ability to reduce the incidence and impact of risks that do occur and
the cost of implementing a control compared to the benefit that would be obtained by implementing it.
Controls protect both the organisation and its staff. These controls should:
be embedded in the operations and culture of the organisation
be able to evolve if the type of risks the organisation faces are changing and
include procedures which enable immediate reporting to the relevant area of management should a problem occur.
Even when a good system of Financial Controls is in place and is fully utilised, it can only provide reasonable, and not absolute, assurance against material misstatement of accounts, loss or misuse of resources and non-compliance with laws or regulations. There are several areas where organization should consider putting controls in place. The type and extent of controls will vary from one Organisation to another depending on their individual requirements. The organisation should consider taking professional advice when deciding on relevant controls.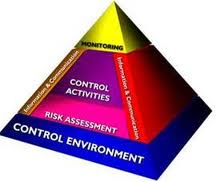 A brief description of some controls which should be considered is given below. This list is not exhaustive. It is the responsibility of the Board to ensure that adequate appropriate controls are in place. Further information on controls is available from IIA (Institute of Internal Audit in Ghana).
Segregation of duties
It is important, where ever possible to separate those responsibilities or duties which if combined would enable one person to record and process a complete transaction. This reduces the scope for errors and omissions and for deliberate manipulation or abuse.
Qualification of staff and advisors
Staff should be properly trained, qualified and competent for the tasks that they are required to perform. This reduces the scope for errors. It is also important that regular contact should be maintained with professional advisers. Procedures should be established to ensure that general or specific independent advice received is brought to the attention of management and the Board.
Budgetary Controls
Revenue Budgets - Annual budgets with realistic estimates of income and expenditure should be prepared. By comparing actual results to those budgeted, the organisation can quickly highlight areas of the business which may need attention. Comparisons also aid preparation of future budgets by identifying possible flaws in previous assumptions used.
Capital Budgets – Financial viability of new schemes should be assessed before a project is approved by the organisation.
Bank and Cash Controls
Controls are required to ensure that all monies received are recorded, safeguarded against loss or theft and banked. In relation to payments, controls should ensure that all payments are correctly authorised, made to the correct payees and recorded. Bank reconciliations and other cash controls will highlight issues relating to cash balances including errors, loss, theft or other misstatement. All money due to the Organisation should be recorded, pursued and properly accounted for.
Expenditure and Purchasing Controls
All organisation should have procedures for the authorisation of expenditure. Controls can ensure that only those goods required are ordered, that purchases are at the best prices and all transactions are recorded. They can also ensure that goods received are undamaged, have all been received and that the price invoiced matches the original orders. The provision of external goods and services procured on an ongoing basis should be tendered for on a regular basis ensuring best value for money.
Investment Appraisal
To inform Board decisions on capital/ revenue schemes, organisations should carry out an investment appraisal before committing to any capital or revenue investment, to ensure that their funds will be spent in the most efficient way and provide the greatest benefit possible.
Payroll and Personnel Controls
Controls are required to ensure that salary and expense payments are properly authorised and statutory payments such as PAYE are correctly deducted and paid to the required timescales. Controls over recruitment and personnel are also necessary to protect the Organisation from the possibility of errors or 'ghost' employees.
Controls over Assets
This area covers such items as cash, offices, vehicles, fixtures and fittings, and equipment (e.g. computers) which are used in the Organisations activities. Controls, such as Asset Registers, are required to confirm the existence and value of assets and ensure their safe keeping.
Treasury Management
Treasury Management involves the optimum management of cash flows, banking, money-market and capital-market transactions and the control of risk associated with these activities. It covers an organization's use of working capital and scheme financing, borrowing, investment and hedging instruments and techniques.
In keeping up with the ever-changing user-requirements, a new feature to update due dates to the next group meeting date has been added in LPF. This feature is specific for institutions implementing the Solidarity Group Lending (SGL) methodology where three to five unrelated persons co-sign and borrow from the MFI or SACCO as a group.
SGL members meet at specific days and/or dates of the loan repayment period to facilitate business networking and skills development. On the same day they repay the loan installments as well as address any other issues that might be affecting the Solidarity Group. That is why it becomes important that due dates actually coincide with the group meeting dates. LPF can do that perfectly well with just a few simple configurations.
How to Configure LPF to update due dates to group meeting dates?:
1. At the Group Clients entry screen, set the group meeting day/date and the frequency of the meetings. In this particular case, we assume the group meets once every Tuesday of the week.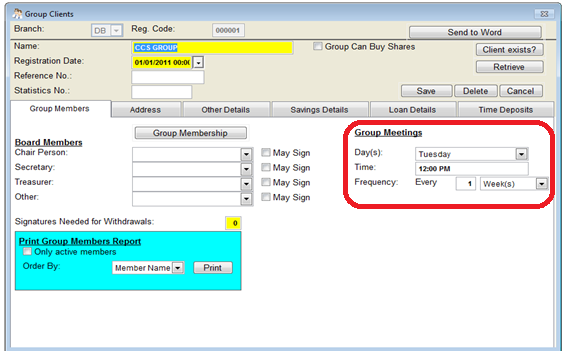 2. Under System/configuration/set working days, activate the checkbox, "Postpone due dates to the next group meeting date (Group loans)". In this case, if two dues fall on the same working day/date, they will be cumulated.
3. If you activate the checkbox, "Postpone due dates to the next group meeting date (Group loans)" and also the second one, "Push due dates forward if two(2) dues fall on the same working day/date", LPF will extend the due dates by an additional installment depending on how many holidays are within the loan period.
4. Enter the holidays and also specify which of the dates are actually weekends. It's important that you also activate option, "Automatically modify due dates to the next working day".
5. In this configuration, we have two public holidays- 08/01/2013 and 22/01/2013. I then configure to postpone due dates to the Group meeting dates as follows: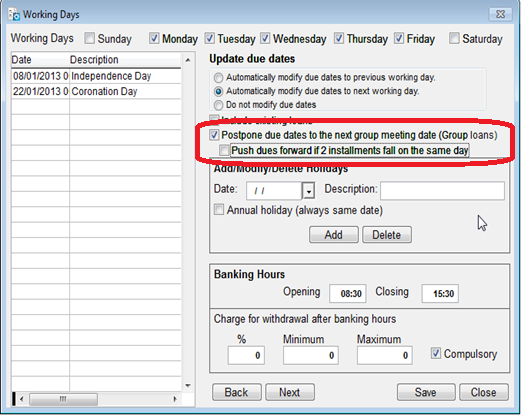 If you disburse the loan on Tuesday 01/01/2013; LPF will postpone the due date from 08/01/2013 to 15/01/2013 and the due date of 22/01/2013 will be postponed to 29/01/2013 but cumulated. The number of installments will also be just 10 and not 12.

6. If you activate both checkboxes, "Postpone due dates to the next group meeting date (Group loans)" and "Push due dates forward if two(2) dues fall on the same working day/date, LPF will extend due dates by two additional installments because there are two holidays within the period. The total number of installments here remains 12. You will note that all dues actually fall on Tuesdays of the week.

At this point the transaction can be approved or rejected. Whether the transaction is approved or rejected, in both cases does the Teller receive a message. If approved, the Teller clicks 'Ok' and the transaction is completed.




If you still maintain manual ledger cards, the Batch Totals report enables you to compare the totals of the manual ledger cards for savings to those in Loan Performer. Batch controls helps you to verify whether all savings data has been entered into the system.

With this control all savings balances of batches of 100 ledger cards would be summed up on a daily, weekly or monthy basis. The total is checked against the LPF's batch balances report. If the batches match, you may expect no differences on individual accounts. If there is a mismatch, then you have to compare individual accounts. And if differences are found, you need to check individual transactions on the account with different balances.

A batch in Loan Performer typically comprises of 100 accounts each, for the Individual, Groups and Businesses. To view batch totals you go to Savings->Savings Reports->Batch Totals and a screen will appear looking as follows:

Define the Batch No., e.g., "1" and the Reporting date, e.g., "29/01/2014" and click Ok. In the screen that shows up specify the parameters you wish to use and click on the Ok button to display the accounts comprising the batch totals. You can then compare the report with the manual ledger cards balances to determine whether there are any inconsistencies that may entail further action.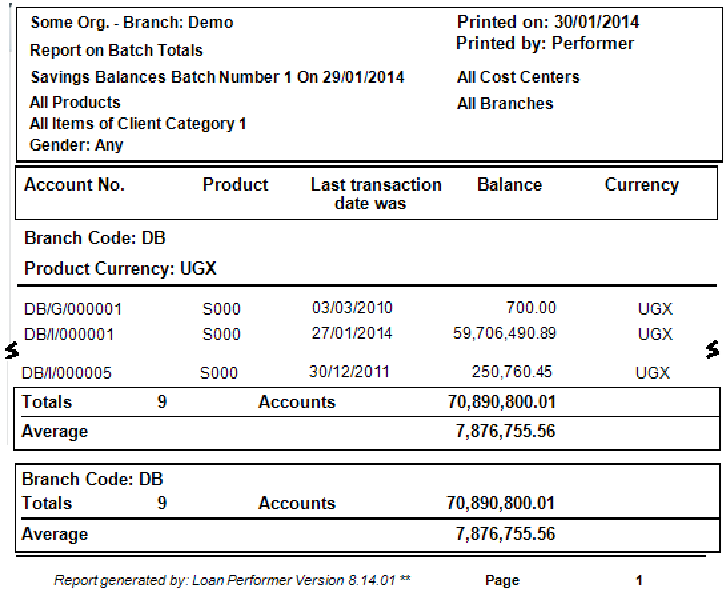 In older versions of Loan Performer the registration of Assets was not booked into the General Ledger. Later on we added that. However from version 8.15 onwards you can define this at Configuration and enter Assets without booking this to the GL (as the GL Accounts were already reflecting their balance) and once up to date, you can activate the booking.
With Loan Performer 8.15 and later you can now choose to post General ledger transactions at the time of Asset registration or not. When posting of transactions at Asset Registration is activated, LPF will automatically post a record into your Assets registry and a corresponding transaction in the General Ledger. Please follow the following steps to activate posting of transactions at Asset Registration.

1. Go to System > Configuration > Accounting
2. Check 'The entry of assets should be booked to the GL'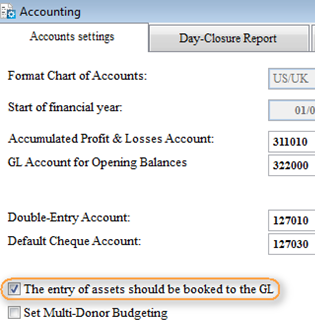 3. Register your Asset at menu Accounting > Assets > Assets Register. The 'Details' tab will be opened. Please enter the details of the asset.
4. Click the 'Posting tab' enter the account detail and details on depreciation (if any).
5. Check 'Payment' and select the transaction mode (type).
6. Click 'Add'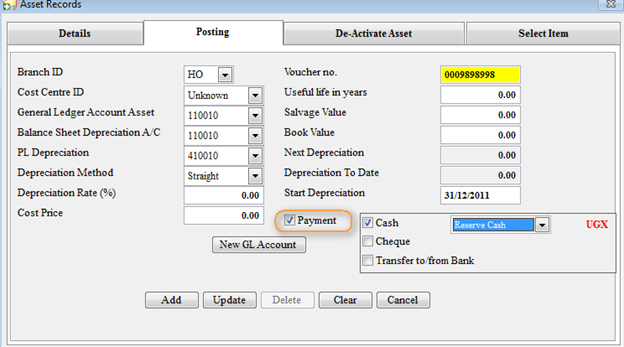 Since 1998 Crystal Clear Software Ltd was run by Hans Verkoijen. He was the Chairperson, Executive Director, CEO and day to day manager. But with the growth of the company - now 32 staff and 400 clients - he thought it wise to put a new Board of Directors in place.
In April this year he hired the services of the Uganda Institute of Corporate Governance to select for him a group of 10 potential board members, 2 for each sector: Business Development, Finance, Legal and Tax matters and IT. Out of these 5 members were selected and one external person and he himself were added to make a board of 7 members. In May an Induction meeting was held and this month of June we had our first Board meeting.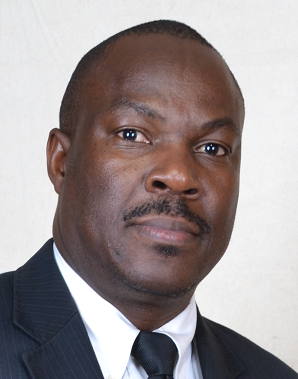 Vincent Kaheeru, Chairperson Crystal Clear Software Ltd
The members are:
Vincent Kaheeru, Sector Specialist Business Development and Chairperson, 17 years experience, was the first CEO of the Institute of Corporate Governance in Uganda, did numerous consutancies on corporate governance and human resource management, also worked at Uganda Commercial Bank, now Stanbic Bank.


Oduman Albert C. Okello, Sector Specialist Finance and Administration, 21 years of experience, worked in many donor financed programmes, designed and implemented a project for the World-Bank and has several years Board experience.


Pamela N. Kansiime, Sector Specialist Legal and Tax, 12 years experience, works at Uganda Bureau of Statistics, worked at Opportunity Bank among others, has 8 years governance experience.


Geoffrey Karubanga, Sector Specialist Microfinance, 14 years experience in the micro-finance sector, worked for Deloitte & Touche, Uganda as well as the Government of Uganda, did 15 major consultancies in micro-finance.


Grace Stuart Ndyareeba, Sector Specialist Microfinance, 33 years experience, mainly at the Bank of Uganda were he was Deputy Director, has done numerous consultancies and is an active member of the Institute of Corporate Governance in Uganda.


Waibale Simon Calvin Slack, Sector Specialist IT, 14 years experience, is the country ICT Manager for UAP Holdings/UAP Insurance, was Head Information Systems at Uganda Securities Exchange (the stock market).


Hans Verkoijen, Executive Director and CEO of Crystal Clear Software since 1998.
The expectations are high. With this board in place we should be able to achieve new heights. The target for the next financial year is to achieve a number of 500 microfinance institutions using Loan Performer.
In this column we present to you different country representatives who can help you with training, implementation or support issues. This time we introduce one of our representatives in Ghana, Hon. Stanley Kumah of CPOS, also an elected member of the Ledzokuku Krowor Municipal Assembly.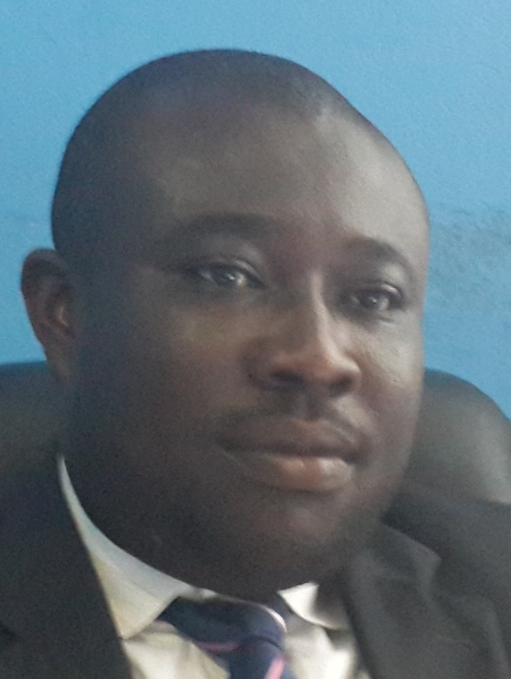 Hon. Stanley Kumah, our representative in Ghana
Stanley Kumah discovered Loan Performer in 2005 when he was providing accounting and financial services to a microfinance organisation in Ghana. He needed a software that is SMART to handle the activities of the company and that is when his search on the internet lead to the discovery of LPF. He implemented LPF version 7 for the company in 2006 with the help of Live Support from the LPF web site. He used LPF version 7 till the launch of version 8.
He decided to be a consultant, promoting Loan Performer to microfinance institutions in Ghana so he traveled to Kampala in Uganda for a full training and certification. That was in 2012. Since then he has implemented Loan Performer in more than 14 organisations and is now top on the list as the most productive agent for Crystal Clear Software Ltd.
Stanley was elected in 2011 as a member of the Ledzokuku Krowor Municipal Assembly and became Honorable Stanley Kumar. He has however no problems separating politics from his microfinance activities: "I have in place structures that ensure that both rolls are well taken care of."
Stanley can be contacted as follows:
Cell: +233-244467600 and +233-264467600
Email: sikumah@aol.com

We welcomed the following Loan Performer Users:

Atia, Asie Tana Inter Aide, India
Chitukuko Sacco, Malawi
Eazy Capital, Ghana
LCW, Life for Children Welfare, Kenya
OFRA NAHUM, Organisation des Femmes pour la Recherche et l'Action Nahum, Burkina Faso
Patongo Sacco, Uganda
So Oo Thetwin, Myanmar
Unity Finance, Uganda

We had the following trainings:

1. Last month we had a four day training for Nimpagaritse François, our representative in Burundi.

2. We also had a four day training for TGD (DRC).

3. Sharlotte Nansamba (our staff) trained Patongo Sacco (Uganda) for four days.

4. Joyce Kirungi (our staff) trained Silver Upholders (Uganda) who upgraded to version 8 as well and a new representative in Kenya, Ephantas Maina.

5. Robert Rasawood (our staff) trained 4 credit unions in Liberia for 12 days.

6. Hadijah Nakiwala (our staff) is doing an e-training for Hope for Life in Afghanistan this week.

We had the following implementations:

1. Sharlotte Nansamba (our staff) implemented Loan Performer 8 for Patongo sacco in Uganda.

2. Robert Rasawood (our staff) implemented Loan Performer for 4 credit unions in Liberia.

3. Frank Kasige (our staff) is assisting Kazoza Vision in Burundi with the conversion to version 8 and implementing Loan Performer on a Wide Area Network.
We have every first Monday of the month a training session of 12 days (2 weeks, Monday to Saturday from 9:00 to 17:00 hrs) in Loan Performer version 8. Next training starts Monday 7 July 2014. This takes place at our office in Kampala. Costs are 750$ per participant. At the end of the training the participants have to pass a test and a certificate will be issued. Use this link to download the training schedule.
If Kampala is too far, we can do an e-training via the internet. The full training takes 12 sessions of 4 hours at a cost of USD 150 per session. We can also tune these trainings to your needs and make them more efficient for you.
Need help with Loan Performer? Try the Online Help or Chat with our staff.
For a long time the Uganda government had exempted VAT on software. That was done in order to stimulate the development of local businesses. This seems to be no longer necessary nowadays and what is important now is the growth of the tax revenue. So as per 1 July 2014 we are obliged to charge 18% VAT on the sale of licenses to Ugandan clients as well as on annual fees. We are sorry for any inconveniences caused.