This article is a contribution from Innocent Anyahuru FCA, the Managing Partner of NED Consultants. It is aimed at evaluating the risks that Micro-Finance Institutions are exposed to and how a dependable software like Loan Performer could be used as an effective tool in minimizing or eliminating these risks.
Risk is the chance of loss or harm occurring. Risk management is the process of evaluating the chance of loss or harm, and then taking steps to combat the potential risk.  Risk management could be said to be a process through which any given Micro finance Institution  carries out the function of risk identification, analysis, assessment, control, avoidance, minimization and or elimination of unacceptable risks.
Risk management therefore involves planning, organizing, and controlling the activities of an organization in order to minimize the consequences of risk on an organization's corporate goals. An organization may use a risk management strategy in the management process which may include risk assumption, risk avoidance, risk retention, risk transfer or any other strategy or combination of strategies in the management of future events.

The nature and process of a transaction determines the risks that could arise from that transaction. In the Micro finance Institutions there are many risks arising from the transactions of Micro finance business. These business may include:
Small and numerous transactions (loans, savings, shares or insurance transactions)
Loans for entrepreneurial activity
Collateral-free loans
Group lending
Focus on poor clients
Market-level interest rates
The above mentioned transactions could lead to many kinds of risks depending on the management information system structure, but all the risks could be summarized as follows:
Operational Risk
Credit Risk
Market Risk
Compliance risk
Liquidity risk
Operational Risk
Operational Risks are the risks that could arise due to failure in the
Internal control system,
Inability of staff to perform their work faithfully and efficient,
Inability of  the hardware and software to perform efficiently,
External events that could easily affect the above,
The above mentioned risks could easily be mitigated by using Loan Performer Software. Loan Performer keeps track of who has accessed the system and what operations he or she has performed during a given period of time. This is useful both for maintaining the security and for the recovery of lost transactions.

You can print an audit trail report only if you have activated the accounting part of the program (System\Configuration\Accounting - "Set the start of the financial year"). This can be necessary in case of irregularities when you need to know who is responsible for a specific transaction.In addition approval processes for loans are equally built into the system, meaning that in event of any staff granting loans outside his limit, the system will report on such unauthorized transactions. SMS Reminders features built into the software can always assist staff to be alive to their functions and reduce the risk of failure.

Furthermore the Software is highly secured as it runs on SQL Server with User Name and Password facility, Set User Access Rights, User Log Reports, and Audit Trail Report. Backup Facilities makes the software a lot more dependable in management of many kinds of risks in the Micro finance Institutions, as it is very easy to recover from any form of data loss from the backup facility.
Credit Risk
Credit risk refers to the chances of a borrower failing to make repayment of loans as at and when due. What happens with the credit portfolio of any MFI goes a long in determining the survival of the MFI. Credit Risk could be in the form that Loan Amount both principal and interest will be due and would not be paid and the MFI may not have seen the indicators, or the Guarantors would fail to make up for the failure of the borrower.

The risks associated with Loans could be broadly categorized into:
Loan Repayment default risk
Exposure risk
Exposure refers to
Market risk:
This is the risk that arises as a result of changes in the industry like variations in interest rates.
Compliance risk:
This is the risk of breaching legal requirements, pronouncements, statutory regulations, other relevant official provisions and internal regulations which involve the threat of official sanctions, financial loss and loss of reputation
Liquidity risk:
This is the risk that an MFI cannot meet its obligations when they fall due without incurring substantial costs in the form of expensive refinancing or the need to sell assets.

These risks as summarized above could be addressed with a sound MFI Software by making effective use of control reports and system controls in Loan Performer that could assist a user to get accurate data that would be a backbone for evaluating the possibility of risks and their chances of occurrence. With Loan Performer, a lot of ratios could be computed and used to evaluate performance but the most common measures of MFI performance is profitability.

Profitability is measured using the following criteria: Return on Assets (ROA) = net profit/total assets shows the ability of management to acquire deposits at a reasonable cost and invest them in profitable investments. This ratio indicates how much net income is generated per Naira of assets. The higher the ROA, the more the profitable the MFI indicating a low level of overall risk exposure. Return on Equity (ROE) = net profit/ total equity. ROE is the most important indicator of a bank's profitability and growth potential. It is the rate of return to shareholders or the percentage return on each Naira of equity invested in the bank. Cost to Income Ratio (C/I) = total cost /total income measures the income generated per Naira cost. That is how expensive it is for the bank to produce a unit of output. The lower the C/I ratio, the better the performance of the bank.
Liquidity Performance
Liquidity indicates the ability of the MFI to meet its financial obligations in a timely and effective manner. The liquidity of any MFI determines how alive the MFI is. Financial liabilities are attracted through retail and wholesale distribution channels.

There are so many reports in the Loan Performer where risks associated with loans could be analyzed and ratios computed to enable the management ascertain the relevant risks associated with each loan. These include:

Approved/Rejected/Pending Loans;  
Reports on Repayments;
Active Portfolio per Credit Officer;
Deleted Loans/Repayments Report;
Loan Cycles Report;
Written-Off and Rescheduled Loans Report;
Arrears Report;
Ageing Report;
Portfolio at Risk Report;
Portfolio Analysis Report,
Monitoring Report;
Portfolio Reports;
Category Reports;
Group Members Repayment Report;
Group Members Amount Due;
Group Members Arears Report;
Performance Monitoring Report and so many other reports that are available in Loan Performer.

Loan Performer is therefore one the most preferred solutions for Micro Finance Institutions because it supports management in very many ways to manage Operational Risk, Credit Risk, Market Risk, Compliance risks and Liquidity Risk.

Over the past year, we have been working tirelessly on delivering Loan Performer 8.16 and as we enter 2015, we are glad to highlight what you should expect when we finally role it out. This new version is full of new features and enhancements that will be of interest to microfinance institutions, SACCOS and banks. We anticipate that this will add a new fresh feel of flexibility, convenience, ease, reliability, transparency and efficiency in delivery of microfinance services to the target clients. Below is what you should look for in LPF8.16.
Loan Performer warns the user when entering a Time Deposit if the client still has an outstanding Time Deposit.
Additional regulatory reports for the Central Bank of Ghana.
User is able to send an SMS message after entry of a Loan Repayment.
The possibility for a user to select the picture format for the client's photo and signature and an option to define the Maximum File Size at System/Configurations/General.
Client's Photo and Signature added on a second page at Loan Repayment.
The availability of an API – Application Program Interface. This is for 3rd party developers who want to create applications that interface with the Loan Performer database. This API  offers flexibility to integrate Loan Performer Mobile Money Payments with any Mobile Service Provider.
Ability to print ID cards for clients.
An option to define administration fees and interest rates per loan cycle.
Ability for Loan Performer to automatically charge penalties on loans as date changes unattended. This means penalties can be calculated even if the office is closed.
An option to send an email message on the client's birthday.
If the client happens to do a savings transaction on his/her birthday, LPF informs the cashier who can then congratulate the client.
At installation of LPF8.16, Loan Performer automatically configures ODBC, which means less hassles for new installations.
Ability for Loan Performer to retain the history of the last X passwords (at Configuration/Users/General) whereby X can be set by the user. LPF then validates passwords against the last X passwords.
A maximum number for group members can be set (at Configuration/Register 1), that restricts the entry of additional members if the maximum is exceeded.
A report on refinanced loans is added.
An option to add the photo of the client on the Contact History report.
An – external – Customer Web Portal that allows a customer of a financial institution to view his/her own shares, savings and loan accounts via the internet (see the separate article in this Newsletter).
Ability for users to retrieve the saver's statement in ascending and descending order.
Automatic repayment of loans from savings when the loans are due.
User can define different share products (under System/Configuration/Shares).
Version 8.16 once available, is free of charge for existing users of Loan Performer apart from the Customer Web Portal and the API.

In a bid to improve our help files, training manuals and support, the Loan Performer users  can now send us comments and remarks on the content of an online help topics. Every help page on the web now has a user feedback section at the foot of the page that allows the reader to rate the topic using a 5 – star ranking system and add a comment. The reader will be able to let us know if the topic has been helpful or not. Your opinion on the help file content is important so do not hesitate to send us your comments. Click on the following link to access our online help pages: http://www.ccs.co.ug:8080 .   

With this new online help innovation, we will gain insights into how users use our documentation, what they are searching for and what they recommend.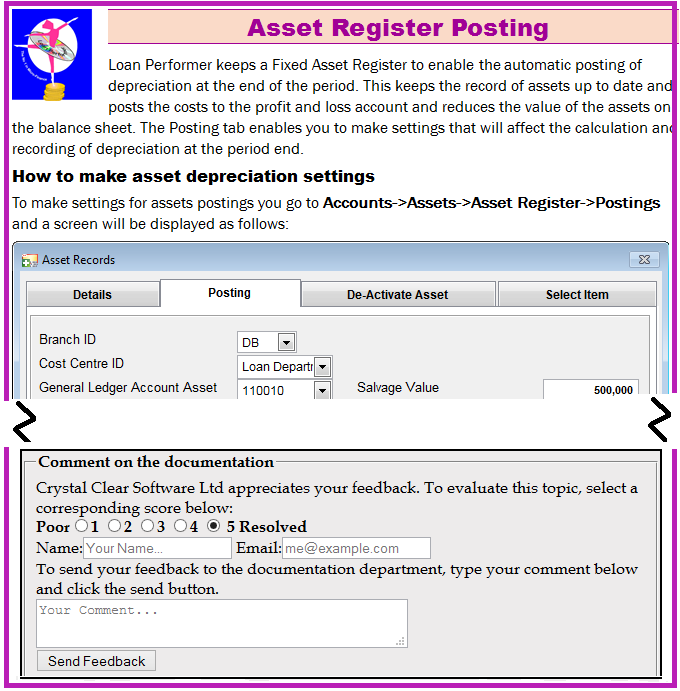 As shown above, the appended feedback section is going to enable us collect the following data:
         Topic views – Which topics have the highest and lowest traffic so that we can be able to prioritise work?
         User count – How many people are using our system and when are they using it?
         Topic ratings – A 5 – star ranking system will enable us gather user satisfaction.
         Time and date stamp – To enable us know the last time a particular page was updated and compare with the date the client consulted the page.
         Email notifications on user activity and comments added to topics
         Context – sensitive help calls that have been invoked through the F1 key
         Versioning of those help pages such that we can know to which version of LPF the client's comments apply.
         Analytic data such as key words and search terms being used that yield no results. This will provide a valuable insight into how users use our documentation and how it can be improved.

In conclusion, this new application will enable us to generate reports and analyse customer usage and satisfaction in order to serve you better.
In this section our Technical Manager gives you some useful tips to make your life with Loan Performer more friendly.
How to fix 'Errors of Principle'?
An "Error of principle" happens when an entry is posted on an incorrect GL account. It is possible to correct these errors as long as you have not done the day-closure. Let's see how we get to fix this in Loan Performer.

Assuming an amount of USD 1000 was wrongly posted on the 'Security Services' account and we would like to move it to the 'Rent Expenses' account.  We can do the following:
Go to Accounts > GL Transactions > Repost Transactions.
Select the Transaction date range
In the 'From Account' dropdown list select the account on which the entry was made.
Click 'View Transactions' (All open transactions on that accounts will be displayed).
Check (tick) the transaction that you want to correct.
In the 'To Account' dropdown list select the account to which the entry should be moved (the correct account).
Click 'Save'.

How to set Hotkeys (Shortcuts) to the menu?

Chances are that your system is used by different users who visit the same modules, menus and windows over and over again day after day. You can setup shortcuts for different windows and menu items so that your users don't have to click all the way to the window that they would like to display - anyone would appreciate the amount of time and mouse clicks this can cut out. The following is how you set up hotkeys:
Go to System > Set Hot Key(s).
In the 'Hot-Key' column enter the information for the Hotkeys for the window which you want to be opened when the hotkeys are pressed.
Click 'Save'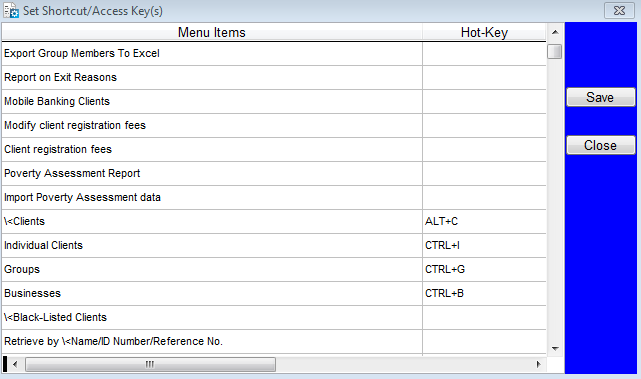 How Secure should we be?
Security is paramount so before you start to setup a connection with SQL Server, you need to decide what kind of security you intend to use.
Open Database Connectivity (ODBC) is an open standard Application Programming Interface (API) for accessing a database.
The ODBC data source creates a link between your application (Loan Performer) and your LPF database contained in the SQL Relational Database System (RDBMS) on your dedicated server or work station.
In order to access your database you need to create a DNS in your ODBC data source application. A Data source name (DSN) is a data structure that contains information needed to connect to the database.

The information needed is the following:
1. Name of DNS
2. Dedicated SQL Server/Workstation to connect to (Name or IP address and SQL server instance)
3. How SQL server verifies the connection, either integrated windows authentication or SQL server authentication
4. Database to connect to

There are mainly two types of DNS you can use to connect to a LPF Database:

System DSN: For anyone using that workstation for example, no matter who logs onto the machine, the system DSNs can be seen by all users, and they are stored in the Local Machine section of the Registry (whoever logs on to the computer/ any user on that system has direct access to the database since the ODBC is configured for System DSN).

User DSN: Works only for a specific user on a machine/workstation. Therefore, if someone other than the person who created the user DSN logs onto that machine, then the User DSN will not show up. This DSN is stored in the Current User section of the Registry.

We suggest three alternatives which you can consider:
Use windows authentication, which means that you will need to manage your users in SQL Server. Each user is required to be enrolled in SQL Server and granted appropriate individual access to the database. This offers simple traceability, seamless operation and excellent security.
Use windows authentication but manage the logins in SQL Server for one or more windows groups. This makes managing the security in SQL Server simpler (as the windows groups need to be setup only once), but you loose the ability to easily identify individual users in SQL Server and track their transaction history.


Use one or more SQL Server login accounts to access Loan Performer. These are one-off setup accounts which will be used by all your users. This is suitable if you don't care about tracking individual users and possibly have your own front-end or table driven security system. When a user attempts to touch SQL Server, s/he will be prompted for this single login name and password.
With Loan Performer 8.16 our clients can offer their clients web access to the Loan Performer database to retrieve statements online on shares, savings and loan accounts of their own accounts. Apart from statements, the customer can also see his/her bio-data and make inquiries by sending/receiving messages using the IP address / Url provided by the MFI / SACCO.

What is required to allow customers internet access to their accounts? You need of course Loan Performer 8.16 and you need to put your database on a webserver. You also need a Loan Performer license that enables your database for client access. You also have to configure Loan Performer to allow a particular client access to the database with a username and password. Let's go step by step.
1. System Configuration On-Line Access
The first thing is to configure the Web-Portal in Loan Performer. You need to go to menu System/Configuration/Online Access Settings. This page contains the http address where the customer can login. It also has a site slogan and a welcome message created by the MFI / SACCO. Also a confidentiality statement and a disclaimer can be added.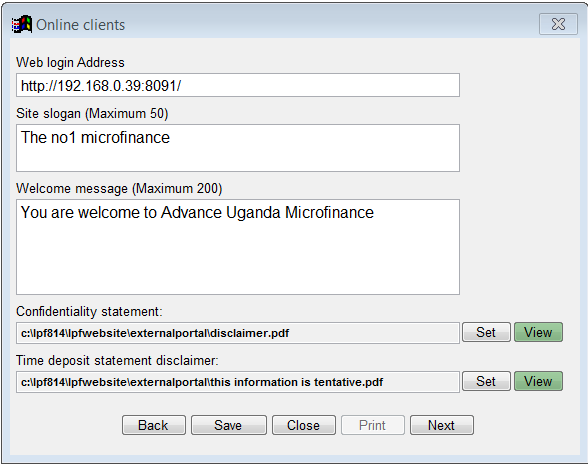 See the results of this at step 5 below.

2. Support files/Show more message types
At menu "Support files/Show more message types" (Online messages) you can configure general messages that will be available to online clients when they select "New messages".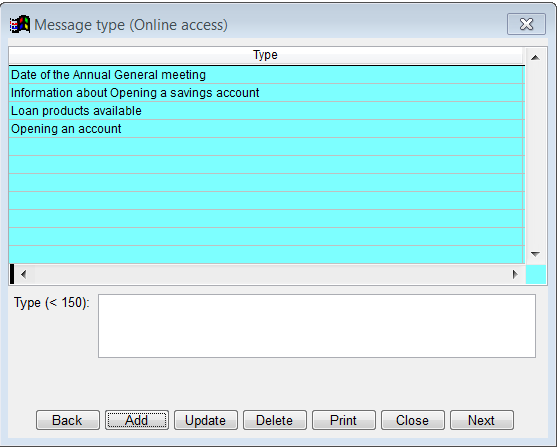 3. Online Access
At menu 'Online access' in the Loan Performer client's menu, the user can manage the clients that should have internet access, reset their passwords or cancel their access.
Also reports can be printed on customers with internet access, as well as messages sent/received and a log on online usage.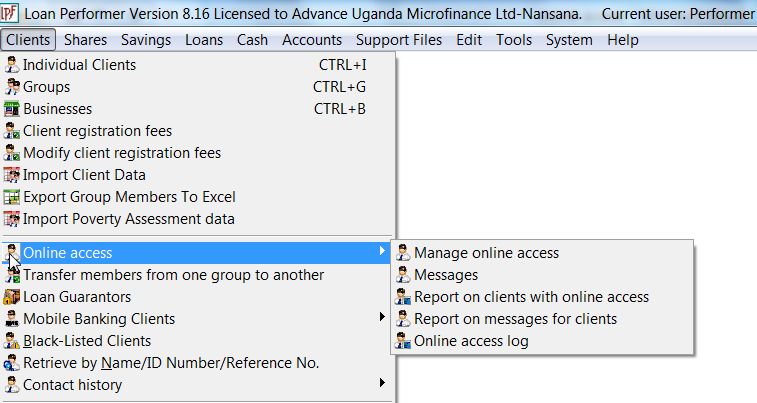 The Loan Performer user can also send and receive messages to / from clients. It will also indicate from sides (MFI and client) whether the message was read / seen at the message sent page.
4. Communicate Login Details
When a client is selected, LPF automatically generates a login name. The password initially is star-username-hash, but the customer is required to change the password the first time s/he logs in. If the client has an email address, this information can be sent automatically to the client's address.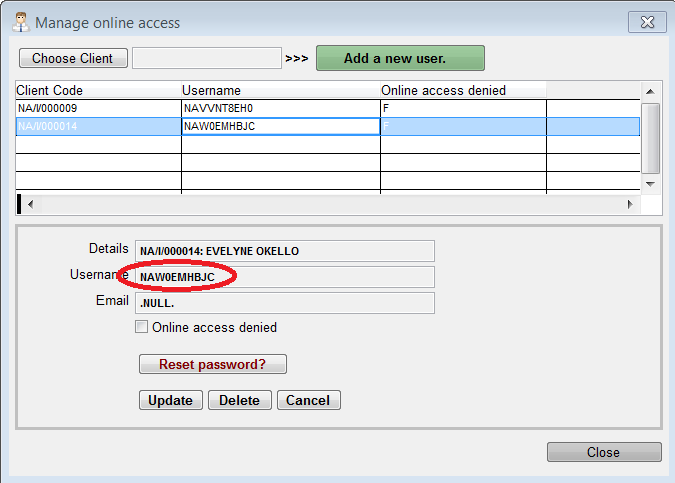 4. Website
We now go to the web portal and enter the address in our browser. We see it has the name of the institution (coming from the license file), and the site slogan. We also see the Login request where the customer has to enter user name and password.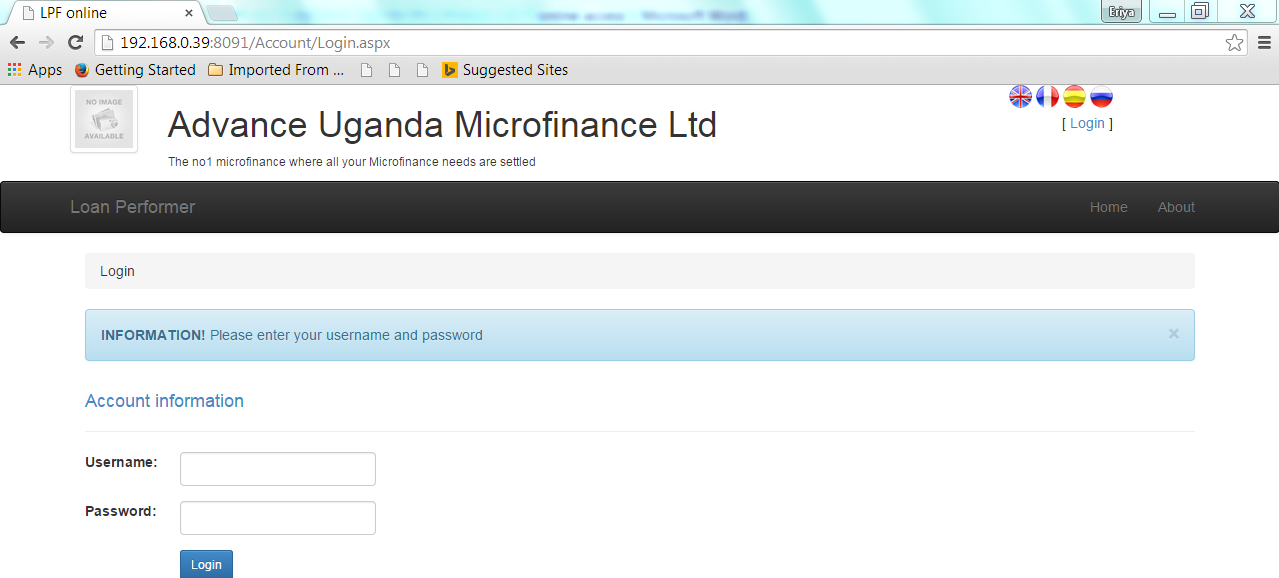 5. Languages
Once logged in we also see the welcome message, the client who has accessed the page and the disclaimer. At the top right corner, the choice of Loan Performer languages are provided with the flag colours. (English, French, Spanish and Russian) currently. Unlike the traditional Loan Performer interface, the user can change languages at any page while logged in.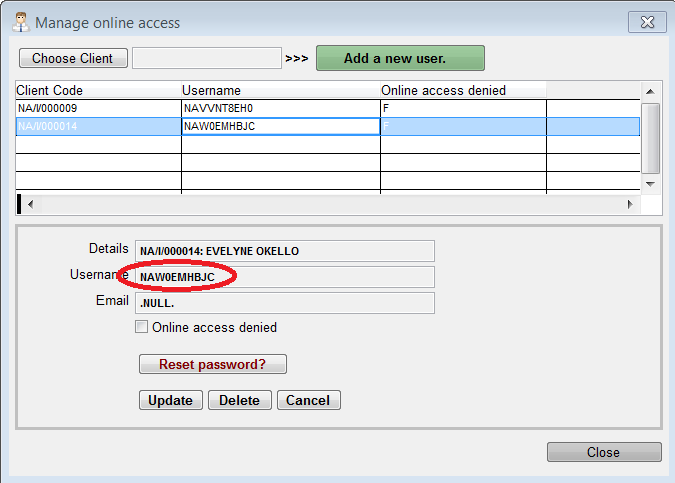 6. Sending messages to/from MFI
Once logged in, the clients / members can access the Shares Statement, the Savers statement, the Personal ledger, the Time Deposit Statement, the Loan Ledger Card, the Client Bio data or see some institutional information or proceed to send or read messages to/from the MFI / SACCO.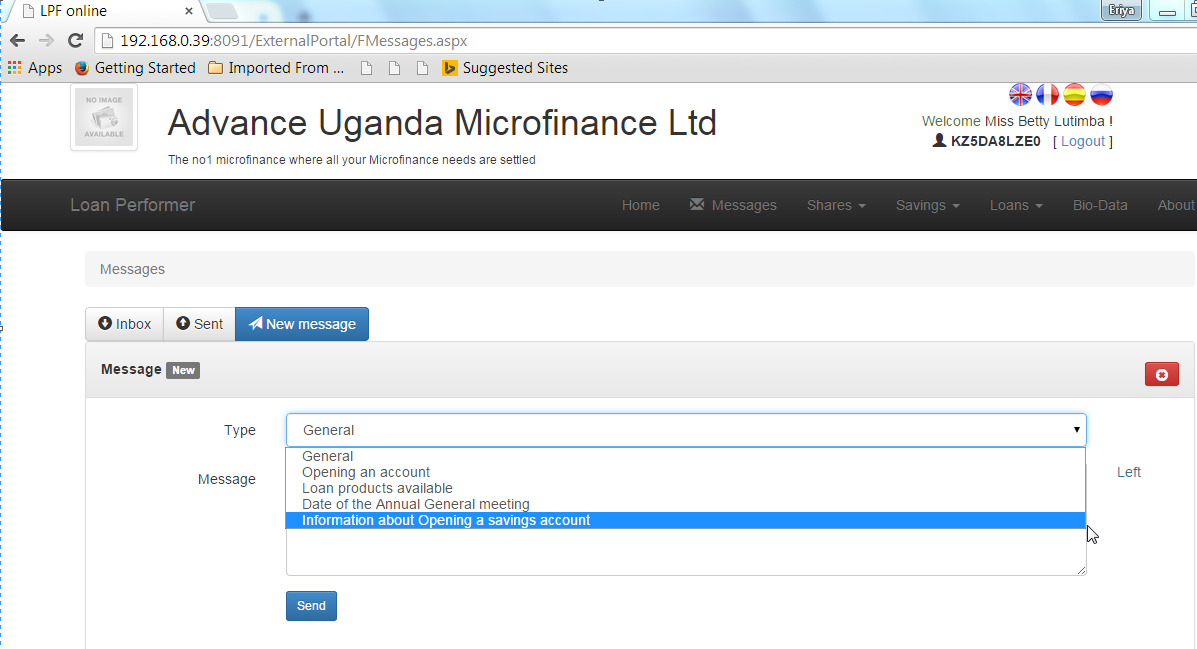 Example of personal ledger access:
This will load the Personal Ledger then you click get report.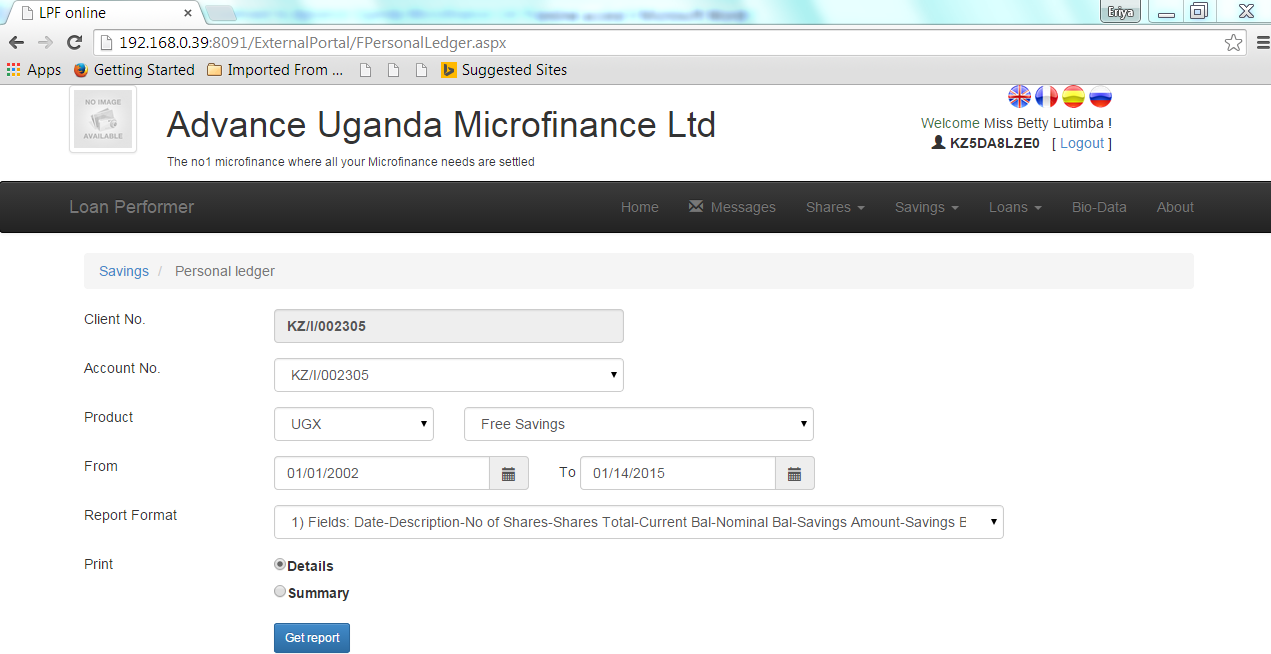 Note that the report is exactly the same as if printed from the normal user interface in Loan Performer.
Vous pouvez également l'exporter à d'autres formats de fichier tels que XLS, PDF etc comme indiqué ci - dessous: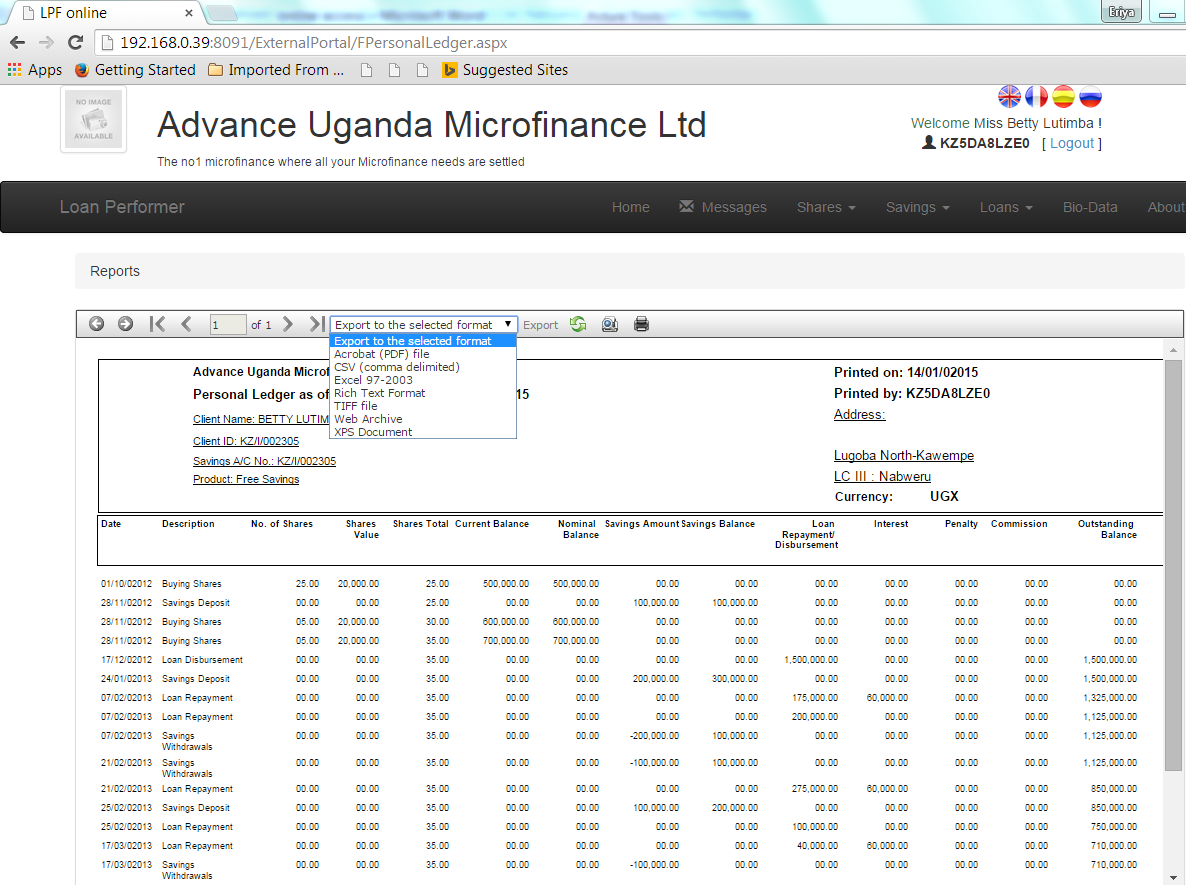 Voilà la vue d'ensemble du portail web de Loan Performer, n'hésitez pas à nous faire part de vos commentaires et suggestions.
In this column we present to you different country representatives who can help you with training, implementation or support issues. This time we introduce one of our representatives in Nigeria, NED Consultants. Innocent Anyahuru is the Managing Partner, a Certified Software Implementer and a Chartered Accountant.

Innocent Anyahuru of NED Consultants, our representative in Nigeria

Innocent Anyahuru has been in Information Technology Practice since 1990 and has carried out the automation of many organizations both in public and private sector. Innocent has been involved in the implementation of Loan Performer since 2004; and has overseen the implementation of Loan Performer Software in over ten sites in Nigeria
.
NED Consultants is an Information Technology Solution provider covering Software, Hardware, Data, Training and Support.
NED Consultants was registered in 1997 with Corporate Affairs Commission of the Federal Republic of Nigeria with registration number PH/034626. NED Consultants offers training in Loan Performer. The firm has 5 Partners and two are directly involved with Loan Performer Implementation and training; some are Microsoft Certified, Computer Scientist and Management Information Systems experts. NED Consultants runs three offices in Nigeria – Lagos, Port Harcourt and Aba. You can reach us on ianyahuru@gmail.com or ..

NED Consultants can be contacted as follows:
Addresses:
Abia State: 128 Aba Owerri Road, Aba
Rivers State: Hall of Fame, UNN Alumini Building, Plot 2A Old GRA Extension, Port Harcourt.
Lagos State: 91 Adeniyi Jones, Ikeja

Phone: +234-8033169122, +234-8095593122

Email : ianyahuru@gmail.com


We welcomed the following Loan Performer Users:

Get Ready DMF, RSA
Shawn's Fincon, Zimbabwe
Buggade Saccos, Uganda

We had the following trainings:

1. We trained 2 staff members from RFM Fans Development Sacco during 2 weeks at our office.
2. We had an e-training of 6 sessions to upgrade Chibueze in Nigeria.


We had the following implementations:

1. We have an on-site implementation for Salt-to-Ghana. This is still ongoing.

2. We have centralised the 2 branch databases of Turame.

3. We have centralised the 3 branch databases of Hekima and changed the base currency from USD to CDF.

4. We have centralised the 3 branch databases of Smico and put it on a local WAN Server.

5. We have converted the database of Chibueze Microfinance Bank in Nigeria to version 8. The same with the Mecap database in Senegal.

Other:

Saturday 20 Dec 2014:
Some CCS staff performing at the End of Year Party.
We have every first Monday of the month a training session of 12 days (2 weeks, Monday to Saturday from 9:00 to 17:00 hrs) in Loan Performer version 8. Next training starts Monday 2 to 14 February 2015. This takes place at our office in Kampala. Costs are 750$ per participant. At the end of the training the participants have to pass a test and a certificate will be issued. Use this link to download the training schedule.
If Kampala is too far, we can do an e-training via the internet. The full training takes 12 sessions of 4 hours at a cost of USD 150 per session. We can also tune these trainings to your needs and make them more efficient for you.
We have a refresher training in Loan Performer 8.15, targeting users of Loan Performer 7.10 who need to know version 8 or for those who have been working with version 8 but never had a formal training. It will be held during the last week of January (22-27 Jan 2015) at our office.
Need help with Loan Performer? Try the Online Help or Chat with our staff.