In May 2014 we signed an agreement with the World Council of Credit Unions (WOCCU) under the Chief of Party, Patrick Muruiki, to provide four credit unions in Liberia with Loan Performer. This is the very first time for credit unions in Liberia to be automated.
WOCCU was the sole sponsor of the automation project for the four credit unions, each from a different region in Liberia. It included purchasing licenses for the credit unions, training and implementation of the Loan Performer Software. The unions are: Unity People's Savings and Credit Union (UPSCU) from Buchanana city, Multi National Credit Union (MNCU) from Red Light City, Unity Savings Credit Union (USCU) from Grand Gedeh city and Trust Savings and Credit Union (TSCU) from Ganta city.
Robert Bagaiga, Support/Trainer Personnel of Crystal Clear Software Ltd carried out the full training of 12 days from 26th May 2014 to 6th June 2014. The training had eleven participants from all the four unions and we were honoured to have the Deputy Chief of Party from WOCCU, Michael W. Pewum present as well.
We also did the Implementation for all the 4 credit unions in their respective regions. This included installation of SQL Server and Loan Performer on the server and client machines, enabling them to go live.

By using Loan Performer, WOCCU is looking forward to improving the Union's operations for instance in generation of real time reports. This helps management in making informed decisions, work more efficiently and achieve their objectives.

Being the very first credit unions to be automated in the whole of Liberia, Robert Bagaiga, the Support/Training Personnel of Crystal Clear Software Ltd says; "I feel honoured to be the first consultant to implement such a big project for the first time in Liberia. This is history in the making."

As the project went on, the trainer met some challenges. They didn't stop the project but rather were taken to be a learning experience for future clients:
The Credit Unions are new organisations without predefined savings and loan products or even procedures. This made it difficult to define a proper configuration in Loan Performer. There was need to first agree on for example interest rate calculation method, fees to be charged, penalty calculation methods and many other things.


During implementation the IT person responsible for the Management Information System was not present at the time of carrying out configuration of network security and policies plus the servers. This is a missed chance.


It is always better to have computers for the trainees' setup before training and all configurations done in order to save time. However, this was not done and it consumed much of the trainer's time.

Good internet connectivity helps in giving support to clients. Without this, the support team finds it difficult to help those clients that have problems with Loan Performer. This has been a challenge with some of the WOCCU members upcountry.
Robert: "We advise all Financial Institutions to have a Management Information System (MIS) Manual in place that defines the status of their MIS at the time. It highlights for example when backups should be done, who should do this, where backups are stored, who has access to Loan Performer, at which level, what is the policy on passwords, who can add/update users, what controls are in place etc. Since the business is a going concern, it will help new employees to fit in very easily."


In this section our Technical Manager gives you some useful tips to make your life with Loan Performer more friendly.
Update Loan Performer 8 Cache
When you have just installed, configured  and connected the database. Loan Performer will display the message 'Loan Performer needs to update your Lookup database'. Loan Performer caches some of the common information used so that its readily available to the user when she/he needs it.  If you have just switched databases we highly recommend clicking 'Ok' so that your cache is updated with the new details from the database. Version 8.15 and later will automatically detect the information that's needed and update that only.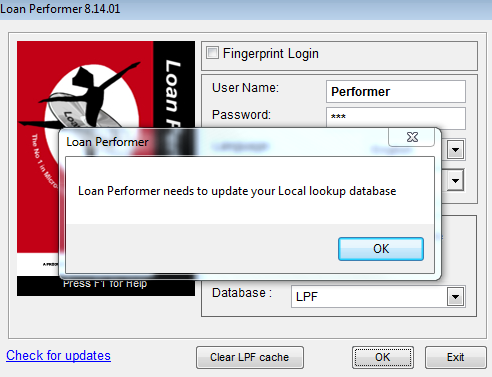 Multiple Logon attempts

Loan Performer will detect current connections to the database and does not allow Roaming- user profiles. When the message below gets displayed it means that either the user did not logoff properly or the user has an active connection to the database on a different workstation. Please verify on the computer indicated and logoff. If you have administrative privileges to the Users' module please go to Systems > Configurations > Users. Click 'Clear Users as not logged in'.
Client Registration
The following message is displayed when you try to save  client details without entering the "Birth date" in "Personal Data"  window.

This is so because the "Minimum allowed age of registered client 'it has been set in Register Part 2 by default. If you want to register new Clients without necessarily having to enter the 'Birth date' Go to System >Configurations >Register Part 2 and set it to 0. Click 'Save'. The same configuration screen holds the setting for First name, middle name and Last name.
Modifying Automatic Transactions
Automatic transactions are transactions that are automatically posted to the general ledger by the system through the general business operations like Loan repayments, Savings deposits/withdrawals etc. By default these transactions are not modifiable through Accounts > Add and Modify Transactions. For you to be able to modify Automatic transactions go to System >Configurations >Accounting. Check 'Also Automatic Transaction can be modified before day-closure'.  Note that the transaction(s) must not be in a closed period.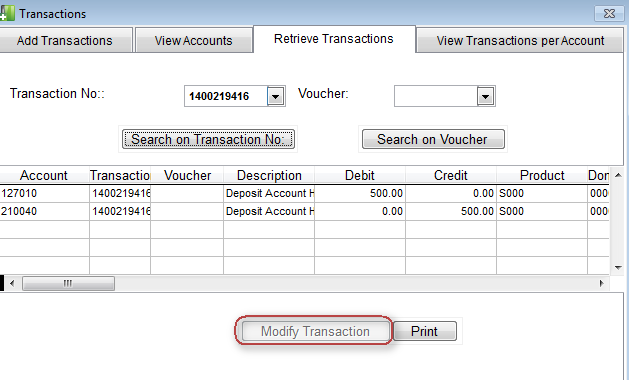 Loan Performer is Slow
When you find yourself in a situation where your Loan Performer is slow you may need to look at the following areas:

1. In cases where the system is too slow often what you see, is that SQL Server's CPU usage is very low, but the system's paging activity is very high. This signifies that the system is starved for memory. This may usually happen in cases where one is trying to retrieve account transactions that span several years. You may need to retrieve these transaction in batches or increase the RAM memory.

2. Huge transaction logs may also have negative consequences on the performance of your database. If your business is not worried with recovery of data at a particular point-in-time you may need to consider setting your database to the "Simple Recovery Model". This way you will not have extra ordinary growth of your log file.
However if your business does not support loss of data or requires having "Point-in-time Recovery", you cannot afford anything less than the "Full Recovery Model". In Full Recovery Model, your transaction log will grow until you take a backup of it. You need to take the Transaction Log Backup at a regular interval. This way, your log would not grow beyond some limits. If you are taking an hourly/daily Transaction Log backup, your Transaction log would grow until one hour/day but after this the Transaction Log backup would truncate all the 'committed' transactions once you take it. Doing this would lead the size of the Transaction Log not to go down much, but it would rather be marked as empty for the next hour's Transaction logs to populate. With this method, you can also restore your database at a Point of Time if a disaster ever happens at your server.

Many clients that are still using Loan Performer 7 are now upgrading to Loan Performer 8. This article explains the requirements, the expectations and the process for the upgrade.

We announced about 4 years ago that once Loan Performer 8 is released, no major upgrades for version 7 will be done. All new features will go into Loan Performer 8 and we will just do bug fixes for version 7. That is still the case and sometimes we have to disappoint clients who want an additional feature in 7.
Loan Performer version 7 was available with either a Foxpro or a SQL Server database. As SQL Server is a better database and SQL Server Express is also free of charge, we have phased out the Foxpro database in version 8. If your organization is using version 7 with an SQL Server database, then we'll just upgrade the database from 7 to 8. However if you are using version 7 with a Foxpro database, then there is a process of database conversion from Foxpro to SQL Server. This conversion can only be done by us as it is highly technical and if done by others, may generate a lot of support issues. The conversion goes at a cost of 300$ per database and is done within 24 hours (upon appointment). When you get the database back, we also assist online with installation.
Often it happens that total clients, total shares, savings, loans etc are not the same between version 7 and 8. In general version 8 is more reliable in its figures but differences can also be caused by corrupted records in the Foxpro database that were not taken to SQL Server or issues like internal consistency where e.g. a client has a geographic area code that does not exist in the geographic areas table etc. When you get the database back, we supply you with a report on any differences that occur. We try to fix these issues before the deadline of 24 hours, but sometimes that is not possible. We will then get back to you later with patches to correct these differences. However, do not let this be a reason to discard the database, it is a temporary situation that won't last long.

Preparation for the Upgrade
For IT Administrators: test LPF version 8, for all users: learn version 8 (for both groups we have trainings available).
All computers should be Pentium machines running Windows 7 or 8 and have 4 GB Ram memory. All servers should also be Pentium servers with Windows Server 2003 or higher with at least 4 GB Ram memory.
Install SQL server 2008 R2 (Recommended) for Windows Server 2008 and below. If you are using Windows Server 2012 then you need SQL Server 2012. The Loan Performer version 8 setup on our website have SQL Server 2008R2 Express inbuilt. For the recommended system requirements visit http://msdn.microsoft.com/en-us/library/ms143506(v=sql.105).aspx.
Dot net Framework 4.0 or above. This has to be installed on all the computers that will use Loan Performer. This is also in-built in the Loan Performer setup. Follow this link for a detailed write up on the system requirements for dot net framework :  http://msdn.microsoft.com/en us/library/8z6watww.aspx.
Expectations after the Upgrade
The balances in version 7 are returned in version 8 as is, if for example you have an imbalance in your trial balance, the conversion / upgrade does not have these changes.
It's also important to note that when doing the verification and comparison that some reports in version 8 have more filters than version 7. For instance in version 7 they by default exclude written off and rescheduled loans while in version 8 they are included and you can exclude them as desired.
Expect a slight difference in speed, sometimes after upgrade the speed of the two versions seems to differ. Note that speed in version 7 especially Foxpro cannot be compared to that of version 8 given that these are 2 different platforms. However with the right specifications this will not be a problem at all. In version 7 you might be used to selecting a client by seeing all your clients in a list before clicking on one. In version 8 you would be faster off by entering the client number if you know it, than by first downloading all clients before selecting a single client. Or if you know that client name starts with the letter "N", then version 8 allows you to download only those clients starting with "N" before making your selection.  
Some of the reports have been restructured and they are dependent on the dot net framework such as the saver's statement, cash transactions report and savings balances report. If you get any error trying to open either of these reports, it's nothing to worry about, rather just have the dot net framework 4.0 or above installed and you'll be sorted.
When installing and/or upgrading afterwards, do not forget to register afresh the dll files by running "Register.bat", to delete all files in the "Lookup" folder and to delete all files in the "%Temp%" folder (just type this in Windows start button/Search Programs and Files).
Finally version 8 has a lot to offer, but it should be managed well. Do not forget to update your policies regarding the use of Loan Performer. Backups of Foxpro databases is not the same as SQL Server. Another article in this Newsletter talks about the 'Simple' and 'Full' recovery model. Version 8 allows you to see changes made in the Configuration with the Configuration Log report. Update your MIS Manual and make sure you get the best information out of Loan Performer 8.
Cash Management is a delicate matter and attention should be paid on how to configure this in Loan Performer. Too often gaps are left open and staff is able to privatise company resources which are only discovered when it's too late and the damage is done. Maybe this article will help you to close the gaps?
How to Open and Close the Till?
In the morning money is taken out of the Vault and distributed to the Tellers and at the end of the day, the balance is transferred back to the Vault. How do we do this in Loan Performer ?

First ensure that the cash accounts for the tellers and the vault account have been created at System->Configuration->Cash Accounts.
Then you need to give the tellers the appropriate access rights to the cash accounts so that they are authorized to operate them. You need to set the maximum withdrawal amount each teller can handle without seeking authorization from the manager (See Savings\Approve withdrawals above cashier limit). It is also possible to give a teller access to more than one cash account by unchecking the "This cash account only" option and selecting the accounts while holding down the shift key. You will be able to do this at System->Configuration->Users. See below.


In addition, the tellers need access to the LPF menus that they need to work with. These rights are given according to the user's function at System->Configuration->User Access Rights. Here you tick the menu items where the user is allowed access as shown below.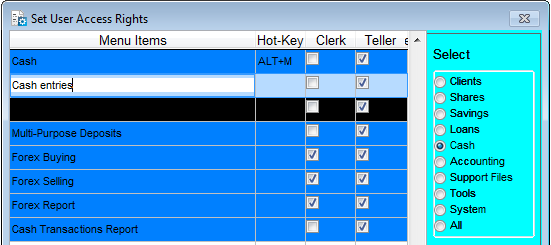 To make data entry easier and faster, you also have to define the items that cause cash flows, e.g., "Transfer of daily cash to tellers", "Transport Advances" etc at Support Files->Cash Items and link them to the proper GL account in the Chart of Accounts as shown below.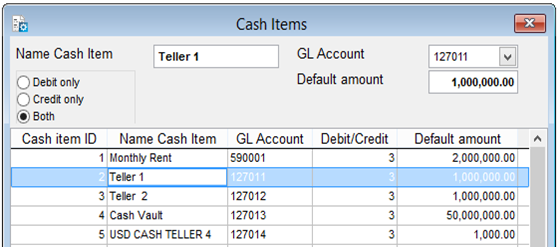 As an example, this is what happens when Teller1 receives 60,000,000 in the morning at the start of the day.

The person in charge of the vault, e.g., "Supervisor" transfers "60,000,000" from the Vault to Teller1. The Supervisor logs in into Loan Performer, goes to the "Cash/Cash Entries" menu and enters this as a payment while selecting the Teller1 at "Cash Item ID" (Teller1 has been entered previously at "Support Files/Cash Items" and linked to the GL account of Teller1.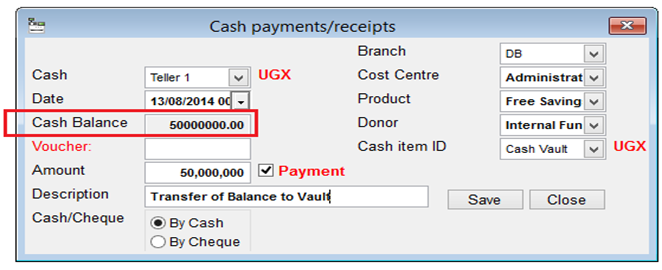 Next, the teller logs in into Loan Performer, goes to the menu "Cash/Cash Entries" and sees that her balance is 60,000,000. She enters a transaction e.g., "Payment of Rent, say of 10,000,000" while selecting Cash ID item 'Rent' which is linked behind the scenes to the GL account for office rent. She now remains with a balance of "50,000,000". This goes on during the day and at the end of the day she prints the "Cash Transactions Report". She checks whether the cash balance in the till is the same as the balance on the report. If it is, she transfers the balance back to the vault with an entry at "Cash/Cash Entries". She then prints the "Cash Transactions Report" where she has a zero balance and takes this with the physical cash and the receipts of the day to the vault holder for signing. With this person's signature and the cash balance returned to the vault, the till is closed.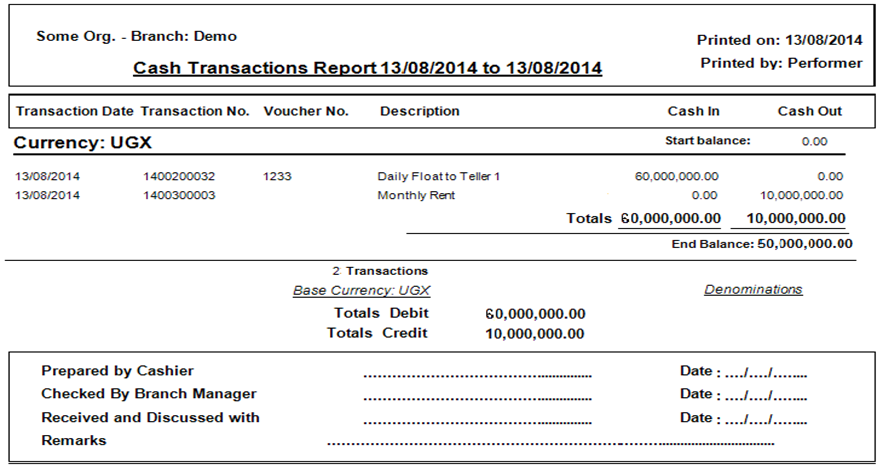 Some advice:
- Give each cashier his/her own GL account to ease controls (not several cashiers using the same GL account)
- Each cashier should have access to his/her own account only (Cashier A should not have access to Cahier's B account)
- In case of errors, have a procedure in place so that a third person, most likely the accountant, can correct the errors. Cashiers should not be able to correct their own transactions.
- Print receipts for all transactions, let Loan Performer generate receipts automatically and check at the end of the day whether all receipt numbers are there and none is missing. If you have activated to Log receipts, you can even reprint them if they are missing.

We sent you some questions in order to evaluate the Loan Performer Newsletter. We appreciate the replies we received. The results are as follows:
1) 60% of our readers always reads the newsletter, 40% sometimes. Maybe those that do not read the Newsletter did not respond to the questionnaire either?

2) 45% reads all the articles, 55% some of the articles.

3) 50% prefers technical articles on how to use Loan Performer, 15% prefers profiles of microfinance institutions, 15% prefers profiles of consultants and 15% prefers more general articles.
We conclude there is no need to change the mix.

4) 40% finds the lay-out attractive, 55% finds the lay-out average and 5% finds the lay-out not attractive.
We conclude that the lay-out needs a bit more attention.

6) 10% prefers to receive the Newsletter weekly, 15% prefers to receive the Newsletter every 15 days, 75% prefers to receive the Newsletter monthly.
We conclude that the frequency is fine.
Some (random) comments:
- "As a junior IT Officer I have learnt much of Installing and troubleshooting of LPF as well as an end user."

- "I wish the entire Crystal Clear team kudos for the dedication to making Loan Performer stay number ONE."

- "... your biggest achievement is to be able to help those who cannot rely on donor funding and do not have the capacity to use other MIS systems."

-"The newsletter is fascinating and I am glad am part of this great family of Loan Performer."
In this column we present to you different country representatives who can help you with training, implementation or support issues. This time we introduce one of our representatives in Burkina Faso, Moussa TASSEMBEDO of Lessokon. 

Moussa TASSEMBEDO, our representative in Burkina Faso
LESSOKON Ltd. (www.lessokon.com) is a consulting firm specialized in microfinance based in Ouagadougou, Burkina Faso. In addition to its traditional areas of expertise related to the microfinance sector, LESSOKON supports Microfinance Institutions in computerizing their information management with the Loan Performer software. In fact, the firm has been representing Crystal Clear Software Ltd, the developers of LPF, since 2005 in Burkina Faso. A complete list of consultancies done with regards to Loan Performer is available from this webpage.

The staff of LESSKON Ltd. was trained by Crystal Clear Ltd in Loan Performer version 7 and 8 in 2005 and 2013 respectively.

The firm currently has six Microfinance Institutions it is supporting in addition to online support from Crystal Clear Software Ltd.
Lessokon can be contacted as follows:
Tél: 50-39-86-01, 50-39-97-68
Cell: 70-26-41-67, 70-31-57-37
Email: info@lessokon.com


We have every first Monday of the month a training session of 12 days (2 weeks, Monday to Saturday from 9:00 to 17:00 hrs) in Loan Performer version 8. Next training starts Monday 1 September 2014. This takes place at our office in Kampala. Costs are 750$ per participant. At the end of the training the participants have to pass a test and a certificate will be issued. Use this link to download the training schedule.
If Kampala is too far, we can do an e-training via the internet. The full training takes 12 sessions of 4 hours at a cost of USD 150 per session. We can also tune these trainings to your needs and make them more efficient for you.
We have started with an "EXPERT Training" in Loan Performer, targeting users of Loan Performer 8 who need to know all the ins and outs of this new version. It will be held on all 4 Saturdays during the month of September at our office. Upon request, the same can be done as an e-training. A training schedule is available here.
Need help with Loan Performer? Try the Online Help or Chat with our staff.