How confident are you when pressing the button to close the Financial Year? Are you sure you have posted all transactions? You did not forget anything? While previously the only remedy against incorrect opening/closing balances was to restore the end of year backup and to repost everything thereafter, the user can now reverse the year (month or day) closure.
The closure of financial periods is quite a lengthy and tedious process, involving a lot of reconciliations and number crunching. However, people do make mistakes and if those mistakes happen in an accounting period that has been closed, you cannot fix them anymore in that period.
We have received many requests to make it possible to reopen closed periods and especially closed financial years to allow additional entries and corrections. Though not a good accounting principle, we have made this possible for 'Supervisors' in Loan Performer. We recommend that you avoid reopening an accounting period unless it is absolutely necessary. After reopening, follow a strict process to make sure that no unintended transactions are introduced to the reopened period. For example, let's say you had a loan that was determined as a bad loan and so you then adjusted it on 31/12/2012 and at that point closed the financial year of 2012. But then on January 1st, you found the receipt of a payment for this loan in December. So this loan was not supposed to be listed as a bad loan at all. To fix this you may need to reopen the Financial Year 2012, apply the payment, and close it again so that you get more accurate figures of balances at the beginning of the new year.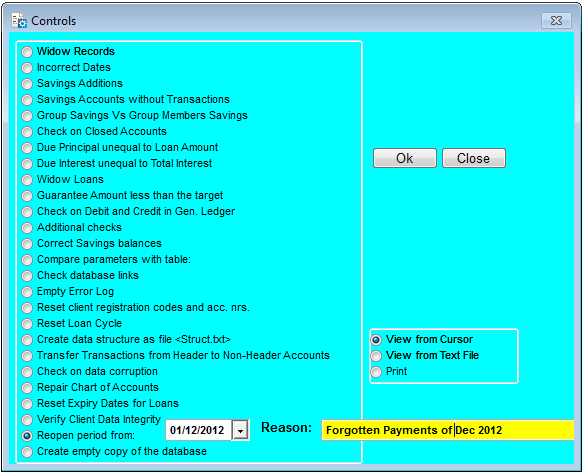 Steps
Note: Make sure that you have access to the "Tools" menu, you have to have "Administrator" rights in Loan Performer to get there.
1. Go to menu "Tools/Check on Data Entry"and Click the "Reopen period from" option.
2. Enter the starting date for the period that needs to be re-opened.
3. Enter the reason for re-opening this period.
4. Click "Ok" (the system will open all closed periods including closed Years, Months and Days and adjust the opening balances respectively).

This feature is available in Loan Performer 8.14 and later.
As of now the audit trail is limited to finding out who re-opened the closed period, when this was done and what reason was given – you can report this using the "Configuration Log" report – but we are also going to make it possible to retrieve the transactions that were deleted or added in the closed period.
Like in the formal financial sector, microfinance institutions (MFIs) and other financial entities involved in micro lending have embraced the use of Standing Orders or Standing Instructions as a method of payment where an account holder with the institution ("the payer") gives to his or her MFI, SACCO or Village Bank an order to pay a set amount at regular intervals to another's ("the payee's") account. The payee's can be a member of the same financial entity or a third party who is identified by his or her name, address and bank details. Lets see how this is done in Loan Performer.

For each savings product, the user can set, under "System/Configuration/Savings", the Invocation, Amendment, Execution and Penalty charges and on the "Savings GL accounts" tab-page s/he can also determine on which General Ledger accounts these charges will be booked. The Invocation charge is a once only charge to set up the standing order. The Amendment charge is a charge for changing the standing order in terms of amount, frequency or beneficiary. Execution charges are charges deducted from the sender's savings account with every transfer. Penalties are charged if a standing order cannot be executed because of an insufficient balance.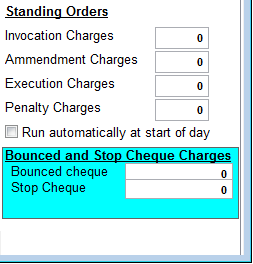 Under the Module Savings/Standing Orders, the user can enter a standing order which will later be executed at its due date.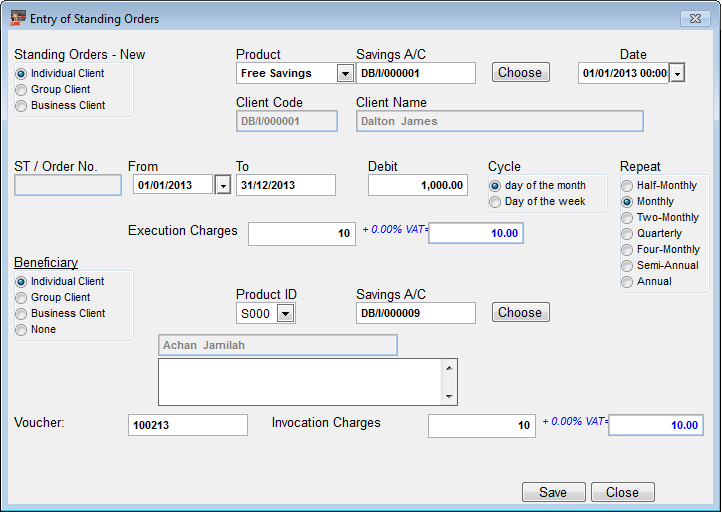 Loan Performer will withdraw a fixed amount from a particular client's savings account and transfer it to the account of another client or a third party and the respective accounting entries will be booked into the general ledger. During the "brainstorming" session, a number of questions were raised for clarification and these include the following:
For groups and group members, should it be possible for the standing order to be issued by a group or also by a group member?
The same whether the beneficiary can only be a group or also group members?
In case of deletion of an already executed standing order, what should happen to executed installments?
Should Loan Performer allow deletion or simply cancellation of the standing orders? What should happen in either case?
In case the user does not execute a standing order on time, what should Loan Performer do? Should LPF still execute the standing orders on the particular days in the past or should it execute a cumulative transaction for all missed orders on the current day?
Under what circumstances should  a client be exempted from paying penalties on late, failed or missed standing orders?
We continue to seek views from our esteemed users on how we can improve this feature and eventually the overall working of the Loan Performer Software.Think with us and we work on it free of charge. If you wait and tell us what you want afterwards, you risk having to pay for it.
Loan Performer allows you to print cheques for clients. Cheques can be issued at loan disbursement and at withdrawal of a time deposit. However if your organization issues lots of cheques, cheque printing can be automated.
For instance if you do disbursements on the 10th of the month for say 100 clients, you can enter the disbursements before you call the clients to pick their cheques. Cheques are not printed at loan disbursement, withdrawal of a time-deposit or any other payment but rather they are saved in a batch file. Someone with the proper access rights can then print all the cheques in the batch file at ago. However, before you can do this, you need to configure cheque printing.
Configuring cheque printing in Loan Performer

Cheque printing configuration is done once at System\Configuration\Cheque printing. The first step is to tell Loan Performer which printer and cheque template to use. These templates come as samples with the Loan Performer installation and are located in the External files folder. They can be modified to suit your own design by adjusting the number of lines and position of the variables according to the way your cheque leaves are organized.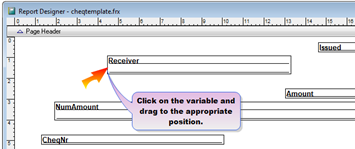 The variables include: Name of beneficiary, Date issued, Amount in figures, Amount in words etc. You can position them correctly and test it out with your cheques printer. The program remembers these settings once you save. Then you can then print your cheques at System\Print cheques. Here you can even regenerate the cheque numbers. After printing you can call the clients to sign for receipt of the cheque.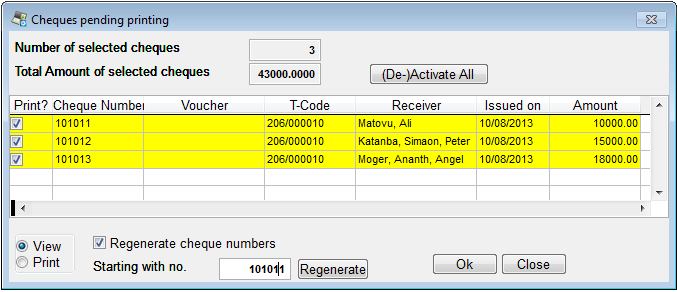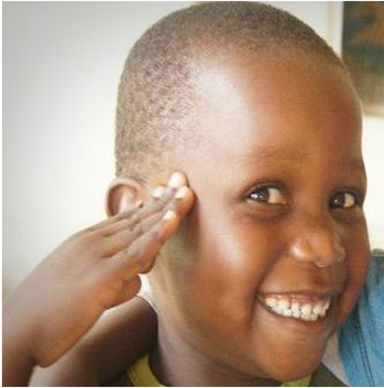 Photo: with thanks to Arise & Shine Forever, Uganda


We have every first Monday of the month a training session of 12 days (2 weeks, Monday to Saturday from 9:00 to 17:00 hrs) in Loan Performer version 8. Next training starts Monday 7 October 2013. This takes place at our office in Kampala. Costs are 750$ per participant. At the end of the training the participants have to pass a test and a certificate will be issued. Use this link to download the training schedule.
If Kampala is too far, we can do an e-training via the internet. The full training takes 12 sessions of 4 hours at a cost of USD 150 per session. We can also tune these trainings to your needs and make them more efficient for you.
Need help with Loan Performer? Try the Online Help or Chat with our staff.