Five Talents Uganda Limited (FTU) is one of the oldest users of Loan Performer. The organisation obtained a license in the year 2000 and has since then been a reliable partner of Crystal Clear Software Ltd. in the eradication of poverty.
Five Talents Uganda is affiliated to Five Talents International in the USA, an Anglican Christian Micro-Enterprise Development Institution. They believe that with the right training and with sufficient capital to run a business, one can generate an income to support their family and make full use of their talents.

Five Talents Uganda limited offers group loans, individual loans, salary loans and non-financial services to the economically active poor in Uganda. Working closely with the Anglican Church of Uganda, Five Talents has experience in the field of Microfinance and Micro Enterprise Development, fighting poverty, creating jobs and transforming lives.

Five Talents has used Loan Performer for the past 13 years. Esther Nakamate, the General Manager, says: "We have found Loan Performer to be the complete solution. Loan Performer was designed in a way that it provides an extremely wide array of functionality but it is still simple and easy to use." Charles Mukasa, the Finance & Administration Manager adds that "Loan Performer is unique in a way that it comes with inbuilt controls and we could rapidly configure and implement the solution to our requirements."

Loan Performer has been a useful management information system for Five Talents. A wide variety of reports are being used such as the Loan Portfolio reports, Financial reports and other information like specific details for every account. The availability to customize the system, especially the reports is a key component within Loan Performer to assist in management and governance. Charles: "The software itself has proved to be very stable and low-maintenance from a technical point of view and it is so easy and intuitive to use". We have successfully uploaded our existing portfolio along with our historical loans which allows us to have every record in our 13 year history in one place. The staff of Crystal Clear Software is also very supportive, helpful and quick to resolve issues as they may arise."
Heri Microfinance in Tanzania has the honor of having the first syncronised WAN database. Though we have implemented Loan Performer on a Wide Area Network before, we have never used a syncronised setup before.

Imagine you have several branches and your client does a withdrawal of the full balance in branch A. Then s/he goes to branch B and requests for the same. Will branch B have the old balance or will it have the balance after the withdrawal in branch A?

This depends on your setup. In case of a single database at Head Office, the transaction in branch A will update the balance of the client's account and the teller in branch B will 'see' the new balance. However with a simple WAN installation, you risk that when the internet goes off, branch B will not see anything and they won't be able to do any data entry into Loan Performer. For this problem we have what is called 'syncronised' databases. In this scenario each branch has a copy of the head-office database and at certain intervals the databases are syncronised automatically without human intervention.

The syncronisation frequency can be set. In general you would want to have the withdrawal transaction in branch A syncronised in branch B before the client can physically get to this branch. That is of course if the internet is permanently available. However what should happen in case the internet is off? Deposits can still be allowed as the transactions that are keyed in in branch A will automatically update the head-office database as soon as internet connectivity is back. But withdrawals in general will not be allowed. This is to prevent double (or triple) withdrawals from several branch offices.
Today we finished implementing syncronised WAN databases for Heri Microfinance in Tanzania. They have a Head Office in Dar es Salaam and a branch in Sumbawanga, in the East, towards the frontier with the DRC, a distance of 845 km. Implementation took 5 days. What is important to know is that syncronisation requires a formal SQL Server license. It cannot be done with the Express edition. Though Microsoft is charging heavily for SQL Server licenses (around 2,000 $), we found a website where this can be obtained for a single server at only 82$.
Loan Performer is a dynamic software which is always under constant improvement. It's our mission to incorporate new features and take care of specific client requirements. We compile all the changes into a new executable file that we upload to our website.
Automatic Updates are available from version 8.14 onwards. In case of a standalone installation, it is simple. You can just click the 'Check for Updates' button at login:

However in a LAN environment it is more complicated. It should not occur that some workstations are updated, while others are not. You risk getting different reports depending on the workstation!

You can schedule Loan Performer to automatically install updates by making the necessary settings at menu System->Configuration->General. With automatic updates, ensure that LPF is running on all workstions in order to avoid data errors due to some machines missing the updates. This can be done by scheduling the time LPF should download and install the updates and the user with the appropriate rights to do that. In case one or two of the 50 computers in the LAN were in repair and could not be started, then the update needs to be done at login like in a standalone environment. The same applies to other branches of the organization.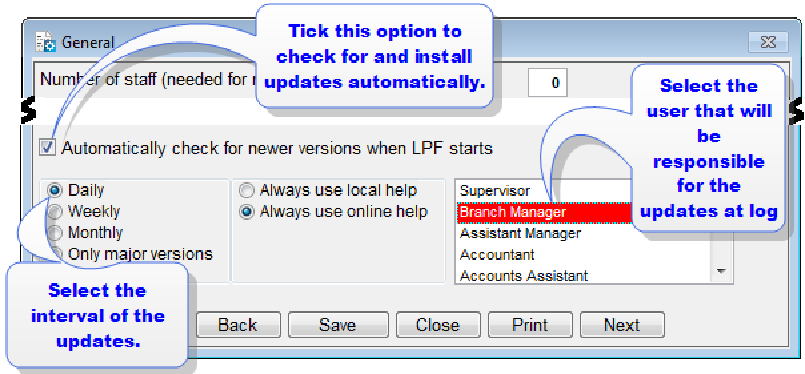 The Loan Performer updates are free of charge, however you need to have a stable internet connection to avoid download errors. When the updates are installed, Loan Performer will display a message showing what has been updated. It will also notify the user if there were any problems during the installation of the updates.

For microfinance Institutions, SACCOS and Village banks to achieve Financial and Operational self-sufficiency, there is need to control their operations through budgeting. The budget is a summary statement expressed in quantitative terms or simply the short-term plan in money terms that shows the projected expenditure versus the anticipated or planned income and cash flows during the planning period as well as the resultant position.
The Budgeting Module, if well implemented, helps financial entities to undertake corrective actions, evaluate performance, ensure optimal utilization of resources, as well as early detection of constraints affecting these institutions. Budgeting is therefore an integral part of the entire management of MFIs and has been fully integrated in Loan Performer..
How to Configure the Budgeting Module?
Set the Start of Financial Year under System/Configuration/Accounting.
Define Ledger Accounts for Income and Expenditure.
Define the Budget Categories.
You can decide to budget for each donor by activating the "Multi-donor budgeting'' under system/configuration/Accounting.
Assign a Reference Code for each item being budgeted for under the Menu Accounts/Budgeting/Create Budget Items.
Link each Budget Item to the respective Ledger Account at menu Chart of Accounts.
Select the Budget Year. Note that the budget year does not have to tally with the financial year. In case the financial year does not start on first of January, you have to define 2 budget years.
Decide whether you want to budget randomly or through a linear method say, 10% incremental per month. A color change from green to red indicates that the income is not sufficient to meet the operational expenditure.
 The budgeting for a cost Item and for a particular donor is as done below: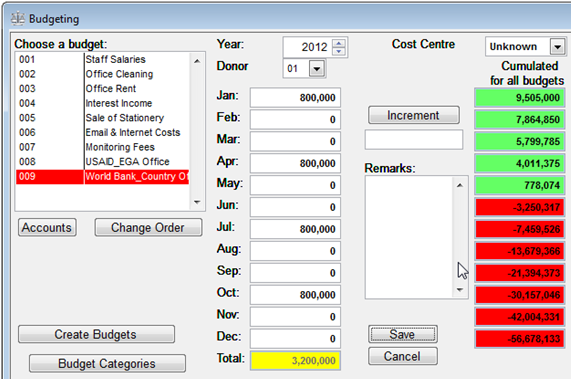 After the user has posted the normal general ledger transactions, the budget report can be extracted to show the actual versus planned income and expenditure and the resultant position of the institution. Below is an example of the Budget report generated for the month of January 2012 in summary form: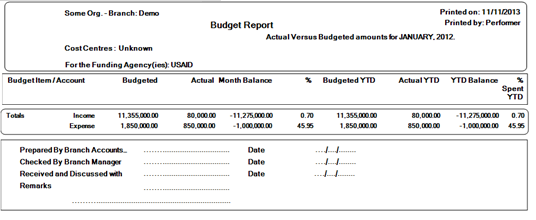 We have every first Monday of the month a training session of 12 days (2 weeks, Monday to Saturday from 9:00 to 17:00 hrs) in Loan Performer version 8. Next training starts Monday 2 December 2013. This takes place at our office in Kampala. Costs are 750$ per participant. At the end of the training the participants have to pass a test and a certificate will be issued. Use this link to download the training schedule.
If Kampala is too far, we can do an e-training via the internet. The full training takes 12 sessions of 4 hours at a cost of USD 150 per session. We can also tune these trainings to your needs and make them more efficient for you.
Need help with Loan Performer? Try the Online Help or Chat with our staff.