With the new Savings and Loan Collection Sheet in Loan Performer version 8.15, it becomes easy to update your data. You can export the report to Excel in a format that can be imported as well. All you have to do is update the excel file with the amounts paid and import it.
The Savings and Loan Collection Sheet has become a salient tool for Loans Officers that attend group meetings to collect savings and loan repayment from clients. In Loan Performer the Savings and Loan Collection Sheet is normally printed out for a required range of groups so that the Credit or Loans officer can use it to record loan repayments and savings made during group meetings. On this sheet, there is a provision to record the receipt number issued as well as signatures for the Group Treasurer, Loan Officer and Branch Accountant. When the officer returns from the field, s/he has to ensure that the Collection Sheet details are entered into LPF. This will ensure that all the relevant records will be updated with the transaction details provided. The Collection Sheets can be generated for different categories, e.g., Cost Centers, Branches, Credit Officers, Loan Funds, Geographical Areas, etc. There are also several formats in which the collection sheet can be displayed and you can select the sequence in which the column titles will appear. To generate the Savings and Loan Collection Sheet you go to Loans->Portfolio Reports->Group Members Portfolio Reports->Savings and Loan Collection Sheet. You will get a screen that looks as follows: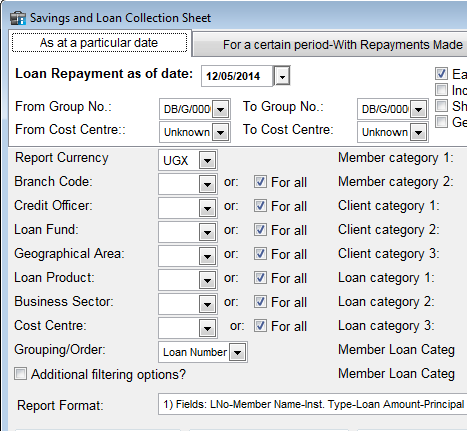 Enter the date up to which you would like to generate a collection sheet, e.g., "12/05/2014". This should normally be the Group meeting day. You can then specify different reporting parameters for this report or else you can leave the default settings. Then click on the OK button to generate and print the sheet. The Collection Sheet will be prefilled with the Loan number, Member Name, Loan Installment type, Loan Amount, Principal and Interest as at the time when the group meeting is due. It also has spaces where the Loans Officer will enter the actual loan amounts paid and the savings collected for each group member during the meeting.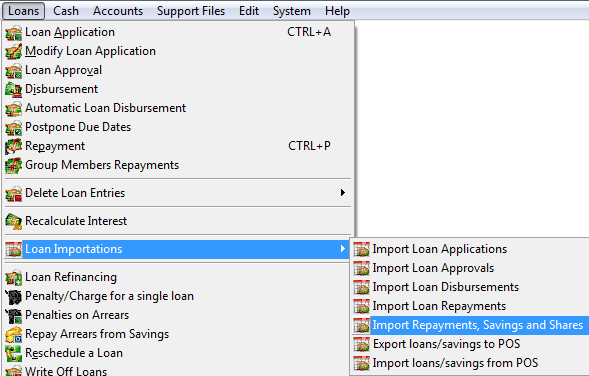 With the release of Loan Performer 8.15 you can print the above report data to Excel in a format that can be imported from menu "Loans/Importations/Import Loan Repayments, Savings and Shares". You simply need to update the file with the actual amounts paid and then import it. Loan Performer is there to make you work easy!
Setting limits on Teller withdrawals is something you may need to implement if your organization wants to manage accounts becoming negative. Previously if the manager had to approve a withdrawal beyond the cashier's limit, s/he had to go to the teller's machine and enter a password for approval of the transaction. In version 8.15, the manager does not need to walk away from his/her desk anymore to approve this transaction. Read further to find out how.
The fact of being able to limit withdrawals gives a sense of control on liquidity and for others it's may be a measure that they can use to reduce possibilities of fraud. Basically when a teller initiates a transaction beyond the amount set for his/her account, the transaction will not complete until it is approved. Here is how it goes:
Go to System > Configurations > Users - and set 'Maximum withdrawal amount an officer may handle' to say 1,000.



Once this option has been set to a value greater than 0, LPF will monitor Savings withdrawals made by the user and display a message to the user when he/she initiates a transaction beyond the cashier's limit.

The cashier is given an option to select the approving officer and a message requesting for approval is sent to the person he/she selected. The officer needs to have Loan Performer running to see the message. If s/he is not online and later starts Loan Performer, s/he will see the message at startup. The approving officer is able to view all transactions pending approval as shown in the figure below:


At this point the transaction can be approved or rejected. Whether the transaction is approved or rejected, in both cases does the Teller receive a message. If approved, the Teller clicks 'Ok' and the transaction is completed.
There has been a lot of debate on how the Loan Refinancing Module should actually be implemented in the Loan Performer (LPF). Many microfinance practitioners actually think that Loan Refinancing and Loan Top-Up mean the same thing. May be we should say, there is just a thin line between the two.
Under normal practices, Loan Refinancing (or Loan restructuring) may involve a change of the loan period, interest rates, collaterals and guarantors unlike the case with Loan Top-up where these parameters may remain the same. Based on end-user feedback from the previous article we shared about this module, enhancements and user requirements have been included in the loan refinancing module in LPF 8.14.01 and higher versions and these include the following:
LPF capitalizes the outstanding loan balance, interest, Commission and Penalty.
The original loan is automatically paid off at disbursement and LPF assigns a new loan number to the client whose loan is being refinanced.
User can maintain or change the loan parameters while creating the new repayment schedule.
User has the flexibility to charge a fee (loan refinancing fee) at the time of refinancing. The refinance fee can be booked to a separate general ledger account and tracked and monitored differently like all other user fees.
The refinanced loan currently goes through the process of loan approval and with such approval being done by a different system user. This did not exist in previous LPF versions.
How to work with the enhanced Loan Refinancing Module? Under the Loans Module, select the menu option, Loan Refinancing.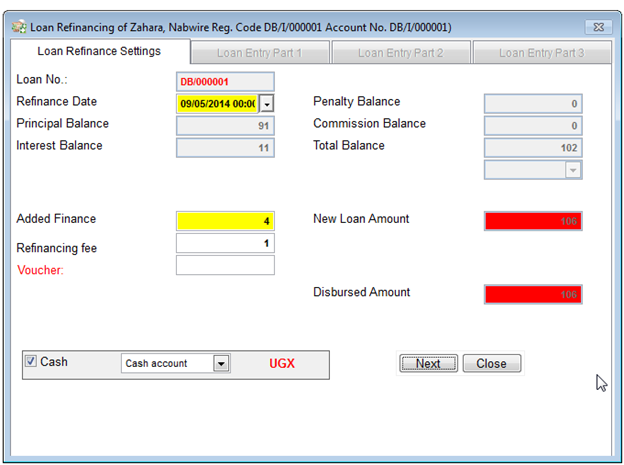 Click on the Next button for LPF to take you to the Loan application screen part 1.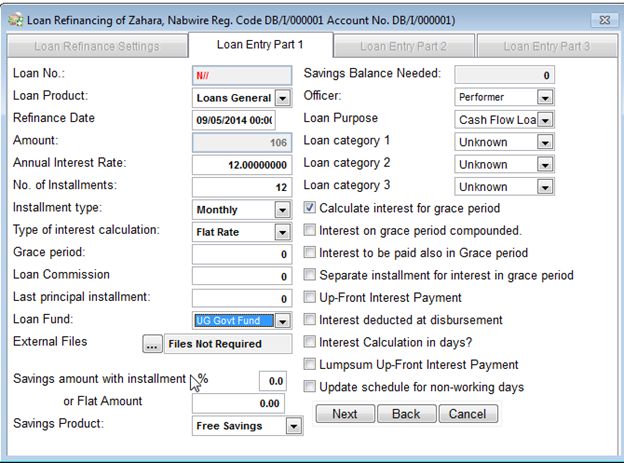 At this stage, user may or may not change the loan parameters. The new loan amount to be disbursed is a sum of the outstanding principal balance, Interest, commission and any other penalties as at the time of loan refinancing. A new loan number is then assigned to the refinanced loan. The loan then goes through the normal process of paying any other fees if they are required before approval. It's then approved but by a different system user. If this condition is not being met, then LPF will notify the user as follows: If a loan refinancing fee is required at application, the GL Account must be defined for this loan product under the Chart of Accounts and correctly linked under system/configuration/loan product settings. This enhanced loan refinancing module has helped to address user problems that were encountered while working with the previous versions of LPF. We hope our esteemed end-users will find these improvements very useful for their operations.
What is involved in the Implementation of the Loan Performer Software? This includes: installing the software on the Server and client machines, Configuration/Customisation of the Database (for example the chart of accounts, products, interest calculations, creating users and giving users general access and specific access to specific menu items) and testing to ensure that the Software works according to the specifications given by the client. If a client has existing data which is accurate in most cases then, that data has to be imported into the Loan Performer Software, Loan Performer has standard templates that allow the client to import data rather than entering it manually.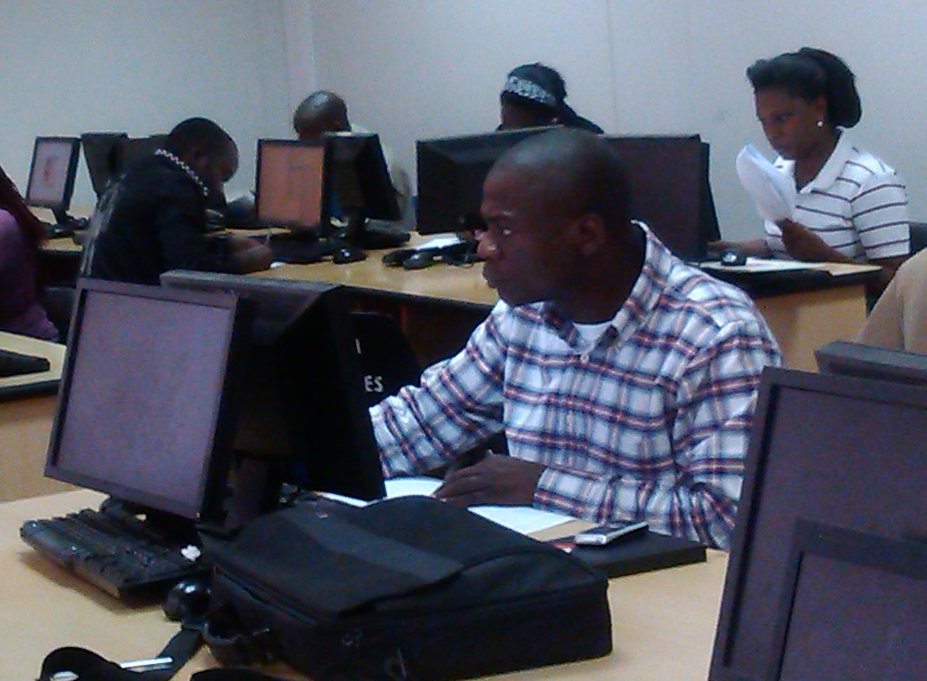 Loan Performer Training of Staff from 3 Saccos in Malawi

In April 2014 Hadijjah Nakiwala, one of the Training and Support officers at our company, went to Malawi for one client but extended her stay to train and implement Loan Performer for 3 other SACCOs. She successfully trained 20 people from Chitukko Sacco, Mudi Sacco and Polymed Sacco. She also trained 5 staff members from Binary Systems Ltd, a Consultancy firm that supports LPF users in Malawi. In addition, Configuration of the Wide Area Network Functionality (WAN) and the SMS and Mobile Banking were implemented for Mudi Sacco.

Hadijjah appreciated the expertise displayed by trainees from Binary Systems Ltd and their understanding of the Loan Performer software. Binary Systems Ltd had organised the training facility; all the computers needed were available with Loan Performer 8.14 installed and the databases created. The training was basically for the 3 saccos but the consultants only chipped in for the New Features in Version 8 which include Wide Area Network Functionality (WAN), SMS and Mobile Banking, Finger Print Scanning, Standing orders and others.

Before the training, the 3 SACCOs highlighted their expectations and the Trainer had to ensure that they were met:

1. They expected each participant to be knowledgeable about Loan Performer at the end of the course. In order to achieve this, exercises were given after each and every training session to test and see whether the participants had understood whatever was trained on. An exam was given at the end of the two weeks training and the majority passed highly.

2. They expected efficient support of the system once installed.

3. They expected that after computerisation, the workload would reduce and not vice-versa.

4. They expected that the internal controls of the Sacco will be enhanced and not compromised with the introduction of the software.

Below are the challenges that Hadijjah faced during the implementation:
1. During data migration the data which was prepared Excel import templates, was not tallying with what they had in the ledgers. Only one of the Saccos presented a clean sheet and was ready for data importation. Others had to go into their ledgers, verify their data and correct the Excel files which ended up consuming much time so that data conversion could not be done within the planned period.

2. Some participants where coming late due to the fact that they had to finish office work first. This led to moving back and forth throughout the whole training.

3. Two of the three clients were not ready for the WAN and SMS implementation. Precious time was taken up to look for providers and the necessary hardware.
Recommendations to both new and clients already using Loan Performer are:
1. Clients should verify the data that is to be imported, to make sure that it is correct and balancing before starting to post transactions.

2. Clients should contact service providers, evaluate and choose the best before the implementation.

3. Clients should make backups before data upgrade in case of upgrading from one version to another.

4. Clients should make sure that the configuration of the database is correctly done.

5. For newly recruited staff in an institution already using Loan Performer, we advise that training should be conducted for them on how to use the system.

6. For existing staff Re-fresher and Upgrade Trainings should be done.

7. Don't let problems compile. Call for assistance via Live Support or Email if you have encountered any problem with the system.

In this column we present to you different country representatives who can help you with training, implementation or support issues. This time we introduce Camille Moureaux, a French national, living in South Africa.
Camille has 5 years experience training and implementing Loan Performer in different organisations. As an employee of Entrepreneurs du Monde she implemented Loan Performer for IDM Haiti, ID Ghana, AsIENA and Microstart in Burkina Faso, Anh Chi Em in Vietnam and NCRC, now STEP in India. She has experience with Loan Performer 7.10 as well as version 8. She even implemented SMS Banking for IDM Haiti.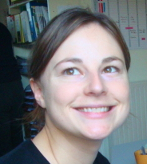 Camille Moureaux, our representative for South Africa
Camille found Loan Performer to be a very flexible software, adaptable to many organisations: "It is also quite transparent and the basics can be mastered after a short training."
After five years using Loan Performer and advising microfinance institutions she thinks it is is a good deal in terms of price/quality. "However", she says, "I will still recommend every organisation to list their needs and prioritise it, and chose a software accordingly. Interesting tools can be found on http://www.entrepreneursdumonde.org/pratiques/ in Information Systems category."
As a general advice, she says, "...it would be to implement strong processes for data reconciliation before and during the encoding into the software: cash reconciliation, total transactions tallying with receipts are two common examples. Indeed, information encoded in the software must be correct to obtain accurate reports – this can be summarized in one sentence: 'garbage in, garbage out'. Also, I recommend running manual reconciliation on the data contained in the software: match loan outstanding with accounting balances from the accounting module is a key to make sure that the accounting data is accurate".
Camille can be contacted as follows:
Cell: +27 (0)78 629 0280
Skype: camille.moureaux
Email: camillemoureaux@hotmail.com
Online profile: www.linkedin.com/in/camillemoureaux
We welcomed the following Loan Performer Users:

Hauge Family Microfinance, Burundi
Polymed Sacco, Malawi
Rift Valley Children Fund, Tanzania
Zambia Works (NGO Accounts), Zambia

We had the following trainings:

1. Last month we had one week upgrade training in version 8 for 1 person from Coopec Chai from Congo (DRC).

2. Robert Bagaiga (our staff) is doing a version 8 upgrade training for Women Finance House Botswana.

We had the following implementations:

1. Hadijah Nakiwala (our staff) had 2 weeks training and 2 weeks implementation for Mudi Saccos, Polymed and Chitukuko Sacco in Malawi.

2. Sharlotte Nansamba (our staff) had 2 weeks of on-site support visits for 5 microfinance clients in Uganda.

We have the following Vacancies:
- Sales Executive
Must have excellent communication skills and be able to deal with a large variety of people.
Requirements: A Bachelor of Arts in Business studies plus 2 years sales experience.

- Trainer/Support Staff
Must have in-depth knowledge of Loan Performer and how Loan Performer is being used.
Requirements: Bachelor of Arts in IT or Accounting or Business Studies with 2 years experience in micro-finance.
We have every first Monday of the month a training session of 12 days (2 weeks, Monday to Saturday from 9:00 to 17:00 hrs) in Loan Performer version 8. Next training starts Monday 2 June 2014. This takes place at our office in Kampala. Costs are 750$ per participant. At the end of the training the participants have to pass a test and a certificate will be issued. Use this link to download the training schedule.
If Kampala is too far, we can do an e-training via the internet. The full training takes 12 sessions of 4 hours at a cost of USD 150 per session. We can also tune these trainings to your needs and make them more efficient for you.
Need help with Loan Performer? Try the Online Help or Chat with our staff.