Loan Performer provides over 150 pre-defined reports that you can access and use. However in version 8 we have expressly given you the flexibility to create your own report formats to suit your reporting needs if the ones we provide don't suffice.
These bespoke reports can be created depending on your wishes and they provide you with the opportunity to satisfy your specific requirements not included in the ordinary LPF reports.
You can now set different report dimensions and metrics and decide how they should be displayed. To do this you will have to be logged into Loan Performer as a Supervisor. See LPF Users for how to do that.
You can then define and save your report settings. The created custom report will then appear in the respective menu report formats so that you can run it when required.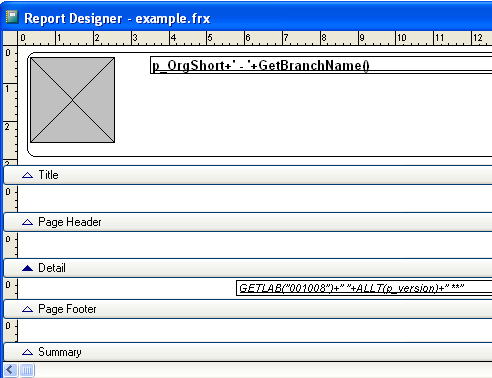 Loan Performer comes with a report template which you can use as a guide to create your own report.
You have to define what the customized reports should be used for e.g. to report on Low Income Clients and then proceed to design it.
A report has different bands: report title, page header, detail band, page footer, summary band etc. You have to place elements in each band: column headers go in the Page Header band, the fields in the Details band etc.
You can also edit or delete an existing custom report as long as you have not entered and saved any data in that report. You can preview the report to see whether your design makes sense. Read LPF Customized Reports to learn more.
Networking Loan Performer
It is a well-known fact that LPF is compatible with all Windows operating systems, starting with Windows XP and that It can be used in a network (LAN or WAN) environment. Most LPF users that have used LPF on a stand-alone computer will attest to this however I am certain that some users have problems running LPF on a network.

Well I am not going to solve all your problems today but maybe I can help a little bit. I am going to share some important information that we all need to know about using LPF in a computer network. Read this article to the end and you will find out what can work and what can't. For those who are not so IT savvy, I thought it wise to start with some basics before we go any further.

What is an Operating System?
An operating system is the software that supports a computer's basic functions, such as scheduling tasks, executing applications, and controlling peripherals. Windows operating systems are broken down into three major types namely:
 Server (network) operating systems (Windows NT, Windows Server 2000, 2003, 2008)
 Client (PC) Operating systems (Windows 3.1, 2000, XP, Vista,7 and Windows 8). These have important flavours like Home, Home Basic, Home Premium, Starter, Professional, Ultimate and Enterprise.
 Windows Runtime /Windows Mobile (for tablets and phones)

What is a Computer Network?
According to Wikipedia , a computer network is a telecommunications network that allows computers to exchange data. The physical connection between networked computing devices is established using either cable media or wireless media.

There are many forms of computer networks but in this article, we will discuss the most common: the Local Area Network (LAN).
The LAN has many architectural designs but let us look at the 2 common architectures namely;
 Server-Client architecture commonly known as the Windows Domain Network
 Peer-to-peer Architecture commonly known as the Windows workgroup
Windows Domain Network
This network involves a lot of settings but let me summarize it into two sentences: It is a configuration in which there is a Server with a Windows Server operating system installed that is configured for "serving" client computers. The Client computers (workstations) are equipped with Windows Client operating systems that are configured to request for resources from the Server.
Windows Workgroup Network (Peer-to-Peer)
This is a network in which all Windows operating systems have been configured as Client operating systems. And this is where it picks its name: "peer-to-peer (P2P) computer network". The simplest P2P workgroup to manage is one in which one single type of operating system is being used, for example Windows XP. However, gone are such days when XP was the only available Windows operating system. Ever since the introduction of Windows Vista, Windows 7 and most recently Windows 8, P2P networks have been a pain in the neck. Due to lack of knowledge, LPF users who don't manage to connect to the server, end up blaming it on Loan Performer. In the definition of a computer network, the key aspect is "computers exchanging data" and this is the catch phrase that most people have ignored.

Wise men say "The speed of a caravan is determined by the slowest camel". In the same breath, the bottleneck in any computer network is the connectivity. If the connectivity is slow, lost or is not there, then one cannot connect to the database and LPF will not be accessible.
What to consider when setting up a computer workgroup in Windows?
1- The physical connections being used
2- The operating system type
3- Lastly but most important the flavors of the operating system
In the table below, I have listed the Windows client types and their flavors and recommendations/comments about them.
Windows Operating Systems

| | | |
| --- | --- | --- |
| Windows XP | XP Starter, XP Home, XP Media center | Lacks a number of Windows components and NOT recommended for workgroups or domains. |
| | Windows XP Professional | Designed for workgroups and Domains it is the  ideal edition for networks. |
| Windows Vista | Starter, Home Basic, Home Premium | Lacks a number of Windows components and NOT recommended for workgroups or domains. |
| | Business, Enterprise, Ultimate | Designed for workgroups and Domains it is the  ideal edition for networks. |
| Windows 7 | Starter, Home Basic, Home Premium | Lacks a number of Windows components and NOT recommended for workgroups or domains. |
| | Professional, Enterprise, Ultimate | Designed for workgroups and Domains it is the  ideal edition for networks. |
| Windows 8 | Windows RT, Windows 8 (also called Single Language, for consumer, Plane Jane style etc.) | Lacks a number of Windows components like security components and NOT recommended for workgroups or domains. See this Link . |
| | Windows 8 Pro, Windows 8 Enterprise | Designed for workgroups and Domains it is the ideal edition for networks. |

The most common editions /flavors shipped on many PCs around the world are the cheaper editions that is, Starter and Home for Windows XP, Vista and 7 and Windows 8 (single language). In these editions, many important components like remote desktop, security configuration console etc. are missing thus they are not good for network environments. I have tried to tweak them to work in a networked environment as a client workstation and in some cases (Windows XP, Vista and 7) it has worked partially but for Windows 8, I still have not gotten a solution. Please note the tweaking is for IT professionals and if you do not know what you are doing, you risk creating problems where there were none.
All Windows flavors from Windows XP to 8 can support LPF in a stand-alone environment. The only challenge will be connectivity. If you can get your hands on the Professional edition, you should be able to use them in a Windows workgroup network without any challenges.

About some tweaking: I have tested the consumer version of Windows 8 acting as the server with the rest of the PCs having Windows 7 ultimate and it was connecting. If your Windows workgroup network involves different types of Windows e.g. a mixture of XP, Vista, 7 and 8 then the best way to avoid data exchange bottlenecks is to :
1. Create the same user id on all the computers (passwords do not have to be the same)
2. All logins must be password protected

But I strongly advise that in a mixed Operating Systems environment the following are the minimum options:
Windows 8 Professional
Windows Vista Business
Windows 7 Professional
Windows XP SP3 (support for this ends in April 2014 according to Microsoft)
Important to note:
One of the database engines for LPF is Microsoft SQL Server (in fact the only one for LPF 8). It is paramount to note that using LPF with MS-SQL Server involves a lot more configuration than this overview. Maybe next month we shall dive into this.
The release of version 8.14 had to coincide with an implementation of POS (Point-Of-Sale) devices for one of our clients, Buussaa Gonofa in Ethiopia who wanted this. The testing is currently taking place. Nevertheless version 8.14 has features that are of interest to all of us.

For example you can now access the Loan Performer version 8 Help via the web. If you click this link: http://www.ccs.co.ug:8080, your browser opens with the Loan Performer Help.

Another feature that might be of interest is the fact that you can now email the client's Loan Ledger Card say every end of month. We plan to implement the same for the Savers Statement and to add the possibility of the MFI charging the client for this. You just need to configure the email facility at Configuration and to enter the Client's email addresses at client entry. It is actually a feature that Tetrad Investment Bank in Zimbabwe requested for.

Another new feature is that when you request for an automatic update, Loan Performer shows you all the changes that are made in this update. This information comes directly from our CRM database and is unedited.
The full list of 8.14 issues is now available at: www.loanperformer.com.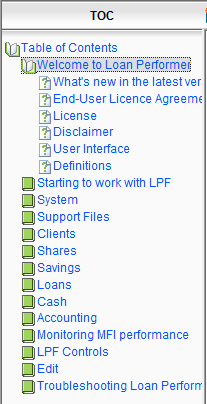 Do you also find them a nuisance? You need to remember them and change them every now and then. Especially if you come back from holiday, it is hard to remember. Loan Performer 8 has solved your problem. Read on. You can use Loan Performer fingerprint verification at Login and at Loan disbursement and Savings withdrawals. At Login is for your users. At Loan disbursement and for your clients. Before we can get our fingers a little busy, we recommend that you use the Hamster III or Hamster IV fingerprint devices for this purpose. They have been vigourously tested to work well with Loan Performer. You also need a special Loan Performer license so that you can activate the biometric features in the software.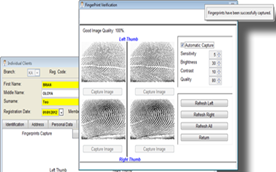 For the purpose of saving space and your reading time lets look at just two items here- fingerprint verification at Login and clients' fingerprint verification when withdrawing Savings. Once you have fully installed the biometric device and the Loan Performer license, you will be able to access the 'Fingerprint Scanning' menu in the Loan Performer Configuration. Select your device model and click 'Activate Fingerprint Scanning'. Then select 'Fingerprints only' and click 'Save'. This will automatically activate the  Loan Performer fingerprint authentication levels at Savings Withdrawal and at  Login.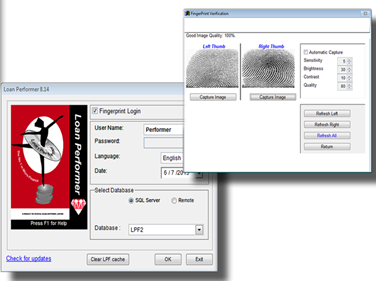 Next you need to register the fingerprints in the system – i.e.  the clients' fingerprints and the users' fingerprints. A client's finger can be registered at menu Clients/Client registration and your user's fingerprints at Configuration/User registration.

Once your fingerprints and the client's fingerprints are registered, you can begin using fingerprint authentication. Log off  and close Loan Performer, then start again and you will see that the password option has been deactivated at the login screen. Click 'Fingerprint login' and the system will prompt you for a verification. In order to be a able to logon using both fingerprint and your password, go to  the LPF biometrics configuration and select 'Mixed login (Username, Password and Fingerprint Login)'.
For clients who want to withdraw, go to the 'Savings' menu select the 'Withdraw' menu option, lookup the client and click 'Next'. LPF will not load the withdrawal form until your client submits his/her fingerprints. Tight security indeed!

From now on your finger-print is your password.


ISO standards have been steadily gaining popularity since their introduction in 1947 by the International Organization for Standardization. Crystal Clear Software Ltd was certified for ISO 9001:2008 in October 2010 and this has given our business the edge it needs to succeed in global markets. With ISO certification Crystal Clear Software Ltd has been able to achieve a competitive advantage in the following ways:

 ISO standards have partly contributed to CCS's stable growth since 2010 in the sense that the number of our business customers worldwide has increased as most businesses in the world today prefer to do business with a supplier that is ISO certified.

 In terms of efficiency, ISO certified processes have enabled CCS to objectively analyze our current internal processes which has resulted in the implementation of more efficient and cost effective production processes hence reduction in our direct operating costs allowing us to offer goods and services at consistently lower prices than our non-certified competitors which also drive up our sales volumes.

 ISO certification has increased both our International and national client-base with an assurance to them that since our Company adheres to International Standards, our products and services are credible and reliable.

From the Loan Performer Community

Loan Performer continues to gain more market share in Uganda and around the world. This month, Rural Financial Initiatives (RUFI) a microfinance institution in the Republic of South Sudan joined the Loan Performer users' community. RUFI has two branches, one in Kajokejji and another in Nimule while the Head Office is situated in Juba. The Project of implementing Loan Performer at RUFI was done by Mr. Rasawood Robert Bagaiga. The project was slated for 7 days; 5 days were allocated for end user training and 2 days for installing Loan Performer, configuring the database and assisting users during the first data entry. A total of 7 staff was trained. All did a test of proficiency in Loan Performer and were qualified for a certificate. For more information please visit the RUFI website.

Next Training Opportunities

We have every first Monday of the month a training session of 12 days (2 weeks, Monday to Saturday from 9:00 to 17:00 hrs) in Loan Performer version 8. Next training starts Monday 1 July 2013. This takes place at our office in Kampala. Costs are 750$ per participant and includes lunch. At the end of the training the participants have to pass a test and a certificate will be issued. Use this link to download the training schedule.

If Kampala is too far, we can do an e-training via the internet. The full training takes 12 sessions of 4 hours at a cost of USD 150 per session. We can also tune these trainings to your needs and make them more efficient for you. Contact us if you need more information.

If you would like to see yourself in the next edition, write your own story about how you use Loan Performer in your organisation and if it qualifies, we will publish it.