Tired of making telephone calls reminding your clients about dues, payments and notifications on savings transactions? Loan Performer Reminders and SMS Notification is just the feature for you. You can set up SMS Reminders and Notification for loans falling due in the next few days and for any transaction that occurs on your client's savings account. You thought only bank could deliver this? Now you can too!

System Requirements
Loan Performer 8, preferably the latest version.
A connected and reliable USB EDGE modem or cell phone with a good modem or Bulk SMS service.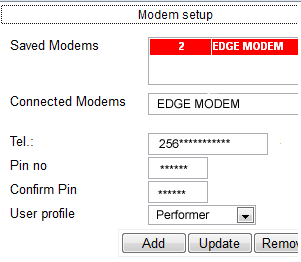 After you have fully installed your modem you have to configure your SMS connection. To do this, go to System/Configuration/SMS Connections. From there you should be able to select your modem (make sure it is connected), enter the phone number, enter the secret PIN number and select a user. The user is a fictive user, responsible for all SMS transactions. You may create him as 'SMS User' at System/Configuration/Users.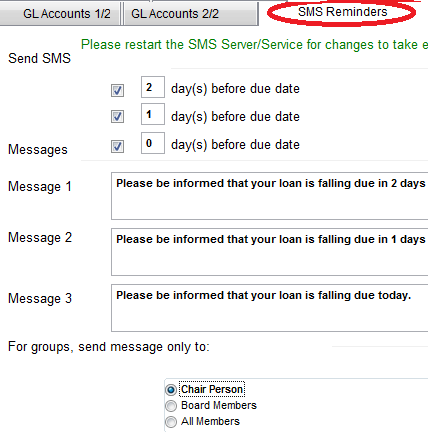 The next thing is setting up your SMS subscribers. Go to menu Client/SMS and web Clients. Select a client who wants to receive SMS notifications and click 'Next'. Enter the client's phone number and password and click 'Add'. Activate 'Send repayment due reminder message' and 'Send message after deposit/withdrawal'. Now that we have subscribed our client to the services, we need to set the time to send. To do this go to menu System/Configuration/Product Settings/SMS Reminders. Enter the number of days before the due day when the system should send out a message, enter the message contents and select the category of client to receive the notification (for groups). Click Save and you are done!

Note that SMS messaging is an additional module for Loan Performer 8 which incurs extra charges. However you can enter the first 10 accounts free of charge, so you can test it out yourself. More info is available from http://www.loanperformer.com/mobile.

PS: Make sure you do not switch off the computer at the end of the day. Your clients may want to send/receive messages!
We received a couple of questions about compatibility between LPF and Windows 8. Though the look and feel of Windows 8 is very different from 7, Windows 8 is more similar to 7 when it comes to compatibility with applications. It is a much better operating system when it comes to factors like security and scalability (as you may already know, you can have Windows 8 on tablets and phones). You can easily install the same applications that you can install on Windows 7. This includes Loan Performer 8 and Loan Performer 7.10. Installing LPF 8 and LPF 7.10 on Windows 8 32bit and 64bit remains similar to installing LPF on windows 7 there is no difference whatsoever. Setting your odbc also remains the same.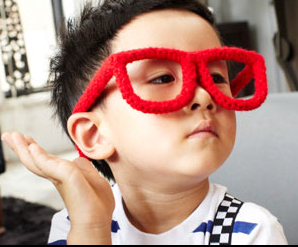 (Photo copyright Microsoft)
There are a few issues though. For example you cannot install SQL Server 2005 or SQL Server 2008 on Windows 8 (they are not compatible). However, you can install SQL server 2008 R2.  If on our download page you choose to download version 8 with SQL Server, you will see that it includes SQL Server 2008 R2. Though Windows 8 comes with .Net Framework 4, if you use LPF with SQL Server 2008 R2, you need to download and install .Net Framework 3.5 as higher versions are not compatible.
We have also tested SQL Express 2012 (with and without Service pack 1) and it is quite slow, needs a lot of RAM – 4GB seems not to be enough – and if installed on Windows 7 demands service pack1.
So for now we recommend Windows 7 or 8 with SQL Server 2008 R2 if you want to work with Loan Performer 8. If you still have XP machines, think of upgrading them.

It is recommended to backup your Loan Performer database regularly so that data can be restored in case of loss or corruption. This functionality can also be used to retrieve data from an earlier time, according to a user-defined data retention policy.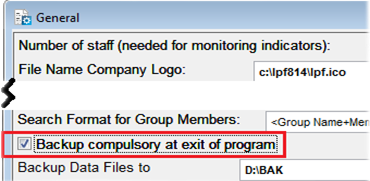 In Loan Performer the manual backup can be configured at System/Configuration/General . This will be executed at Loan Performer exit. However the back up can also be done automatically and regularly outside Loan Performer if you are using an SQL Server database with Automatic SQL database backup. This is better as it allows data to be backed up at regular intervals even during data entry. It is done in SQL Server Management Studio by scheduling the back-up to be taken at particular intervals and to delete them after a certain period of time.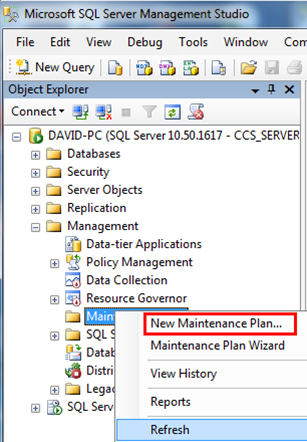 To schedule an SQL database backup, login to SQL Management studio and connect to the required database. You need to have "SYSADMIN" database role and SQL Server Agent running. From the Object Explorer expand the Management node and then select the Maintenance Plans node, right click the maintenance plan and then select New Maintenance Plans.
Use the maintenance plan to carefully configure the execution time/frequency of the database back up so that it suits your requirement. You will also need to specify a location for the backup.

After configuring the backup plan, the backup files will be created on the scheduled time to the mentioned folder. The name of the file will be created by appending the date so that you can identify the back-up of a particular date. Since the backup files are created frequently, it is also good practice to delete backup files after a certain period of time.
Though we said we do not add new features in version 7.10 anymore, we have made one exception. The Collection Sheet can now print a receipt. It was developed for Hope International in Brazzaville but we think the feature is of interest for all who do group member loan tracking.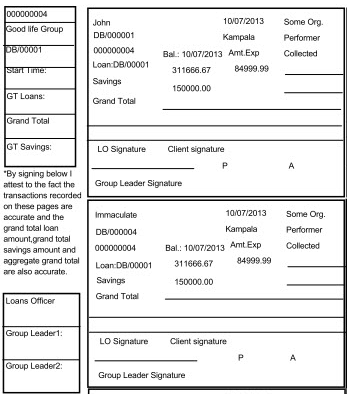 Before the credit officer goes out into the field, s/he can select a group in Loan Performer and print the new collection sheet that we have added in this version. It is in fact a pre-printed receipt with a unique receipt number for every page every time it is printed. Each page contains a maximum of 9 group member receipts. If the member pays the amounts that are due, the loan officer just cuts out his or her receipt and hands it over. If it is different, then a hand written receipt needs to be issued. The receipt also has a compulsory savings component.
You can get the latest executable file for version 7.10.14 which provides the new collection sheet format by logging into www.drivehq.com and entering the usual username and password.
This month we had 1 person from Cameroon, 1 from South Africa, 1 from Uganda and one from Malawi who attended the Loan Performer training in our office. We also had a 6 day on-site implementation for a new client in Mozambique: Fides in Nampula. Four days were allocated for end-user training – they already knew LPF 7.10 and were only interested in the loans module – and 2 days for installing LPF and configuring the database. A total of 7 persons were trained. Then one of our programmers spent 3 weeks in Ethiopia, with Buussaa Gonofa and an Indian consultant to test run the POS implementation. Additional functionality was added – group members can also withdraw savings – as well as extra security and 2 additional reports. The credit officers were also trained in the use of the POS device. Buussaa Gonofa can now offer additional services with which it can beat its competition.
We have every first Monday of the month a training session of 12 days (2 weeks, Monday to Saturday from 9:00 to 17:00 hrs) in Loan Performer version 8. Next training starts Monday 5 August 2013. This takes place at our office in Kampala. Costs are 750$ per participant and includes lunch. At the end of the training the participants have to pass a test and a certificate will be issued. Use this link to download the training schedule.
If Kampala is too far, we can do an e-training via the internet. The full training takes 12 sessions of 4 hours at a cost of USD 150 per session. We can also tune these trainings to your needs and make them more efficient for you.
We are also planning a training in Dar es Salam for people from different organisations. Contact us if you need more information.