We recently set up a test lab with 5 different environments and compared the time it takes to enter a number of standard transactions. One of the environments was 'LPF in the cloud'. We wanted to see whether the cloud offers a realistic alternative for LPF.
We used the same database for all tests, a database from a client in Burundi. It has the following specifications:
Size: 3,6 GB
Loan Performer version: 8.15
Clients: 7,900 Individual Clients, 860 Groups, 16,300 Group Members
Loans: 4,000
Savings accounts: 16,250.
We tested 5 different environments
1. Database and program on a single machine.
2. Database on a local Server and access from a work station.
3. Database in the cloud and access from a work station.
4. Database on a web-server and access via a USB modem.
5. Database in the cloud and access via a USB modem.
The last 2 were added in case of failure of the internet at the office and staff would have to resort to USB dongles or in case a small branch office did not have access to a fixed connection or in case MFI staff needed to access the database from the field or on the road.
The standalone installation returned the baseline data. We entered 14 standard transactions and measured the time it takes between the click on the save button and the first, visible response from the computer. It took in total 12 minutes and 1 second.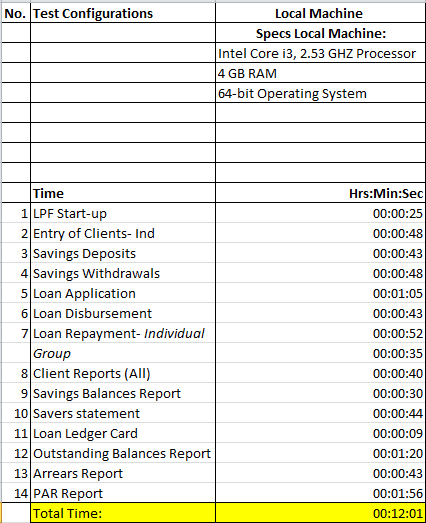 We then put the database on a local server and compared this with a database that was put in the cloud. The testing of the PAR report gave us an error in the cloud environment. It is a time-out error and it occurs when the response takes more than 5 minutes. Nevertheless the test results are encouraging. The difference in total time taken is not so much: 22.30 minutes versus 31.30 minutes if we disregard the PAR report. The advantages of a cloud server are enormous. We tested with one configuration, but you can easily upgrade to a higher processor and more RAM memory. In addition this can be a central database for all branches and each branch can just connect to the internet and access it.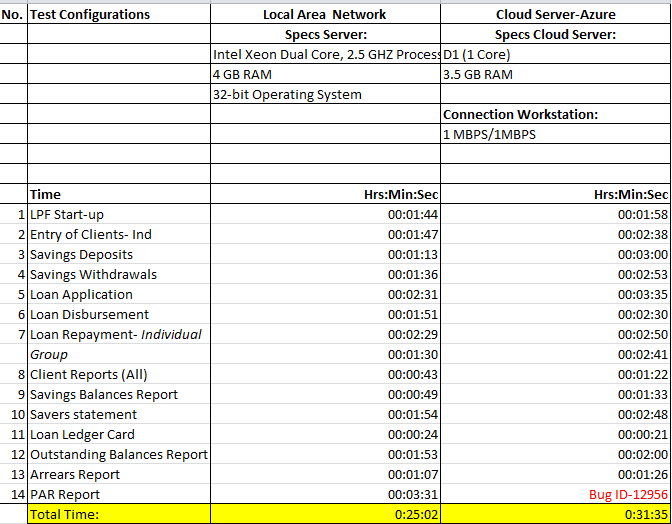 The next test related to backups in case the internet in the office goes down. With the database on a local WAN server, the MFI would rely on syncronised LAN servers that allow data entry work to continue if the internet is down. However we assumed this was not in place and we had to use USB dongles to access the database.
Access via a USB dongle to a locally hosted web database had the worst performance: the total of all transactions took 1 hour and 47 minutes but even then several operations timed out and gave errors for the users ('XML Exception). The same for a database that was hosted in the cloud also took long - 51 minutes - but at least apart from the PAR report, it did not time-out. We must add here that our client in Burundi got much better performance with their USB dongle, sometimes even better than from their office internet.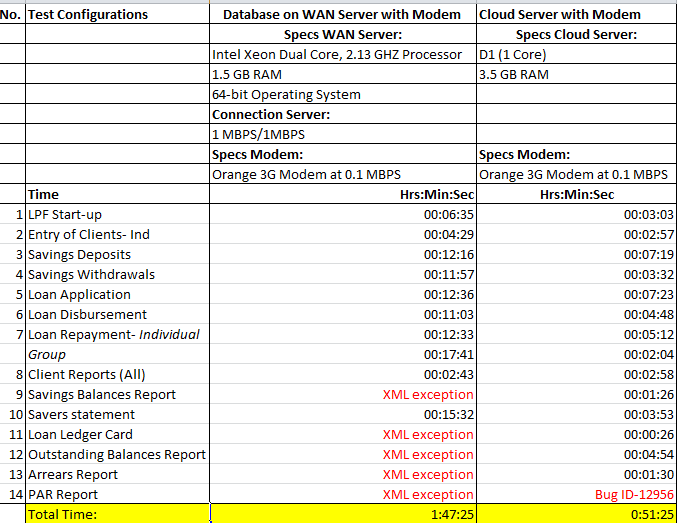 Is the cloud the right solution for you?
The tests with putting the database in the cloud are encouraging. It is a feasable alternative. In many countries, broadband fixed internet connections with static IP addresses are expensive, power is unreliable and qualified IT staff are difficult to find. Hosting in the cloud takes many of these concerns out of the equation.  A cloud server such as AWS or Microsoft Azure has virtually unlimited server side bandwidth, are relatively easy to configure, have high guaranteed uptime and do not require you to purchase expensive battery backup systems.  In addition, they are flexible, allowing you to dramatically increase or decrease server specifications as described above based on your needs, easily start and stop instances via an android app. 
The main reason that the "cloud" is a good solution for  LPF is the high server side bandwidth.  For example, MFI X has ten branch offices, each with a 1 Mbps connection, the head office hosting the database would have to have a 10Mbps connect to serve all ten branches at full capacity.  This would be a very tall order, unaffordable for many MFIs in our target markets.  By contrast, a cloud server easily has throughput of 100Mbps or higher in tests we have conducted.  This means that there is no server side bottleneck (at least from a bandwidth perspective).
Have you ever wanted to print a report in landscape rather than portrait or vice versa? You searched, could not find it and thought it was impossible? Read on, we have the solution.
Step 1: Choose any report, select ( ) View
Step 2: On the print toolbar Select "Print Report"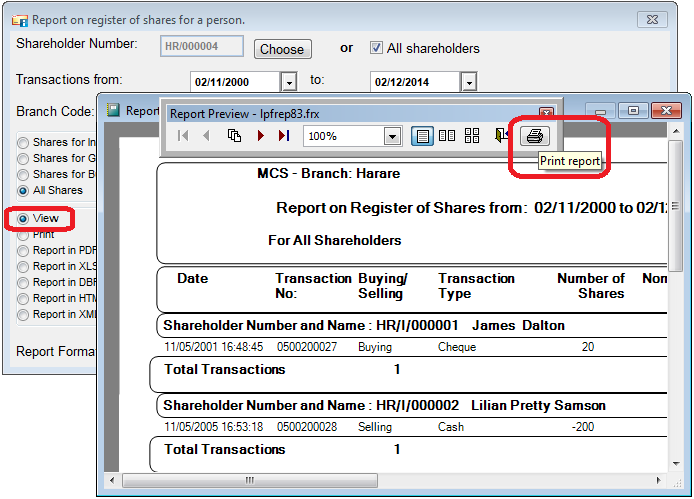 Step 3: On the Print form, select your printer, then click "Preferences"
Step 4: On the 'Printing Preferences" form, select the tab page "Finishing"
Step 5: You can now change from Portrait to Landscape or vice versa.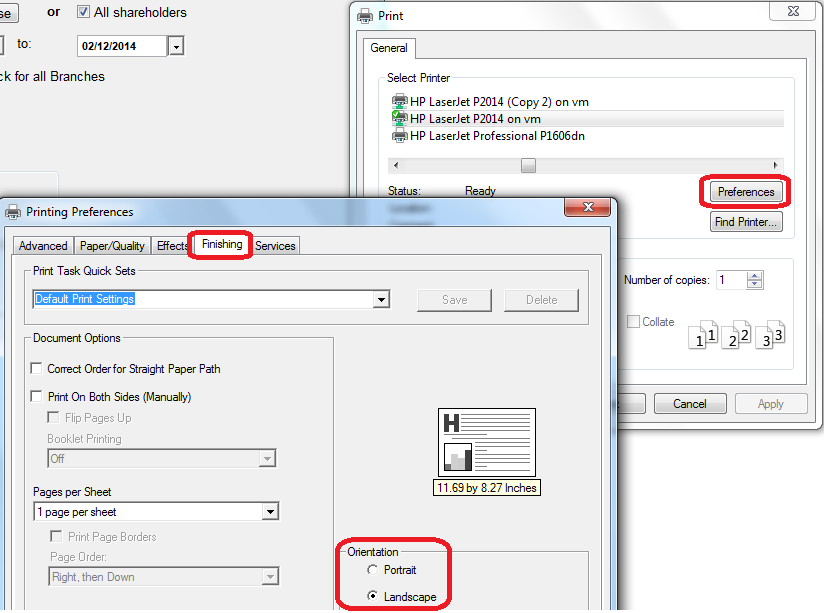 Do you have to report to the Central Bank in your country on a monthly basis? These are what we call 'Regulatory' reports. They are often tedious if you have to create them manually. However Loan Performer can help you. We have integrated regulatory reports for the BCEAO countries in French speaking West-Africa, for the Central banks of Azerbaijan, DRC Congo, Ghana, Zambia etc.
In this article we are looking at the Regulatory reports required by the BCEAO. The BCEAO was established as the common Central Bank of the West African Monetary Union (WAMU) comprised of eight member countries which include: BENIN; MALI; BURKINA; NIGER; COTE D'IVOIRE; SENEGAL; GUINEA-BISSAU; TOGO.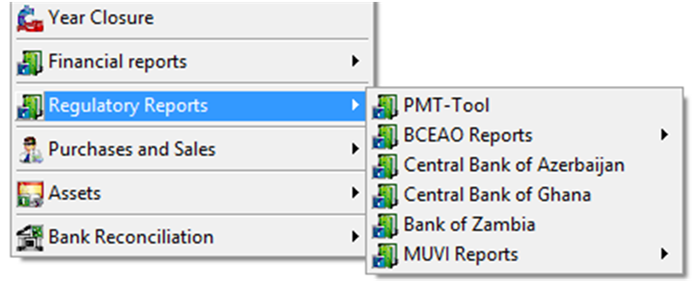 The BCEAO is the most strict in its requirements. You cannot submit your reports manually. They have to be submitted via their website. Then the reports are first 'validated' before being accepted. For instance the BCEAO dictates the chart of accounts and you can only create your own sub-accounts under their sub-accounts. If you would create a sub-account under a header account, your report would not be accepted.
The BCEAO developed financial soundness indicators and hence requires that all MFIs report according to certain requirements and standard formats. Loan Performer meets all the requirements for the BCEAO financial report formats and has incorporated them under the following menu items:
Register BCEAO Institution
Create BCEAO Trial Balance as XML file
Create BCEAO Non-Financial Indicators as XML file
Verify BCEAO Trial Balance Consistency
Generate BCEAO Reports
Register BCEAO Institution
To be able to produce the BCEAO reports for an organization, it must first be registered as such in Loan Performer. The registered institution's name will appear on all the BCEAO reports that will be generated by Loan Performer.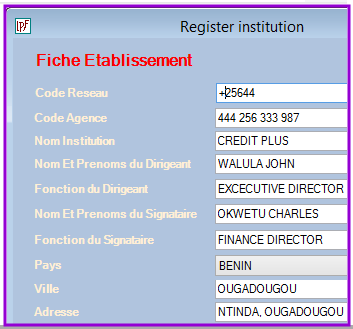 Create BCEAO Trial Balance as XML file
The BCEAO requires that all member countries report their Trial Balance in an XML format file. Note that to run the BCEAO reports you have to use a BCEAO chart of accounts. You can set Loan Performer to use the BCEAO Chart of Account when you are configuring it for the first time at System->Configuration->Accounting->Accounts Settings. If you are already using a different Chart of Accounts you can still replace it with the BCEAO Chart of Accounts at Tools->Replace Chart of Accounts. You will also be able to view the balance sheet and expense statement at Accounts->Regulatory Reports->BCEAO Report->Generate BCEAO Reports.

Create BCEAO Non-Financial Indicators as XML file
The BCEAO requires that member countries also produce non-financial information which must be submitted together with the financial information files. Much of this non-financial information may not be obtained from Loan Performer but you have to obtain it from other sources. Loan Performer presents a tab which allows you to enter this data before you can compile and submit it in the XML file format to the relevant authorities.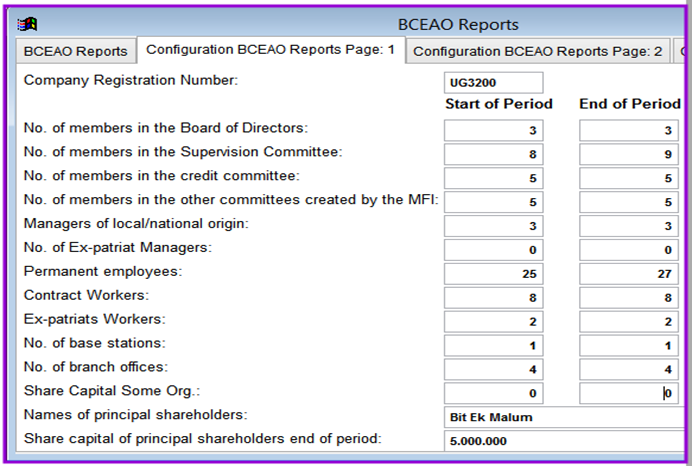 Verify BCEAO Trial Balance Consistency
Before you can generate the BCEAO reports, you have to verify the consistency of the trial balance as the principle underlying document on which all the reports will be based. This will help you to determine whether the financial data in the trial balance is consistent with the BCEAO reporting requirements and then you can generate reports.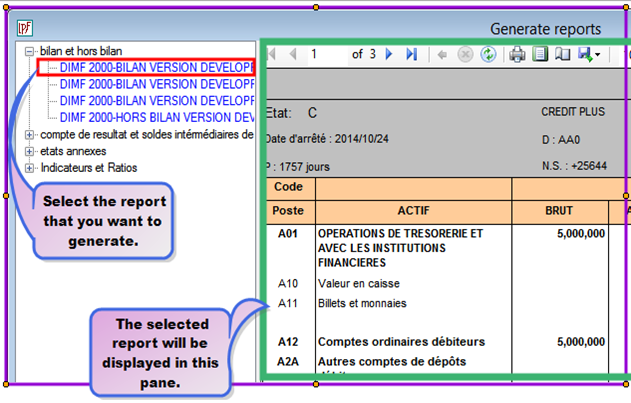 Generate BCEAO Reports
After the trial balance has been verified for consistency you can then view and generate the final BCEAO reports.
In this section our Technical Manager gives you some useful tips to make your life with Loan Performer more friendly.
Cannot Enter Cheque at entry of GL Transaction.
If you want to enter 'manual' cheque transactions, you need to have properly configured your bank accounts. The options 'Cheque Transaction' and 'Cheque No' are only activated when one selects a GL account that is linked to a bank account. However adding a new account in the chart of accounts called 'Bank Account' will not cut it. Loan Performer would not know this is a bank account. To configure bank accounts, go to System > Configurations > Bank Accounts and enter the bank account.

Above is the window showing that the option for posting cheque transaction is deactivated if no bank accounts have been defined.
Ps. Manually entered Cheque Transactions are automatically cleared. You do not have to go to through the Cheque Clearing.
Who is your most lucrative client?
Did you know that you can run the Breakdown report per client or even for a group of clients? For this you have to proceed as follows:
1. Go to Account (menu) > Financial Reports > Breakdown per Accounts
2.  Select the 'According to Loans/Clients' tab
3.  Select Client in the 'Print Transactions regarding' dropdown box
4.  In the 'From Client' and the 'Till Client' dropdown boxes select the client name(s) (In our case we select a client called 'Performer One').
5. Click Ok.

Report generated after selecting the option above: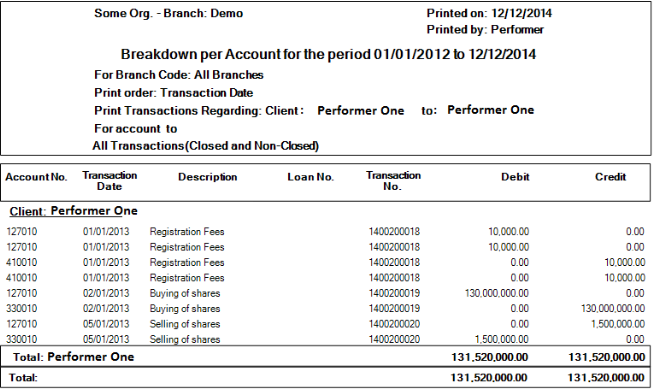 Loan Performer 8.16 is not yet out, but it is expected end of January 2015. One of the new features of this version is ID Card printing.
For printing ID Cards you need a special printer like the Evolis ID Card printer and some PVC cards. You also need Loan Performer 8.16.
After installing Loan Performer 8.16 you will see in the Loan Performer installation directory - normally c:\LPF816 - a folder called "External Files/Idcard Printing". This directory has six predefined templates named 8160001 to 8160006. These can be customised to suit your needs.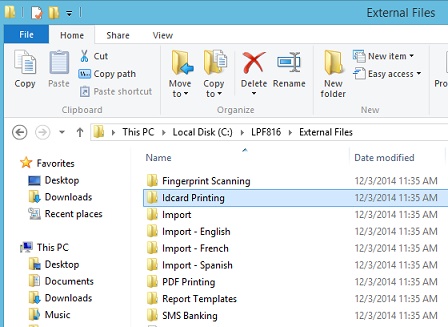 Please follow the steps for configuration below:
i. Create the subdirectory "CustomReps" in the LPF816 (or later) installation directory.
ii. Copy template files from "Idcard Printing" directory to "CustomReps" directory created in (i) above OR to a directory where your custom reports are stored.
iii. Login into Loan Performer 8.16 as a Supervisor and go to 'System/Configuration/Custom Reports' to load the following screen: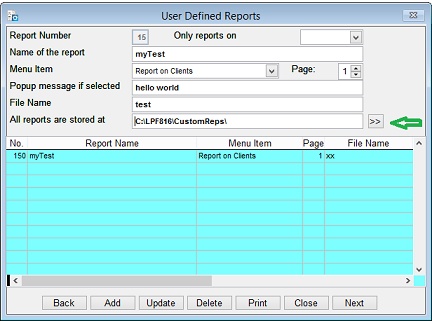 iv. Make at least one entry and make sure "All reports are stored at" is set to the "CustomReps" directory created in (i) above OR to a directory where your custom reports are stored.

This is all you need to do to configure the system for ID Card printing.
All clients should have photos and signatures. When a client is retrieved, his/her photo and signature must load as seen below: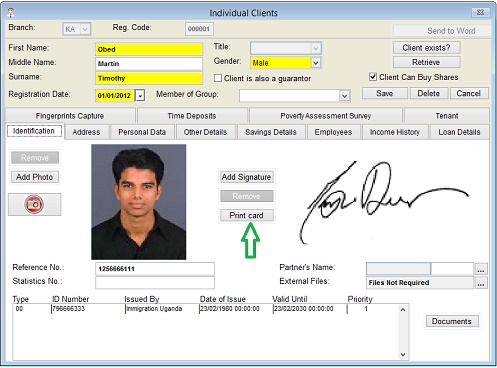 Follow the steps below:
i. Click on the "Print card" button to load the following screen: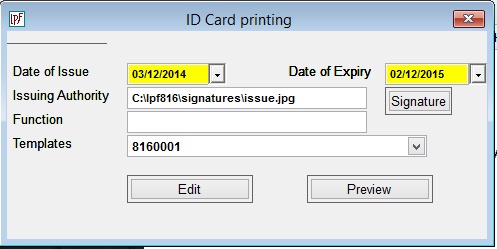 ii. Select the desired template and click on Preview to preview the ID card as seen below: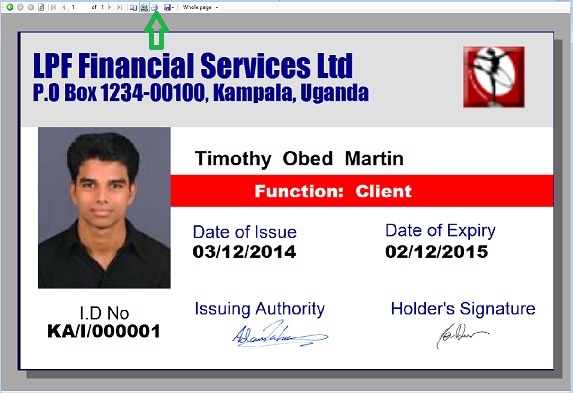 iii. Click on the report viewer's printer icon shown above to print the card. The printer must have been installed on the computer or shared on the network. Please contact the SACCO's systems administrator if the printer is not accessible.
It requires the Telerik standalone report designer (Telerik.ReportDesigner.x86) to edit an existing template or to create a new template. The designer is supplied with Loan Performer versions 8.16 and later. The installer copies it to the Loan Performer installation directory. It is also found in External Files/Idcard Printing. Make sure this file exists in the Loan Performer installation directory.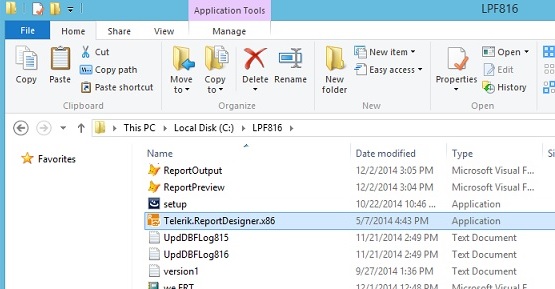 Follow the steps below:
i. Select an existing template and click the Edit button on the following screen: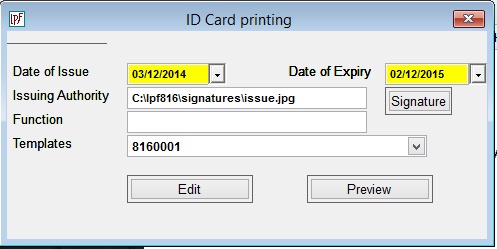 ii. Loan Performer loads the selected template in the telerik standalone report designer as seen below: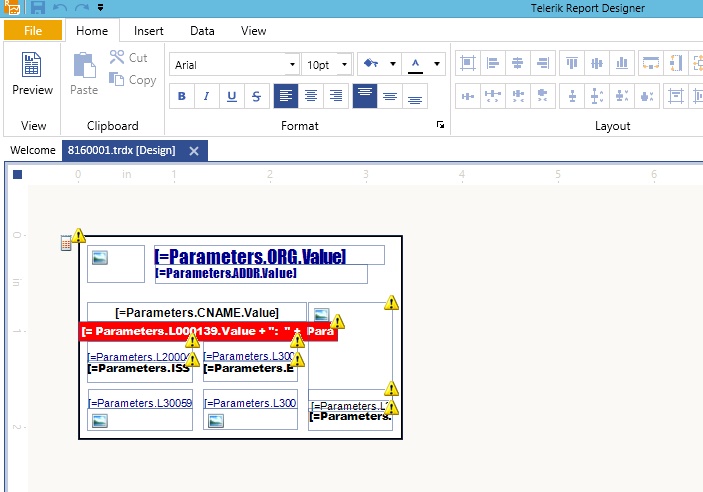 iii. From the above screen, it is possible to relocate, resize and change properties of all controls. However, the dimensions of the card should be kept as: Width – 3.37in, Height – 2.13in. This is the standard size of an ID card. New Parameters are not allowed.
iv. Save the changes and click on the Preview button to look at the changes. Change the report viewer to Preview mode to see how the card will be printed.
To create a new template, follow the steps below:
i. Select an existing template and click the Edit button on the following screen: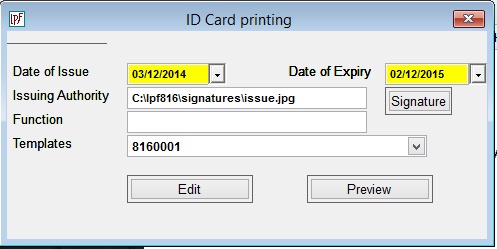 Loan Performer loads the selected template in the telerik standalone report design as seen below: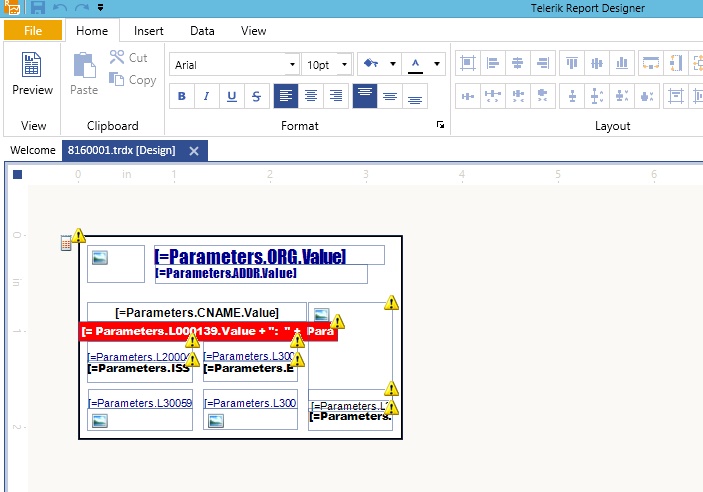 ii. From the File menu of the telerik report designer, Click "Save as".
iii. Browse to the "CustomReps" directory OR to a directory where your custom reports are stored.
iv. Provide your desired report name and click Save.
v. Register this as a custom report at System/Configuration/Custom Reports
vi. Dimensions of the card should be kept as: Width – 3.37in, Height – 2.13in. This is the standard size of an ID card.
vii. New Parameters are not allowed.

In this column we present to you different country representatives who can help you with training, implementation or support issues. This time we introduce one of our representatives in Malawi, Binary Systems. McTimes Malowa is the company Director.
McTimes Malowa , our representative in Malawi
Binary Systems Ltd is a business processes automation consulting confirm and is a Malawian registered Company since 2002, specialized in Software implementation, Training and Local support.

McTimes: "At Binary Systems, we pride ourselves in listening. Our first task is to understand what your business requires. Then propose a solution that fits exactly your business. We think beyond the brief so as not just to supply innovative software solutions, but to anticipate how these solutions can sustain your business for the future.
We believe in relationships. Understanding a business means understanding the people who run it. Things change. Businesses need to adapt."

McTimes noted that most of the microfinance institutions in Malawi are manually processing their transactions. Those few blessed ones who have automated their microfinance transactions were paying dearly in license fees. So Binary Systems decided to search for a microfinance software which is robust, easy to use, is MS SQL and windows based and which has above average microfinance functionalities like Clients, Loans, Accounts, Shares as well as security features and which is - most importantly - affordable. This search pointed to Loan Performer. Currently several organizations like Vision Fund, Development Fund for Local Assemblies and Habiat for Humanity are using Loan Performer in Malawi. New users are Mudi Sacco, Chitukuko Sacco and Polymed Sacco and Binary Systems is planning for several new implementations in 2015.
Binary Systems can be contacted as follows:
Address: Luso House, Unit 2, Mahatma Gandhi Road
P O Box 5504, Limbe, Blantyre with a branch office in Lilongwe: Off Chilambula Road, Area 15, Private Bag, Lilongwe
Tel.: +265 888 631 371 (Lilongwe, Lyton Chimphepo)
Mobile: +265-888 825 749 (McTimes Malowa)
Email : BinarySysLL@gmail.com, McTimes@BinarySystemsLtdmw.com



We welcomed the following Loan Performer Users:

Forbes MF, Ghana
SPM Saccos, Botswana
Tahude, Tanzania

We had the following trainings:

1. We trained 8 staff members from Paidek DRC during 1 week at our office.
2. We trained 5 staff from Advance Uganda during 1 week onsite.
3. We trained 4 staff members from URA Staff Sacco for 10 days at our office.
4 We trained one consultant of Duke Equities from the DRC during 12 days.
5. We started an e-training of 12 x 4 hours for Forbes Ghana.

We had the following implementations:

1. Hadijah finished 35 days consultancy for Vision Fund Malawi.
2. Karim finished database conversion of URA data to Loan Performer.
3. Samuel finished training/implementing Loan Performer for Kisoro saccos.
4. Elka did e-trainings for Cooperativa La Montana and Fondo Rural in Mexico.

Other:

1. For Hekima we are working on the following:

- merging 3 databases of Loan Performer 7.10
- upgrading this central database to version 8.15
- replacing the base currency (USD) to CDF
- installing the database in the cloud (Amazon).
We have every first Monday of the month a training session of 12 days (2 weeks, Monday to Saturday from 9:00 to 17:00 hrs) in Loan Performer version 8. Next training starts Monday 5 to 17 January 2015. This takes place at our office in Kampala. Costs are 750$ per participant. At the end of the training the participants have to pass a test and a certificate will be issued. Use this link to download the training schedule.
If Kampala is too far, we can do an e-training via the internet. The full training takes 12 sessions of 4 hours at a cost of USD 150 per session. We can also tune these trainings to your needs and make them more efficient for you.
We have a refresher training in Loan Performer 8.15, targeting users of Loan Performer 7.10 who need to know version 8 or for those who have been working with version 8 but never had a formal training. It will be held during the last week of January (22-27 Jan 2015) at our office.
Need help with Loan Performer? Try the Online Help or Chat with our staff.