It has taken a long time but finally Loan Performer 8.16 is released. There are many enhancements, some of which you requested for, others that we thought will be useful to you. You are free to download it from the Loan Performer website and try it out. Enjoy!
ISSUE
DESCRIPTION
CLIENT
13122
LPF now warns the users when entering a new Time Deposit if the client already has an existing outstanding Time Deposit.
Internal
11182
An API has been created that allows 3rd party service providers to interface with Loan Performer.
Internal
13284
The Regulatory Reports for the Central Bank of Mozambique have now been added.
Hluvuku-Adsema Mozambique
12852
LPF can now send an SMS message to a client after Loan Repayment.
Internal
12014
It's now possible to define a default picture format for client photo and signature files at System/Configuration/General.
Internal
12776
An option to define the maximum file size for client photos and signatures has been added at System/Configuration/General.
Internal
>
12802
The client name and signature and Identity cards are now available as a second page in a page frame at Loan Repayment just like for Savings Deposits/Withdrawals.
Internal
12562
LPF now has the flexibility to integrate mobile payments with any Mobile Money Service Provider. In particular interfaces with nFortics in Ghana and MTN and Airtel in Uganda were created.
Internal
12551
A feature to print ID Cards for clients has been added.
Hope for Life Afghanistan
12550
User can define Administration fees and Interest rates per loan cycle under System/Configuration/Loan Product Settings.
Hope for Life Afghanistan
12549
It's now possible for Loan Performer to automatically charge penalties on loans even if no user initiates the penalty calculation.
Hope for Life Afghanistan
12401
An option to send an email message at client's birthday has been added and if the client happens to do a savings transaction on his/her birthday, LPF informs the cashier.
Internal
12117
Two report formats are added to the Guarantors and Collateral reports.
Internal
12389
The Savings Transactions report can be filtered by cashier.
Internal
11354
LPF can now retain the history of the last X (user-definable) passwords. LPF validates passwords against the last passwords.
MasterLink Capital Service Zimbabwe
9804
An indicator, "Maximum number of group members', has been added at Configuration/Register 1. This restricts entry of additional members if the maximum is reached.
Internal
11789
A report on Refinanced Loans has been added
Internal
9189
An option for the System Administrator to allow automatic updates at login has been added.
Internal
12014
An option to add photo on the client history report has been added.
Internal
11329
An external web application has been added that allows clients of the microfinance institution to retrieve their own shares, savings, time-deposits and loan accounts and print statements. Client can also request for opening of an account and leave messages for Customer Care.
Internal
11858
User now has the flexibility to define shares by product so that 'Half a Share" or a "Quarter Share" can also be defined as products.
Internal
12214
The Saver's statement now has totals for the Debit and Credit columns.
Internal
12210
The Savers Statement can now be retrieved in ascending and/or descending order based on the user's preference.
Internal
12052
User can now send a Savers Statement by email to the client.
Internal
13426
LPF automatically clears the cache upon log-out so that user does not have to do this when logging in.
Salt to Ghana Ghana
13402
All LPF reports now come standard as the last item in the menu list.
Internal
12930
User can define several mobile money service providers and when registering a mobile number for a client for mobile money payments, the service provider is also added.
Internal
12694
A report format to the Breakdown report with, "Client Code and Client name, Transaction Number, Transaction Date, Description, Cost Centre, Debit, Credit ", has been added.
Hluvuku-Adsema Mozambique
12122
The Client's telephone and address are now part of the exported fields when printed to Excel on the Rescheduled and Written-off Loans report.
Internal
9500
The Written-Off Loans report has a format with the identy card details of the client.
Internal
12016
The Last History Contact report now shows the last transaction made by the client including all filter options for Time Deposits, Shares, Savings, Loans, General, Contacts and SMS.
Internal
12015
An option to contact the client by SMS at the client contact entry form has been added. The message is sent to the client and (saved as an SMS contact) on the Client History report.
Internal
12012
On the Client Contact report, a radio button for SMS messages made to the client has been added.
Internal
11949
A general setting for a maximum overdraft balance has been added to the Configuration of Savings. The entry of overdrafts cannot go beyond this product setting.
Internal
11795
A Mobile Money Transactions Report has been added under Savings/Savings Reports.
Internal
11685
A report on approved/rejected withdrawals above the cashier's limit has been added under Savings/Savings Reports.
Internal
11466
A provision to issue receipts for share transfers from one shareholder to another has been added under configuration/receipts
Internal
11175
At Configuration/Loan Products, an option to limit the loan product to certain clients as defined by client category 1, 2 or 3 has been added. The default is category 1, 2 and 3.
Inclusive Financial Services Zimbabwe
12500
An option is added to send an SMS upon approving a loan to the client.
Internal
10970
It's now possible to enter loan application fees before entry of the loan application.
IFS Financial Services Ghana
10831
It's now possible for LPF to send an SMS confirmation when a loan repayment is made.
TEMA AG Cooperative Credit Union Ghana
10832
It's now possible for LPF to send an SMS confirmation when shares are purchased.
TEMA AG Cooperative Credit Union Ghana
9813
Under Tools/Check Databases, an option has been added to run different DBCC scripts on SQL server database and present user with reports. See https://msdn.microsoft.com/en-us/library/ms176064.aspx.
Internal
8643
The Interest Paid has been added on the Time Deposits report.
Internal
12508
An option to print 76mm Role Paper for shares at configuration receipts has been added.
Internal
9807
In a WAN setup, one user is able to login to only one computer at a time.
Internal
12552
LPF can now automatically push forward the due dates to the first working day of the next month if the first instalment falls between 26th and 31st of the month.
Hope for Life Afghanistan
12804
LPF can now automatically transfer funds from the savings account to the loans account of a client if loan repayments are due without user-intervention.
URA Sacco Uganda
If your company has just started business and you have acquired Loan Performer, getting your figures right is no big deal. However if you have a several years of operation, things can become difficult. You can either enter the start of the financial year before the start of your business and enter all transactions since or you can work with a cut-off date from where you start with entries in Loan Performer. Here we look at the last case and try to get our opening balances right. 

It is best if the cut-off date coincides with the start of the financial year. Opening balances represent the financial position of your company and without accurate opening balances, the reports produced by Loan Performer can't give you a true picture of your financial position.
In Loan Performer you can either manually enter the Opening balances at Accounts->GL Transactions->Opening GL Transactions or import them at Accounts->GL Transactions->Import Financial Transactions. Before entering GL opening balances, be mindful of the following:
Ensure that your Balance sheet and Trial Balance are properly balanced and preferably audited.
You cannot enter a financial transaction in Loan Performer before the start of the financial year.
Make sure that you have set up the GL Account for Opening Balances at System->Configuration->Accounting Configuration->Accounts Settings.
Note that if you are entering balances for the start of the year, you only need to enter balances for the balance sheet accounts rather than for all income and expense accounts.
How to proceed?
Make sure the start of the financial year is reset to 01/01/2012 in order for LPF to allow the user to enter transactions falling in the year 2012.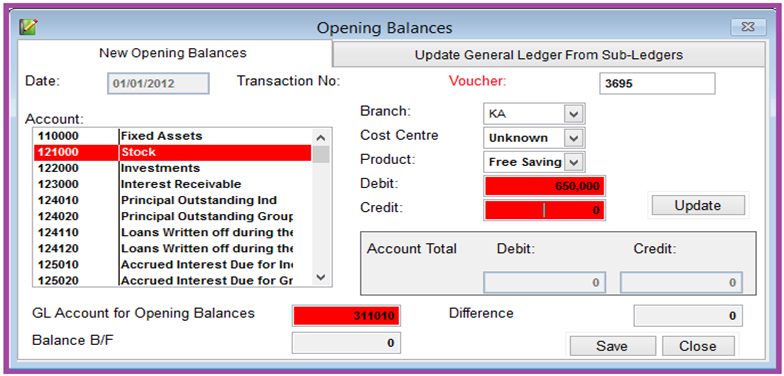 To enter the opening GL accounts balances you go to Accounts->GL Transactions->Opening GL Transactions.
The date field will automatically be filled with the start of the financial year date set at System\Configuration\Accounting\Accounts settings and this is the date when the opening balance will be booked into the system, e.g., "01/01/2012".
Enter the balances and other particulars for each GL Account. You may wish to enter the accounts in the order in which they appear on the balance sheet or trial balance.
Enter the account balance as a positive amount in the appropriate column depending on the type of account. For example:
For Asset accounts, positive balances appear in the Debit textbox.
For Liability and Equity accounts positive balances appear in the Credit textboxes.
Once all balances have been entered for all accounts, the Account Totals in the Debit and Credit read only fields must be equal and the amount in the Difference textbox should also display zero. This means that you are now ready to post the opening balances to their respective GL accounts.
Click Save to post the opening balances and then the Close button to exit.
However suppose that you are already working with Loan Performer and your start of the financial year is set as per 1/1/2013 but now you want to enter existing assets as per 31/12/2012? If you enter them in 2013, LPF will credit a cash or bank account and it will mess up your balances. So what to do? You can change the start of the financial year to 1/1/2012 but the entry of the assets will still lead to a booking that you don't want.
:
When you started working with Loan Performer, you have probably entered an "opening balance" as per 31/12/2012. This opening balance includes your assets. However if you have not yet entered them, the opening balance needs to be adjusted. The amount you have for assets should be reduced with the existing assets that you are still going to enter. On the other hand the cash or bank balances should be increased with the same amount. So you enter an 'opening balance' that does not include these assets and does not include the amounts that you are going to spend to 'buy' them. This is of course all hypothetical and serves just for the purpose to get the balances on 1/1/2013 correct.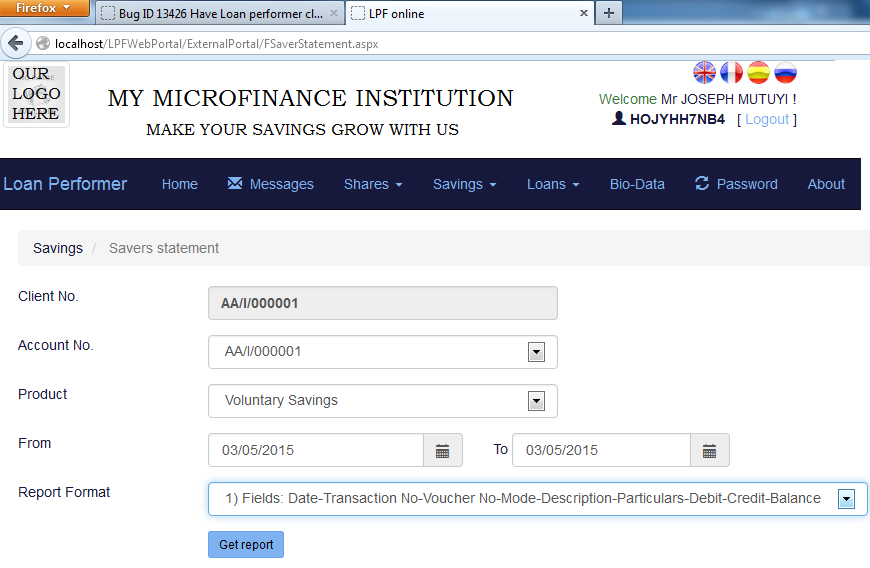 The Loan Performer 8.16 Client Webportal: clients/members can now login into the Loan Performer database and get statements, leave messages etc. (click to resize, double click to return).
Loan Performer 8.16 can be used by 3rd party developers to save data in the Loan Performer database. This is via an API, an "Application Programming Interface". This is a set of routines, protocols and tools for building software applications. You can see them as black boxes that with the right input will give you the expected output. It allows 3rd parties to develop applications that interface with Loan Performer for instance to save deposits and withdrawals, to disburse and repay loans etc. This makes it possible for others to develop an application (also a web or mobile phone application) with its own interface that talks to the Loan Performer API and populates the Loan Performer database.
So what does this mean in terms of pricing? The prices of Loan Performer licenses depend on the number of users and the number of branches that a micro-finance institution has. When new functionality was introduced in version 8, we also started charging for SMS Banking, Fingeprint Scanning and WAN functionality. With version 8.16 an additional element will be introduced. In addition to the above, version 8.16 will be charged according to transaction volume if calls are made via the API from external sources. If you just login into Loan Performer and do your transactions from there, it has no effect.
First of all, for users of Loan Performer version 8.15 and before, prices stay as they are. But for those who want to go to 8.16, they may count on extra costs if they are going to interface Loan Performer with other softwares. We are going to charge 0.1$ for every transaction request that passes through the API. For instance a deposit, withdrawal or loan repayment via a mobile money provider or ATM is a single API request.
The free, unlicensed version of Loan Performer 8.16 will accept a maximum of 3,000 API requests. This will be added to the entry screen where the limits of the free version are displayed to the user.
If you are upgrading from a previous version and you already have an x number of entries, these entries don't count. You will also have the first 3,000 API requests free of charge. Loan Performer will warn the user of reaching this limit in the following way: whenever the number of API requests reaches any hundred in the last thousand, a warning message will be displayed. So when reaching 2100, 2200, 2300 etc till 3000 a message will popup.

So what to do if you start getting these messages? You need to let us know how many additional API requests you need, we send you a pro-forma and you make the payment. We then send you an updated license with the additional number.
Note that the number does not expire when your license is due for renewal. If you renew your license with 10,000 API requests and you just pay the license renewal fee, your new license is still valid for the 10,000 API requests. And if in the middle of the year you need to go from 10,000 to 20,000 API requests, you just pay the 1,000$ for the upgrade and you will receive an updated license (with the same license renewal date).
For clients who bought SMS functionality there is an additional change. In 8.15 and before, we charge 20% of the license plus 1$ per SMS Account holder. In 8.16 this is no longer the case, you don't pay 1 per SMS client. The 1$ per client will be transferred into 10 API requests when you upgrade. In 8.16 you will not get stuck with the number of SMS clients that you want to enter. You can enter as many as you want. However each SMS is also an API request, so somewhere you may want to upgrade your license with additional API requests.
You should also be informed that your version 8 licenses need to be updated for 8.16. If you would use a 8.15 license for 8.16, you would get guest user access only. 8.15 Licenses will be replaced by 8.16 licenses free of charge if not additional requirements are needed.
For any additional information that you need, feel free to contact us.
In lower versions, LPF provides the option to repay loans from savings at the Loan Repayment menu screen. It also allows the user to automatically repay dues and arrears from savings but this is with user-intervention. In LPF8.16 it is possible to automatically transfer funds from the savings accounts to the loans accounts without user intervention and even on holidays and days that the office is closed. So, how can we achieve this? .   

Step1:
At System/Configuration/Loan Product Settings set that a particular Loan Product (e.g. Loans General) will be repaid automatically from a given savings product (e.g. Loan Guarantee Savings) by activating the checkbox, "Automatically Transfer Funds from Savings Accounts to Loan Accounts".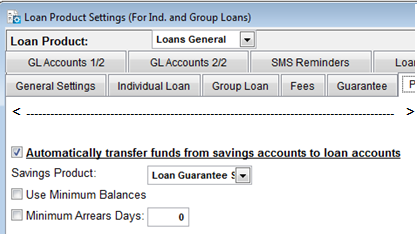 Step2:
Start the LPFservice under Control Panel\Administrative tools as follows:

Step3:
Start running LPF and the Automatic Transfer of Savings to Loan Accounts will be executed and the balances correctly updated even without user-intervention.
Step4:
With user-intervention, and If the menu option, "Repay arrears from savings" is used, this is how LPF calculates the amounts to be repaid from savings.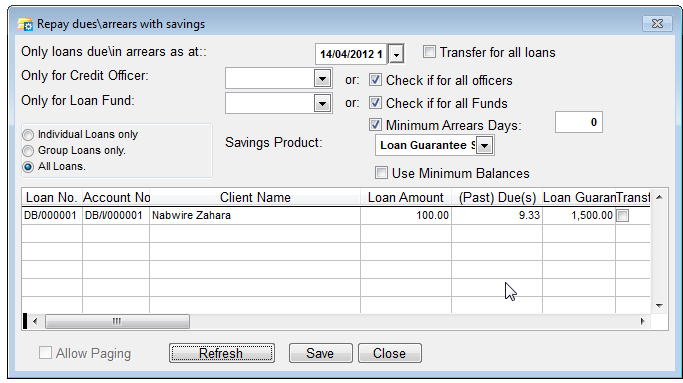 With the new enhancement, "Automatically Transfer Funds from Savings Accounts to Loan Accounts", LPF automatically calculates the Savings amounts and transfers this to the Loan Accounts. No user intervention is required.
In this column we present to you different country representatives who can help you with training, implementation or support issues. This time we introduce one of our representatives in Ghana, Maxwell Appiah Danso. He is an Associate Consultant for Purple Management Service.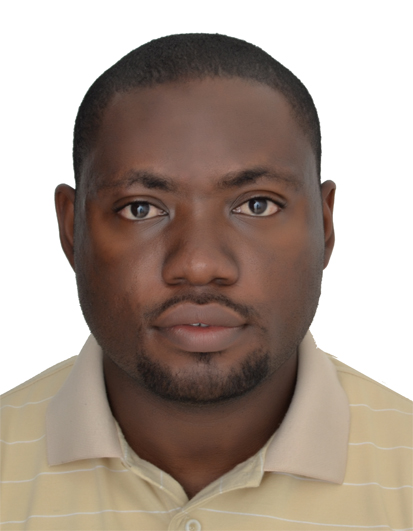 Maxwell Appiah Danso of Purple Management Service, one of our representatives in Ghana.
Maxwell Appiah Danso worked as an Associate Consultant for Purple Management Service, a management consulting firm whose objective is to support MSMEs in their operations. In 2012, Maxwell discovered Loan Performer (LPF) as the IT solution to many challenges faced by Microfinance institutions (MFI's) in Ghana.
Maxwell received a Loan Performer 8 training on site and has since then implemented and organized trainings on the number 1 microfinance software (Loan Performer) in many MFI's in Ghana. Some of his clients include Sirius Microfinance now known as Brace Capital Microfinance, Alliancetrust Microfinance, Universal Capital, and Purple Microfinance.
Maxwell has been supportive in providing the Loan Performer development team with the necessary assistance in building the Bank of Ghana prudential reports into the Loan Performer software. Maxwell is now a private consultant providing training, implementation and technical support on Loan Performer as well as complete ICT solutions for MSMEs.
Maxwell can be contacted as follows:
Email:    Appiah.danso@gmail.com
Mob:     +233 20 822 6086 or +233 50 210 5902
Skype:  Papa_Yaw

We welcomed the following Loan Performer Users:

Bom Crédito, Angola
Peniel Microfinance, Ghana
Salt to Ghana, Ghana
Butula FSA, Kenya
Bunyala FSA, Kenya
Nambale FSA, Kenya
Luhano FSA, Kenya
Nakasongola Rural Sacco, Uganda
Girinka Mulenga, Uganda
Kisoro Billionaires, Uganda
Profit Kisoro, Uganda
Yes Duchuruze Hamwe, Uganda
Postbank Staff Sacco, Uganda

We had the following trainings:

1. We did an e-training for Forbes, Ghana plus 3 days on-site.
2. We had a 6 day upgrade training for 1 person from UNBS Sacco and 2 persons from St Moses Children Care.
3. We had a 2 week training for 2 persons from RFM Sacco
4. We have a 12 day training for 1 person from Postbank Staff Sacco, Uganda.


We had the following implementations:

1. We had an on-site training/implementation for 12 days for Salt-to-Ghana.

2. We had an on-site training/implementation for 8 days for AIM in Ghana.
We have every first Monday of the month a training session of 12 days (2 weeks, Monday to Saturday from 9:00 to 17:00 hrs) in Loan Performer version 8. Next training starts Monday 13 to 24 April 2015. This takes place at our office in Kampala. Costs are 750$ per participant. At the end of the training the participants have to pass a test and a certificate will be issued. Use this link to download the training schedule.
If Kampala is too far, we can do an e-training via the internet. The full training takes 12 sessions of 4 hours at a cost of USD 150 per session. We can also tune these trainings to your needs and make them more efficient for you.
We have a refresher training in Loan Performer 8.15, targeting users of Loan Performer 7.10 who need to know version 8 or for those who have been working with version 8 but never had a formal training. It will be held during the last week of April (27 April-2 May 2015) at our office.
Need help with Loan Performer? Try the Online Help or Chat with our staff.